Two close friends shared the court for the last time at a major as Rafael Nadal took on David Ferrer to close out the first day in Arthur Ashe Stadium. It wasn't the ending that Ferrer would've liked in his last Grand Slam match, retiring with a left calf issue in the second set.
Nadal Races Through Opener
It didn't take long for Nadal to break, doing so in the third game. Ferrer was up 40-30, but Nadal hit a backhand cross-court winner for deuce. The 36-year-old Ferrer would get broken as Nadal used his cross-court backhand to get it back to deuce, and Ferrer's backhand found the net to give the defending champion a 2-1 lead.
It was only four and a half games in, but Ferrer's unforced error tally was getting quite high for this stage of the match with over ten. As expected, Nadal attacked the net as much as he could to end points quicker. Both players would hold comfortably until the ninth game where Ferrer knocked a backhand well wide at 15-30 to set up double set point. Nadal took the set 6-3 after the 36-year-old hit a forehand well long.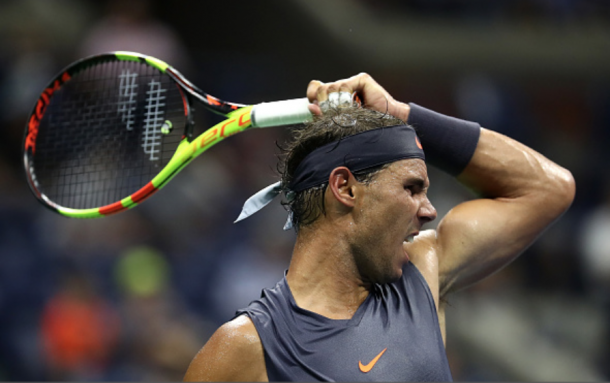 Ferrer Calls It
Nadal left the court after the first set, and Ferrer used that momentum to regroup strongly. A backhand error and a volley winner set up triple break point for the former two-time semifinalist in New York. The defending champ oddly missed a short forehand into the net as his countryman found himself up a break for the first time in this match.
The three-time champion in New York broke back right away, and on the first sit-down, Ferrer called for a trainer to get his left calf looked at. Nadal would level the set at two-all. Despite getting the break lead once again, Ferrer was struggling to move as he limped around court. He had looked to be playing his best tennis in some time, but the calf was too much of an issue.
Nadal held for 3-4 at love, and that's when Ferrer decided to call it a match. The two shared a warm embrace in what could potentially be the last meeting between the two. Nadal will face Vasek Pospisil in the second round. ​