Second-seeded Caroline Wozniacki only dropped five games en route to a routine victory over 2011 champion Sam Stosur in the first-round of the US Open. The Dane had not come into New York in the greatest of form but had no problems dealing with the Australian in this showdown.
Error-Filled Opening Set Costs Stosur
The Australian's forehand was letting her down early on in this match as a missed overhead and a mishit off her frame put Wozniacki up 2-1 in the early stages of this match. The Dane faced break point and looked to had lost the point after a net cord left Stosur with a short ball. Stosur didn't do enough with it as Wozniacki guessed correctly and put a forehand into the open court.
Stosur had a comfortable hold in the fifth game, and in the following game, it was Wozniacki's turn to pour in the unforced errors. Four straight unforced errors gave the break back to Stosur for three apiece, but being back on serve only stayed for that game thanks to three double-faults from the 34-year-old.
Four more unforced errors handed the set to Wozniacki on the Stosur serve as she racked up 18 unforced errors in this opening set alone.
Wozniacki Easily Into Second Round
It was a better start for Stosur who wasn't broken early in the set but had to work to get to two-all, gutting through a 10-minute service game just to hold. Wozniacki began to attack the net in the fifth game and that would force Stosur to go for a little more on her shots in her following service game. That led to problems though as she was broken to go down 2-4.
It all went awry for her as she served to stay in the match. Two loose forehands and two double-faults closed out a truly disappointing match for the Australian. 34 unforced errors in all for her which nearly triple Wozniacki's total of 12.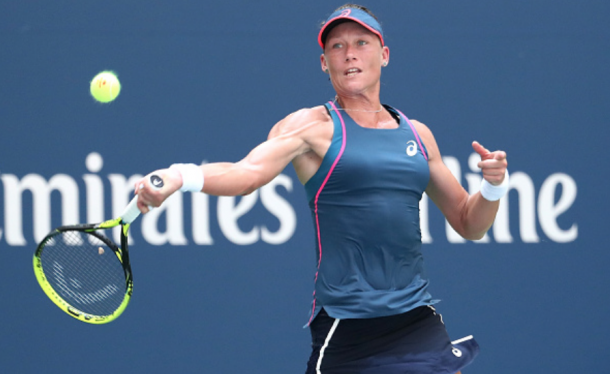 Enjoying How She Plays
In her post-match press conference, Wozniacki talked about the brutal conditions out there but overall, felt good about today. "I'm feeling pretty good. Didn't have the ideal leadup to the tournament, but, you know, body-wise, I'm feeling great right now. It was a good test today, obviously, with the heat and then playing Sam.

I'm pleased with how I'm feeling. I'm just hoping that step by step, I can play better and better as the tournament progresses." She added, "I mean, she came out and served a bunch of aces to start off with, and I said, Okay, this is going to be a long day, a day where I really have to focus.

I think what I was happiest with was just I held serve almost -- I think I got broken once, but then I held serve the whole match. You know, just staying focused. It's a match where you can't just give up easy points, because with her serve, you know, it can be a long day.

I was happy with just staying focused, trying to stay cool. Got a lot of returns back when I needed to."