Top-seeded Rafael Nadal trailed in the second set but still found his way through to advance against Vasek Pospisil, winning 6-3, 6-4, 6-2. The Spaniard will face 27th seed Karen Khachanov in the third round Friday at the US Open.
Nadal Starts Fast
Nadal's first look at break point came in Pospisil's opening service game. The two battled it out quite a long rally, but the Canadian took control of the point late in the rally to save it. Nadal got the break after the 28-year-old Canadian hit a forehand long.
The forehand frustrated Pospisil in this opening set as what is his considered his stronger wing just wasn't clicking. Since the opening service game of the Canadian, there wasn't much worrying for the server; first set to Nadal 6-3.
Pospisil Loses Himself
Down 0-40 at 1-2, Nadal continued his aggressive play to save all three and even a fourth break point later on. While he was lucky to hold for two-all, that luck disappeared quickly getting broken at love to give the Canadian a 4-2 lead in the second.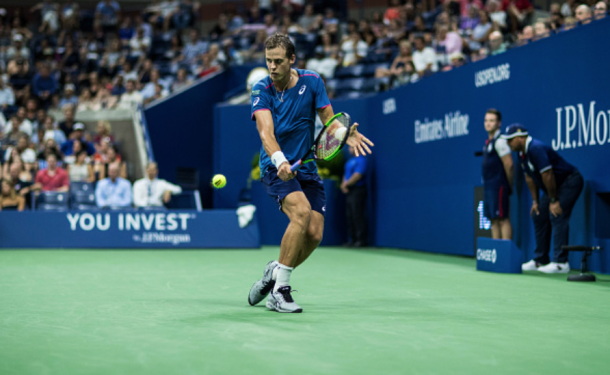 When facing a player like Nadal, you have to take the chances you are given, something Pospisil did not do. Four straight unforced errors gave the break back to Nadal, and the defending champion put himself in position to serve for the set with his trademark forehand pass down the line. With all the momentum, Nadal closed out the set without problems and used that to get quickly ahead in the third.
The Canadian had it going for him, getting up 4-2 in the second set, and a poor game avalanched on him from then on out. Pospisil managed to get on the board in the fourth game, but without any threat on the Nadal serve, it was smooth sailing as Nadal closed it out.
Post-Match Thoughts
It was another hot day at the Open with the extreme heat rule for both men and women coming into play. Despite playing at night, it wasn't much better for Nadal or Pospisil as they pointed out the humid conditions were quite bothersome.