During the second round match between Pierre-Hugues Herbert and Nick Kyrgios. Chair umpire Mohamed Lahyani came down with Kyrgios down a set and 0-3 in the second set to talk to him. The Australian was not giving forth his best effort and looked to be struggling physically.
The official USTA statement reads as follows, "After the third game of the second set in the Kyrgios-Herbert match on Court 17, with Kyrgios down 0-3, Chair Umpire Mohamed Lahyani, left his chair to check on the condition of Nick Kyrgios. He came out of the chair because of the noise level in the Stadium during the changeover to make sure he could communicate effectively with Kyrgios.
Lahyani was concerned that Kyrgios might need medical attention. Lahyani told Kyrgios that if he was feeling ill, that the tournament could provide medical help. He also informed Kyrgios that if his seeming lack of interest in the match continued, that as the chair umpire, he would need to take action. He again suggested to Kyrgios that he could receive medical attention.
At the next changeover, Kyrgios down 1-4, received treatment from the physio."
Lahyani told Kyrgios things like, "I want to help you, I want to help you." "I've seen your matches: you're great for tennis." "I can see that; I know this is not you."
Kyrgios downplayed what was said, but Herbert had a press conference and his own personal statement on his Twitter where he was visibly upset over the situation.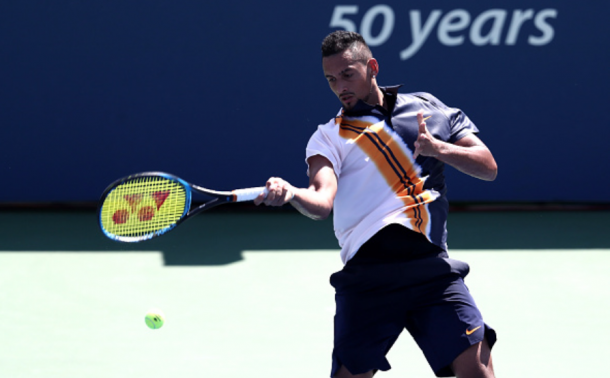 Not Much Says Kyrgios
Despite his deficit, the Australian turned the match around after Layhani had gotten out of his chair and ended up winning the match in four sets. Kyrgios said not much happened other than the umpire saying what he was doing was bad. "I'm not sure it was encouragement. He said he liked me. I'm not sure if that was encouragement. He just said that it's not a good look.

Look. I wasn't feeling good. I know what I was doing out there wasn't good. I wasn't really listening to him, but I knew it wasn't a good look. It didn't help me at all. Like, I was down 5-2. If it was 3-0, and maybe if I would have come back and won six games in a row, fair enough. Didn't help me at all."
Kyrgios also said that he does not believe Lahyani deserves a punishment and that chair umpires in Shanghai and Cincinnati did this as well when Kyrgios was acting up.
Herbert Disappointed
On his Twitter, the Frenchman wrote that he was upset with the USTA statement above because "that is clearly taking us for fools". He added in his press conference, about the chair umpire coming down by saying, "No, I don't remember. I don't think. But that's not his job. The fact is, I think Mohamed is an amazing umpire. But today I don't think he had to go down...But, yeah, like I said, afterwards, when I saw the video, when I heard what he said, was not his job. That's not what he's supposed to do."