In what the best match of the tournament by far, Rafael Nadal edged out Karen Khachanov in a tight four-setter which lasted nearly four and a half hours. At times, the Spaniard did not look his best, missing balls he would easily put away, but as all champions do, he found a way to win.
In his post-match press conference, Nadal had very high praise for his opponent and talked about the different tactics that go through his mind in a match like this.
Bright Future
The top seed began saying that the Russian has continued to improve since their first meeting at Wimbledon last year. Khachanov has come closer and closer to taking a set off the Spaniard after their first few meetings.
He finally took a set off him today and could say was unlucky not to be two sets up. He concluded by calling him a great player and that he sees him winning a lot of matches in his tennis career.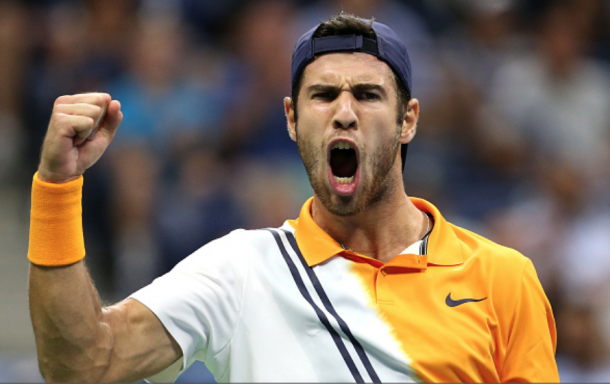 Thoughts After Losing The First Set
Nadal smiled and said that after losing the opening set, he thinks about how he has to win the next three. He talked about how he tries to find solutions and thinks about what's going well and what's going not so well. He believed he was playing with the right aggression in the important moments which worked well.
Wasn't The Best But Still Happy
Not all was negative for Nadal he said in this match. While there are things to improve on, he thought he did a lot of things well. He was happy how he played in the tight moments and even pointed out that in the two tiebreaks, it was probably his best tennis other than missing balls at 6-3 up in the first tiebreak.
Break And Tiebreak Thoughts
The roof closed at five-all in the second and Nadal closed out the second set by taking the last two games. The top seed tried just calm himself during that break and wanted to keep everything at the right tempo. He felt that at times, he was moving too fast in his mind which caused him to miss some shots and mess up his timing.
With two tiebreaks today, it was brought up if he treats the breaker as any other game. He said, "nobody treats the tiebreak as any other game" and smiled by adding, "if somebody tells you that, probably is lying you." He finished by saying there are a lot of feeling and emotions out in the tiebreak, that's why it can't be the same as any other game.