Karen Khachanov had chances. He was two points away from going two sets up, had a chance to give him set point in the third set, and had set point in the fourth to send it to a decider. Despite those trying moments, the Russian was proud of his efforts against world number one and defending champion Rafael Nadal.
Second And Third Set Lookbacks
The second set where the 27th seed was serving for the set stood out to him, saying if he led two sets to love, it would be a big advantage. He also noted the third set where he hit three double-faults in the tiebreak as some key moments where he faltered.
Full Heart
The Russian was proud of himself that he played a good game today and fought until the end. He was both mentally and physically prepared. To him, it felt good playing in a match where you give everything and that despite not getting the result, he hopes it will get him to where he wants to be.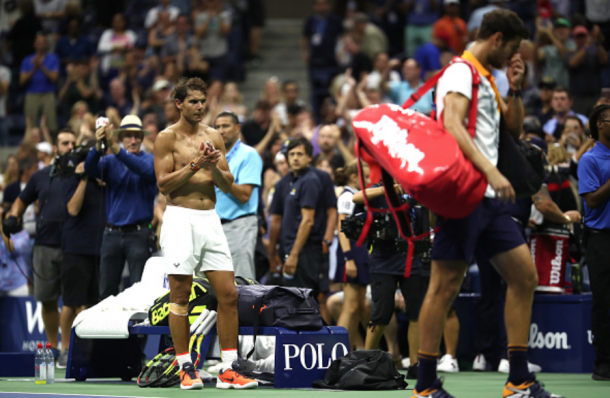 High Praise Back
Khachanov had "big respect" to Rafa because he's such a great fighter. Nadal complimented the Russian in his own press conference and after such a tough battle, Khachanov praised him right back.
He said, "It feels great. Thanks to him. He's always polite and nice guy. Big respect to him. He's a great champion.

Of course, it feels good. After a match like this when you give everything, okay, you didn't win, but I think it can give me a lot of, like, experience, confidence, what else you can say. Just to keep going this way, and hopefully, it will bring me to where I want to be."
Disappointed But Positive
When asked about his outlook on the match, here's what Khachanov had to say, "Like I said, of course, now I'm not the happiest guy in the world. I lost the match. But, like I said, after sometime, maybe one day, two days, I will think back and just watch the match. Of course, it will give me I think more experience, like I said, more confidence. To see which level I can play, which level I played here and the other Grand Slams or the other tournaments. That just shows that I'm really close to this, like, high level against top guys. Hopefully it will be soon on my side."