It was a stunning performance from the underdog Carla Suarez Navarro as she came out of nowhere and stormed to make her third consecutive second-week appearance here in Flushing Meadows. Coming into the 2018 US Open as the finalist of the Connecticut Open last week, Suarez Navarro continued her good run of form as she shocked world number six Caroline Garcia in the third round, producing a magnificent comeback to triumph 5-7, 6-4, 7-6 in a thrilling encounter in front of a packed Court 17.
With her backhands being on fire, Suarez Navarro put in a calm and collected display against Garcia, a player whom she had never beaten before. It was a high-quality encounter while there were 20 consecutive service holds to end the match with. The scores were tight and neither player led by more than two games at any point in time, but the Frenchwoman committed some costly unforced errors when it mattered, ultimately proving to be the cause of her demise.
Garcia snatches the tight opening set
Garcia came out of the blocks firing but that was unsurprising considering her recent form. She received an extremely tough draw but managed to steer past Johanna Konta 6-2, 6-2 in the opening round before prevailing in a three-set tussle against Monica Puig, a player whom she had never beaten in the past. With all the strong performances, grabbing the win against Suarez Navarro should not pose much of a problem and the Frenchwoman started the match in some fashion, clinching the confident service hold within a blink of an eye.
Nonetheless, Suarez Navarro looked to provide a tough fight despite being winless against Garcia in their past meetings as well. Her counterpunching tennis provided some troubles early on, with Garcia struggling to handle the rhythm and was often far too aggressive, leading to multiple unforced errors. The Spaniard secured an assertive service hold with an ace, and the series of service holds continued until the fifth game.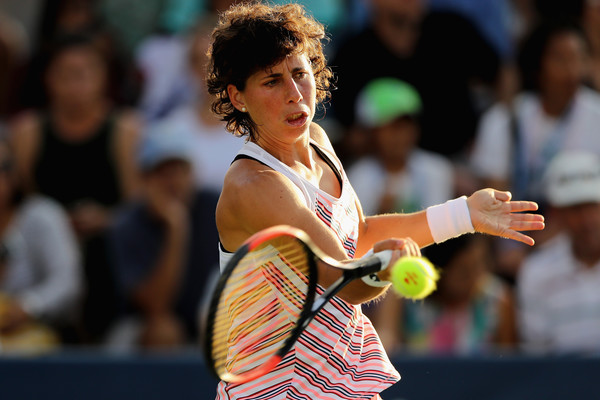 A slew of unforced errors produced by Garcia allowed Suarez Navarro to draw the first blood and make the first breakthrough, although her joy was short lived as the Frenchwoman came roaring back into contention in the following game. Garcia continued to apply the pressure in every aspect of the game, but Suarez Navarro stood firm and fended off multiple break points in a tricky situation at 3-4 down, levelling the scores with a good hold.
Serving to stay in the set at 5-6 down, Suarez Navarro certainly felt the nerves which hindered her shots, and she was misfiring more often than ever. Eventually, Garcia fired a backhand winner which helped her to take the first set 7-5 after just 44 minutes of play.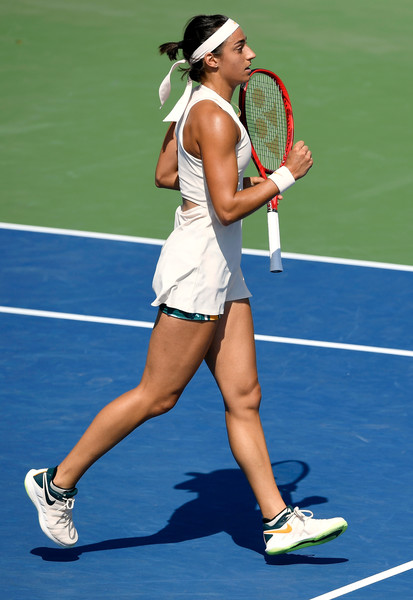 Suarez Navarro fights back in some style
After winning the opening set, the intensity in Garcia's game experienced an obvious dip as she started to let loose and relaxed a little more than previously in the early stages. A double-fault handed Suarez Navarro a break point, which she dutifully converted when the world number five made yet another forehand error. The Spaniard went on to comfortably consolidate the break and secure a 2-0 lead, and that proved to be the sole break of the entire second set.
Garcia kept applying the pressure on the return and her aggressive game style certainly troubled Suarez Navarro but she was too inconsistent and failed to string together several proper returns for a chance to break back. All credits to Suarez Navarro, though, who remained calm during the pressure moments and winning 81 percent of her first serves to serve out the set 6-4 and level the scores after 38 minutes of scintillating tennis in the second set.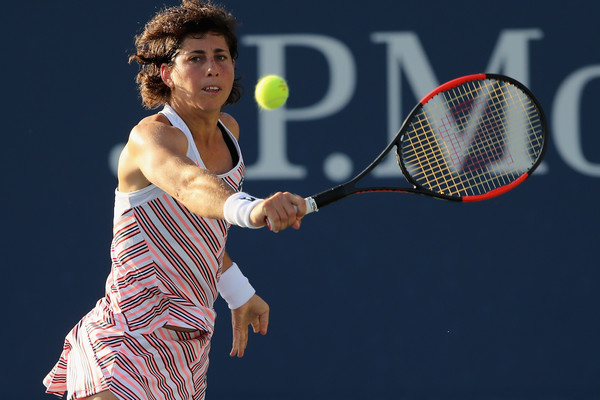 Suarez Navarro edges out the win
It was some high-quality play from both players as Garcia stormed towards her service games while Suarez Navarro battled it out and managed to grind out service holds of her own to stay toe-to-toe with the Frenchwoman in the third and deciding set.
The first real opportunity to break serve came in the sixth game when a mishit backhand from Suarez Navarro allowed the sixth seed to have a look at running away with the tough win. However, the Spaniard was determined to make it even tougher for her higher-ranked opponent, surviving the huge scare and levelling the scores with a confident hold. Whereas, Garcia was having it easy in her service games, and lost only nine points on serve through her first five service games, not conceding a break point opportunity.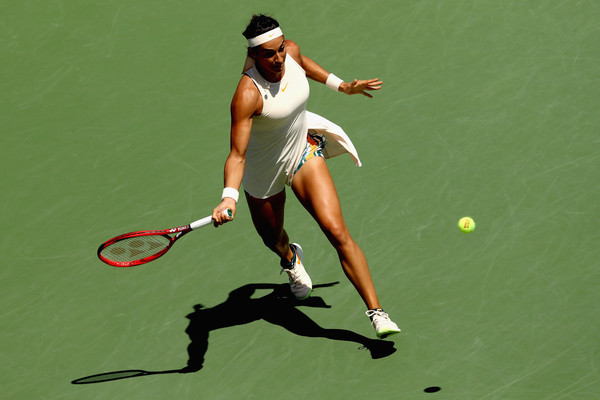 Garcia kept earning her chances to make the breakthrough but always faltered on the important points as Suarez Navarro stepped up her play, closing out yet another tricky service game with consecutive backhand winners, which are a trademark of her game. Just when it mattered, Suarez Navarro put in a flawless display when she served to stay in the match and levelled the scores at 5-5.
Showing why she is currently ranked in the top-10, Garcia retrieved from a 15-40 deficit while serving at 5-5, with Suarez Navarro earning break points which could easily affect the outcome of the match. Garcia fired down some powerful serves and rattled off four consecutive winners to secure the hold and be just one game away from winning the match again. Another calm and collected hold from Suarez Navarro, though, sent the match into a final-set tiebreak.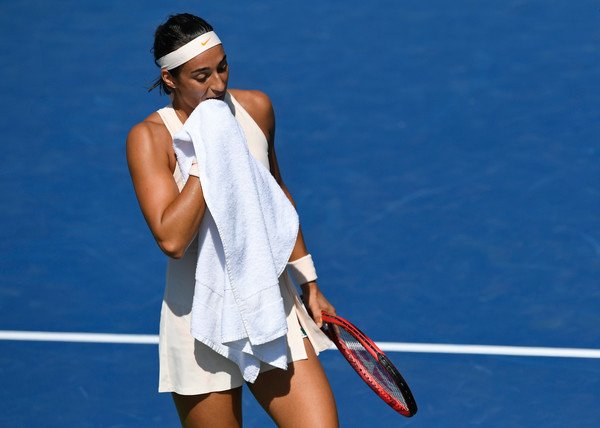 The first mini-break of the tiebreak surprisingly went to the underdog as Suarez Navarro's backhands proved too good for Garcia, who found herself trailing 2-4 within a blink of an eye. Errors started to surface from the Frenchwoman's game, and she was completely unable to find her rhythm. Another long return from Garcia gifted Suarez Navarro with her first match point before a stunning backhand winner sealed her spot in the second week for the third consecutive year.