"It was not on my mind, but I was pretty close last year. It was very painful."- Dominic Thiem. The scene is set: US Open 2017, fourth-round, Grandstand, Dominic Thiem vs Juan Martin del Potro. The Austrian was up two sets to love, 6-1, 6-2, against an ill-ridden Argentine on Grandstand.
The Austrian said that match wasn't on his mind during his round of 16 win against Kevin Anderson, but surely, he could never forget something like this. Two sets up and held match points against someone who was ill, surely he had to close the deal right? Wrong. Del Potro produced something out of the Michael Jordan book of flu games.
We reminisce that great match that took place on Grandstand, and how a year later, Thiem turned it all around against another big-server in Kevin Anderson.
Tennis' Flu Game
The crowd was expecting a thriller but through two sets, they had a dud. The flu-stricken del Potro had seen the medical team on changes but even then, he still wasn't feeling better. The pro-Argentine crowd seemed to charge del Potro up like a battery.
After winning the third set, Grandstand felt like Buenos Aires in a Davis Cup Final. The crowd did everything to back him, and it surely helped as the third set went to the way of the fan favorite 6-1. The fourth set was different, Thiem broke with a stunning backhand down the line in the sixth game.
Serving 5-3, 30-0 up, that's when it all turned around. Del Potro guessed the right away with Thiem's approach shot and responded with a backhand winner down the line. Next, he missed a floating return into the net. The game was finished off with a double-fault and a missed forehand well long as the crowd roared for more tennis.
Just when he needed it, del Potro delivered two aces on double match point down to extend the game and then sent the set into a tiebreak. The Argentine ran away with the tiebreak 7-1.
Thiem saved triple break point in a crucial sixth game, but after saving break point and holding game point to get it to five-all, a double-fault produced the miracle of all miracles in Grandstand as the crowd roared to see del Potro into the quarterfinals, the one who would face and eventually defeat Roger Federer.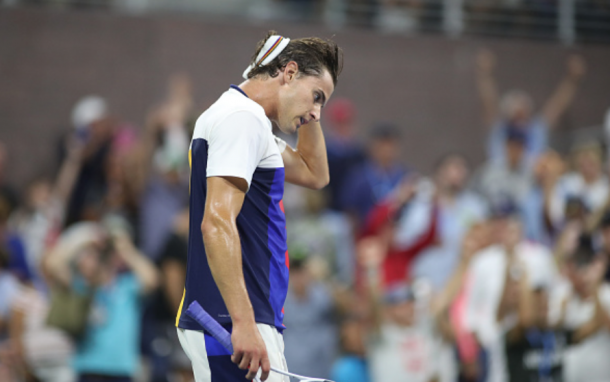 Same Scenario, Different Result
While Anderson wasn't ill when playing his match against Thiem, the Austrian was still two sets up and playing some out of this world tennis just like last year. There was one major difference though, the Austrian's level just would not dip.
42 winners and 13 unforced errors were the final counts for Thiem in what has to be the best hard court match of his career. He also didn't face a single break point. The ninth seed contributed his success to a number of factors which he talked about in his post-match press conference.
"First of all, I served really, really well today. Not the best percentage, but I almost made every point in the first serve game. So I didn't face one break point, and I didn't feel so much pressure on service games," Thiem said.

"So it was a little bit easier to play the return games. I could change my return position, and this helped me a lot. And also the court, I think, made a big difference. It's a huge court. I could go very far back like I do on clay usually. So there were some good advantages for me today," Thiem added.
He finished, "I mean, of course I also played really safe from the baseline, which is also a big part of the performance today."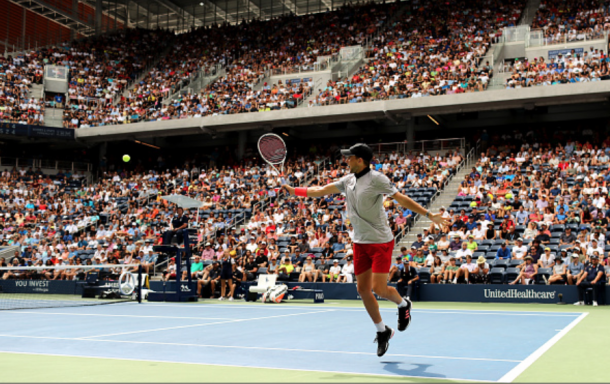 Being able to stand as far back as possible made it comfortable for Thiem to return the big server, something that his quarterfinal opponent has done. Anderson's serves were neutralized, and all those safe shots from the baseline forced the South African to be the aggressor.
Anderson usually is an offensive player but thrives off some pace which Thiem wasn't offering. Even with safe tennis, Austrian produced some stunning tennis, especially on the backhand side. This is now Thiem's second-most successful major outside of the French, and this result should really give him for not only hard court majors but other hard court tournaments as well.