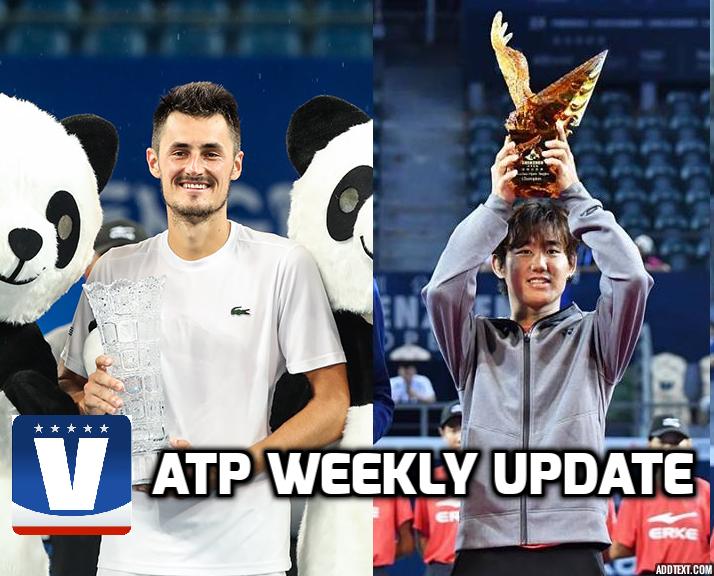 Here is your VAVEL USA ATP Weekly Update. Every Monday, we will be posting results and analysis from the previous week's singles action on the ATP World Tour, along with a preview to the upcoming week. Keep coming back to VAVEL USA every Monday for your ATP Weekly Update.
The Asian swing got underway this past week on the ATP World Tour with a pair of surprising results. With two tournaments on the schedule, two qualifiers upset a couple of seeds and each topped a Canadian teen on their way to titles. Here's your ATP Weekly Update for week 39 of the 2018 season.
Last Week's Results
Shenzhen
Yoshihito Nishioka has spent his young tennis career being confused for his more successful countryman with a very similar name, Kei Nishikori. On Sunday, the 23-year-old stepped into the spotlight in his own right by winning his first career title at the Shenzhen Open. The Japanese had to come through qualifying just to reach the main draw and was down match point in the second round but rallied and went on to beat Pierre-Hugues Herbert in the final.
After winning a pair of qualifying matches just to reach the main draw, Nishioka looked to be done in Shenzhen after three wins when sixth seed Denis Shapovalov held two match points on his own serve in their second-round clash. But the Japanese saved both and won the last four games in a row to send the Canadian packing.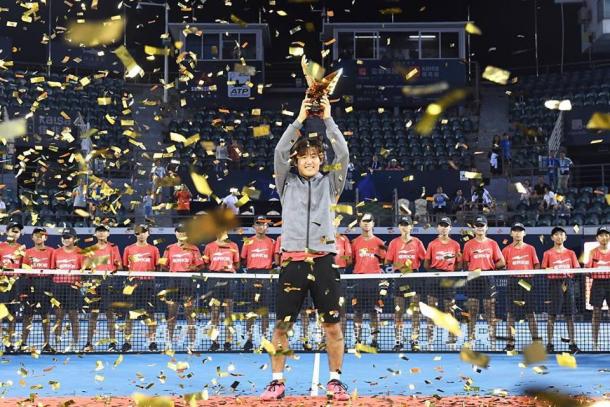 After a straight-sets win over Cameron Norrie, Nishioka bounced back from dropping the first set 1-6 in the semifinals against Fernando Verdasco to reach the final by winning a third set tiebreak. In his maiden final, he took down Herbert in three sets for his first ATP World Tour title.
The draw opened up quickly when the top two seeds both lost their opening matches. David Goffin, the number one seed and defending champion, fell in the second round in a battle of former titlists to Andy Murray. The former world number one promptly lost in the quarters to Verdsaco. Second seed Stefanos Tsitsipas' struggles continued as he dropped his opening match for the third time in four tournaments since reaching the Rogers Cup final in August, losing to Herbert.
Chengdu
Title-less in over three years and outside the top 100, Bernard Tomic showed one of the flashes that once had him touted as a top up-and-comer on the ATP World Tour, coming through qualifying and then surviving three three-setters, including two third-set tiebreaks, to win the Chengdu Open for the fourth title of his career and first since July 2015.
After a pair of wins in qualifying, the second coming via third-set tiebreak, Tomic did not seem long for the tournament as he needed three sets and multiple tiebreaks in his first two matches, including a third-set tiebreak win over qualifier Lloyd Harris, who had upset fifth seed Gael Monfils in the opening round.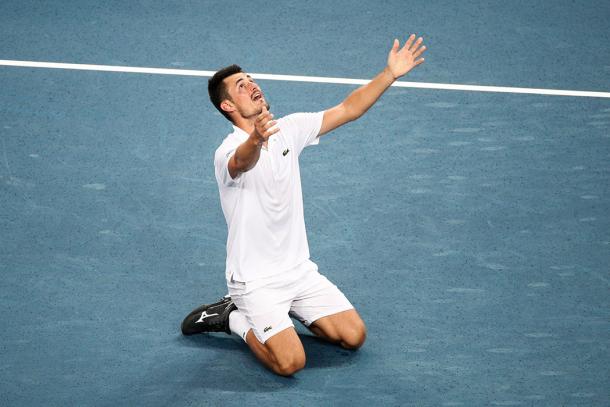 The Aussie started to find a rhythm in the quarterfinals where he took out Canadian teen Félix Auger-Aliassime. The 18-year-old was contesting his first ATP quarterfinal after upsetting second seed Hyeon Chung in the second round.
After a straight-sets win over Joao Sousa to reach the final, Tomic would pull a massive escape act to claim the title. Up against top seed Fabio Fognini, who had only dropped one set on his way to the final, it seemed that the Aussie's luck had run out when the Italian led the deciding set tiebreak 6-3. Tomic would save all three match points, and a fourth at 6-7, before taking the breaker 9-7 for a shocking title.
Rankings Update
Mover of the Week: Yoshihito Nishioka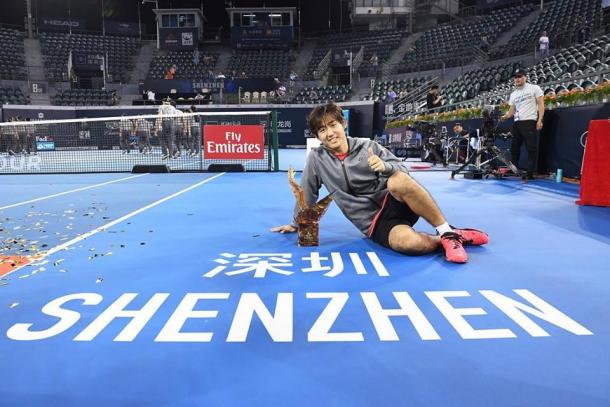 After being ranked as low as 380 in the world back in April, the 23-year-old climbed a staggering 76 spots in the rankings following his title run in Shenzhen to number 95 just over a year after falling out of the top 100.
Bernard Tomic's title in Chengdu also allowed him to move back into the top 100, moving up 47 spots to number 76. Pierre-Hugues Herbert, the Shenzhen runner-up, reached a new career-high by climbing 14 spots to number 53, ten spots above his previous best. By not defending his title in Chengdu, Denis Istomin fell 38 spots, out of the top 100.
Race to London
| | | | | |
| --- | --- | --- | --- | --- |
| Place | Name | Points | Change | Points Back |
| 1 | x-Rafael Nadal | 7480 | - | - |
| 2 | x-Novak Djokovic | 6445 | - | -(1035) |
| 3 | Juan Martin del Potro | 4910 | - | -(2570) |
| 4 | x-Roger Federer | 4800 | - | -(2680) |
| 5 | Alexander Zverev | 4365 | - | - |
| 6 | Marin Cilic | 3815 | - | - |
| 7 | Dominic Thiem | 3525 | - | - |
| 8 | Kevin Anderson | 3450 | - | - |
| Top | Eight Qualify for | London | | Points Back |
| 9 | John Isner | 2930 | - | 520 |
| 10 | Kei Nishikori | 2565 | - | 885 |
| 11 | Fabio Fognini | 2045 | - | 1405 |
| 12 | David Goffin | 1785 | - | 1665 |
| 13 | Stefanos Tsitsipas | 1782 | - | 1668 |
| 14 | Pablo Carreno Busta | 1730 | - | 1720 |
| 15 | Milos Raonic | 1710 | - | 1740 |
| 16 | Borna Coric | 1700 | - | 1750 |
Last week's results had practically no impact on the Race to London. Fabio Fognini added a couple of points to his total by reaching the final in Chengdu but is still over 1300 points back of the final qualifying spot
This Week's Action
The Asian swing continues to ramp up this week with two 500-level events in two Asian capitals.
Beijing
Juan Martin del Potro leads the field in Beijing as the world number four looks to wrap up his spot at the ATP Finals in London. The China Open has historically been dominated by the big guns, with Novak Djokovic, Andy Murray, and Rafael Nadal having combined to win eight of the last nine titles.
However, none of them, including Nadal who is the defending champion, are contesting this year's event. There will be a new champion in Beijing with no former champions in the draw.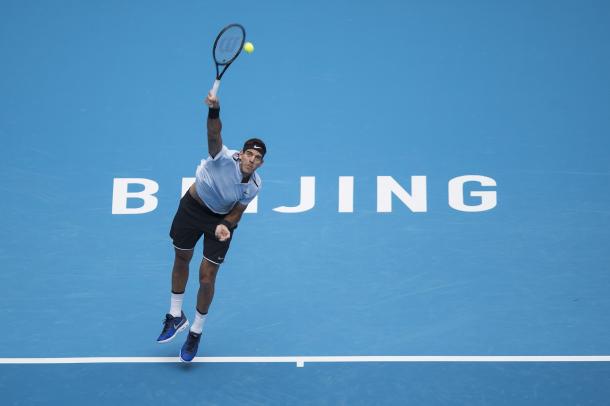 As well as del Potro, there are a number of London hopefuls in action in Beijing. Alexander Zverev, currently fifth in the race, will be looking to move towards locking up his spot in London for the second year in a row. He is seeded second. Grigor Dimitrov (3), Fabio Fognini (4), and Borna Coric (7) are all looking to close some space and bolster their hopes of qualification.
Kyle Edmund (5), Jack Sock (6), and Marco Cecchinato (8) round out the seeds.
Tokyo
Another handful of London contenders will be making their bids at the Japan Open, led by Marin Cilic and Kevin Anderson. The Australian Open and Wimbledon runners-up are both currently in qualifying spots but would like to put some space between themselves and the chasers, Anderson in particular, who is seeded second in Tokyo, needs a big result as he currently sits in the eighth and final spot.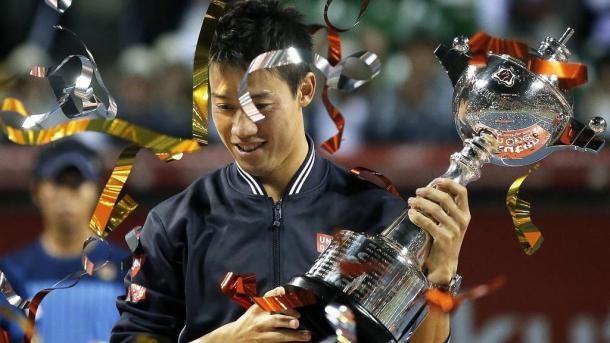 Stefanos Tsitsipas will look to finally break his slump and kick his late London charge back into gear as the fifth seed. Two-time Japan Open champion Kei Nishikori returns home looking for a third title, which would help bolster his bid for London. The third seed is currently tenth in the race and needs to use his home court advantage to make up ground on Anderson.
Diego Schwartzman (4), three-time runner-up Milos Raonic (6), Hyeon Chung (7), and Richard Gasquet (8) round out the seeds. Chung is facing some potential déjà-vu as he will face a Canadian teen early for the second week in a row, having drawn Denis Shapovalov in the first round. There are also a handful of former champions and runners-up lurking, including 2015 champion Stan Wawrinka, 2016 Nick Kyrgios, 2015 runner-up Benoit Paire, and last year's runner-up Adrian Mannarino.
Check back next Monday for a wrap up of week 40 and a look ahead to week 41 on the ATP World Tour. Come to www.vavel.com/en-us/tennis-usa/ every Monday or follow us on twitter @VAVELUSATennis for your #ATPWeeklyUpdate