World number four and defending champion Caroline Garcia suffered a huge scare in the first round of the 2018 China Open as she claimed a huge 7-6, 6-7, 6-3 win over the dangerous local wildcard Wang Yafan. Wang provided an extremely tough fight and seemed like a wall at several moments — returning everything to the aggressive Frenchwoman which caused her to be increasingly erratic and frustrated. Nonetheless, it was a great rebound by the defending champion as she managed to save her ranking, for another match at least.
Home favourite Wang Yafan made good use of her wildcard as she gave fourth seed and defending champion Caroline Garcia a good run for her money. Garcia, who fell at the first hurdle while attempting to defend her title in Wuhan last week, was facing a huge risk of being upset once more as Wang put up an inspired display to trouble the Frenchwoman. An early exit would also mean that Garcia would have no chances to remain in the top-10 after the tournament.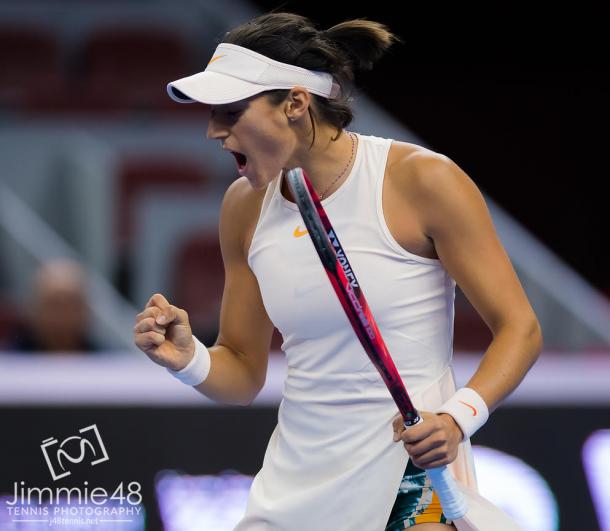 However, Garcia held her nerves and her experienced proved vital ultimately; steering past the tricky wildcard under the roof at the Diamond Court. The match took three hours and four minutes to complete and perfectly showcased Garcia's ability to deal with nerves as she saved multiple set points in the first set.
High-quality first set goes the way of Garcia
Wang had a great start as she grabbed the break early in the opening set, but was soon pegged back within a blink of an eye. It was a string of consecutive service holds which followed until a tiebreak had to decide the winner. Garcia fended off three break points at 5-5 while the Chinese managed to save a set point in the 12th game. The tiebreak was a classic — Garcia recovered from 2-5 down, and saved two set points to prevail after a marathon 65-minutes.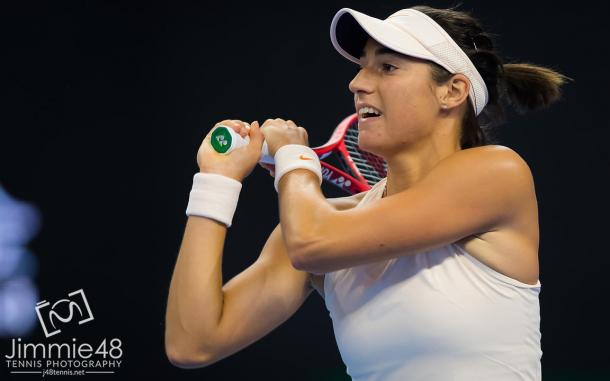 Garcia saved a set point with a clutch forehand winner at 5-6 down, but Wang also put up a tough fight by coming up with an unbelievable backhand passing winner to remain in contention. Garcia's sheer power managed to send her over the finishing line, though, which would be a disappointment for Wang as she was too passive at the crucial moments.
Wang shows her fight, storms back to claim the second set
Many expected Wang to gradually fade away after losing the close first set, but she was determined to prove everyone wrong. Came behind from an early break, Wang rolled her way to take the second set in a similar fashion; winning the second-set tiebreak 7-4 this time around. Everything was going right for Garcia early on — and Wang was struggling to deal with the power of the Frenchwoman as she went down an early break.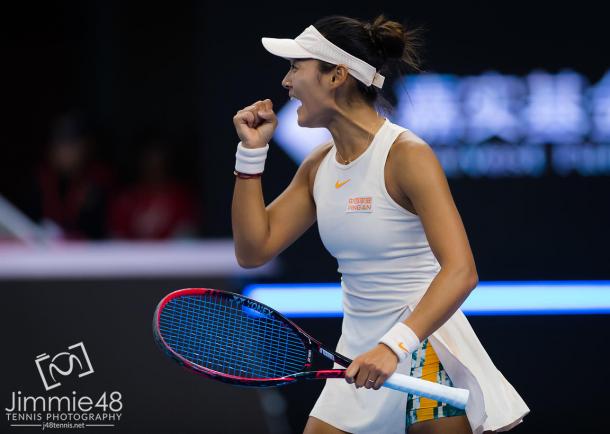 Garcia started becoming erratic, though, and Wang took full advantage by playing some clean and consistent tennis to open up a commanding 5-2 lead within a blink of an eye. Although she suffered a slight hiccup while closing out the set, she ultimately did so in the tiebreak which followed.
Garcia escapes the upset
Garcia claimed a commanding 3-0 lead in the final set as Wang seemed to have run out of steam. Her serves were becoming more accurate and powerful, forcing her opponent to commit errors and not letting loose of her lead.
However, the wildcard came out of nowhere to break back in the seventh game although Garcia remained calm and solid to immediately regain the advantage. Serving out the match, the Frenchwoman faced some tough challenge from Wang, who just refused to lose, but finally grabbed the win after 184-minutes of play.
Many thanks to Jimmie48 Tennis Photography for all his pictures from Beijing!