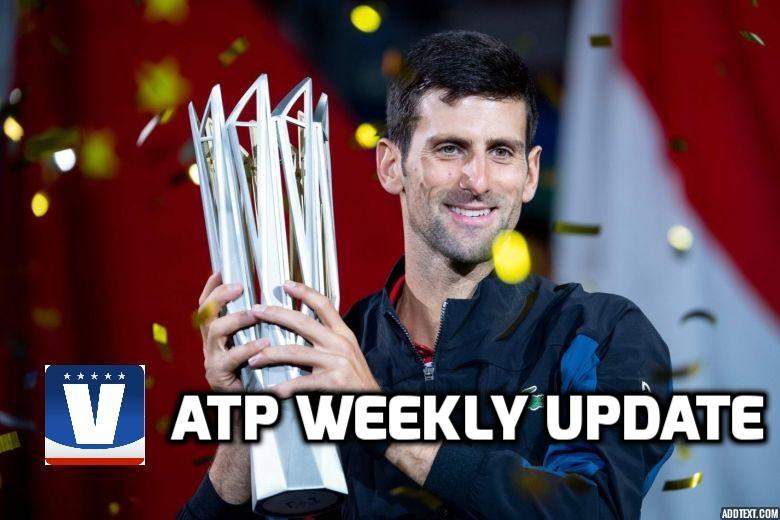 Here is your VAVEL USA ATP Weekly Update. Every Monday, we will be posting results and analysis from the previous week's singles action on the ATP World Tour, along with a preview to the upcoming week. Keep coming back to VAVEL USA every Monday for your ATP Weekly Update.
It's amazing how much one event can change. A week ago, four men were heading to London with one seemingly in control of the year-end number one ranking. With the Asian swing over, another London spot is gone the top spot is suddenly up for grabs with one man seemingly taking control of the tour.
Here is your ATP Weekly Update for week 41 of the 2018 season.
Last Week's Results
Shanghai
Novak Djokovic's level just keeps rising. The Serbian stretched his hot run to 18 straight wins and claimed his third title in a row by winning a record-breaking fourth Shanghai Rolex Masters in dominant fashion. Not only did the second seed not drop a set all week, he never dropped serve, capping off his run by crushing Alexander Zverev in the semis with the loss of just three games before topping first-time Masters 1000 finalist Borna Coric in the title match.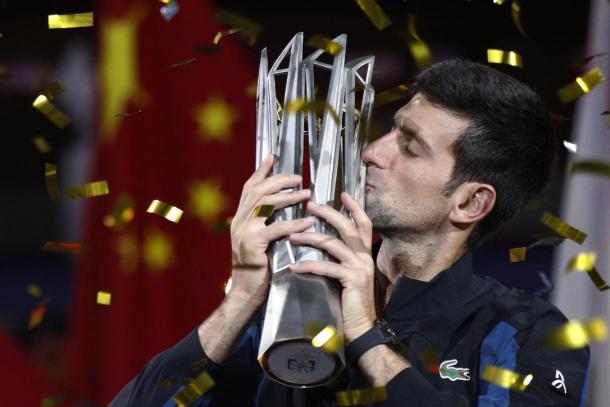 Coric's breakthrough run nearly ended before it began when he dropped the opening set of his first-round match to Stan Wawrinka. The Croatian would rally to not only win the match but won the next nine sets in a row to reach his first Masters 1000 final. That run included taking out Juan Martin del Potro in the third round when the Argentine retired after the first set before stunning the defending champion Roger Federer in straight sets in the semis.
After the tournament, del Potro revealed that he has a fracture in his knee. He expects an update in the coming days, although it seems likely that his season is over.
Zverev may have been embarrassed in the semifinals, but just reaching the final four was enough for the 21-year-old to book his place at the ATP Finals for the second year in a row. Dominic Thiem and Marin Cilic both saw their London hopes take a slight hit when they were both upset in their opening matches by Matthew Ebden, who went on to reach his second Masters 1000 quarterfinal, and Nicolas Jarry respectively.
Rankings Update
Mover of the Week: Borna Coric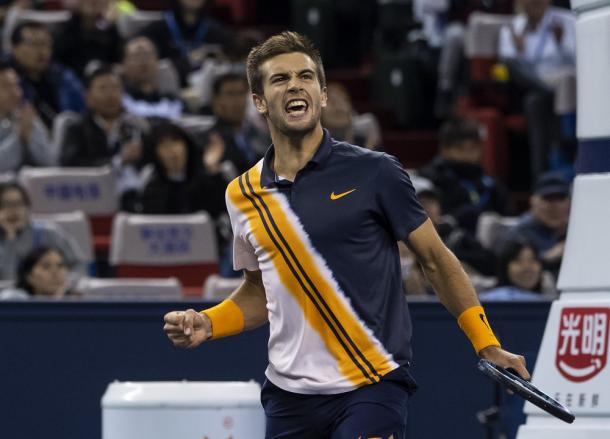 A first career Masters 1000 final saw the 21-year-old climb six spots to a new career-high ranking of number 13 in the world.
Novak Djokovic's title saw the Serbian return to the number two ranking, which he most recently held more than 14 months ago. Surprise quarterfinalist Matthew Ebden moved up 11 spots, setting a new career-high of number 40 in the world. Despite early losses, Marco Cecchinato (19), Daniil Medvedev (21) and Alex de Minaur (31) all reached new career-highs.
Race to London
| | | | | |
| --- | --- | --- | --- | --- |
| Place | Name | Points | Change | Points Back |
| 1 | x-Rafael Nadal | 7480 | - | - |
| 2 | x-Novak Djokovic | 7445 | - | (35) |
| 3 | x-Juan Martin del Potro | 5300 | - | - |
| 4 | x-Roger Federer | 5160 | - | - |
| 5 | x-Alexander Zverev | 4770 | - | - |
| 6 | Marin Cilic | 3825 | - | - |
| 7 | Kevin Anderson | 3720 | - | - |
| 8 | Dominic Thiem | 3535 | - | - |
| Top | Eight Qualify for | London | | Points Back |
| 9 | Kei Nishikori | 3000 | +1 | 535 |
| 10 | John Isner | 2930 | -1 | 605 |
| 11 | Borna Coric | 2300 | +10 | 1235 |
| 12 | Fabio Fognini | 2135 | -1 | 1400 |
| 13 | Kyle Edmund | 1945 | +2 | 1590 |
| 14 | Stefanos Tsitsipas | 1905 | -2 | 1630 |
| 15 | Milos Raonic | 1810 | -2 | 1725 |
| 16 | Marco Cecchinato | 1809 | +2 | 1726 |
Alexander Zverev became the fifth person to qualify for London after reaching the semifinals in Shanghai. There are still three spots up for grabs. However, Juan Martin del Potro's knee injury puts his spot in jeopardy, meaning there may be four spots still available.
Borna Coric's run to the Shanghai final helped keep his hopes of a first London birth alive. He jumped ten spots up to number 11 in the race and now trails Dominic Thiem by a little over 1200 points. Kei Nishikori, who reached the quarterfinals in Shanghai (l. to Federer), hopped over John Isner for ninth in the race, leaving him just over 500 points away from the eighth and final spot. However, should del Potro's knee injury prove critical, Nishikori would be in the final qualifying spot.
Novak Djokovic's win added 1000 points to his total, leaving him a mere 35 points back of Rafael Nadal for the year-end number one ranking with a few events still to play.
This Week's Action
The tour enters its final phase this week with three 250-events on the indoor hard courts of Europe.
Moscow
All eyes will be on the home favourites to break an eight-year drought at the Kremlin Cup this week. Young guns Daniil Medvedev and Karen Khachanov will each be looking for a breakthrough on home soil. They are seeded back-to-back at second and third. Mevdevev is eyeing a fourth title of the season, while Khachanov is trying score a second in 2018 and third overall.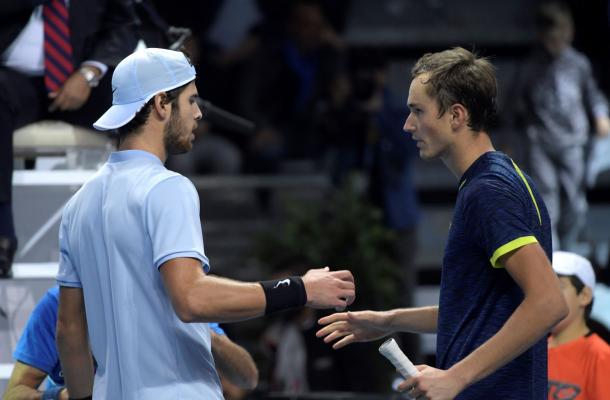 Despite the headline-stealing 22-year-olds, Marco Cecchinato is the top seed in Moscow. The Italian needs to run the table to qualify for London, meaning anything less than a title this week will eliminate him from contention. Damir Dzumhur is back to defend his title. He is seeded sixth. Filip Krajinovic (4), Nick Kyrgios (5), Jeremy Chardy (7), and Martin Klizan (8) round out the seeds.
Antwerp
Kyle Edmund and Milos Raonic come into the European Open both needing big results to keep their outside hopes of qualifying for London alive. Edmund, the top seed, needs to at least reach the final while the third-seeded Raonic needs a title. Anything less for the two and they will be eliminated from London contention.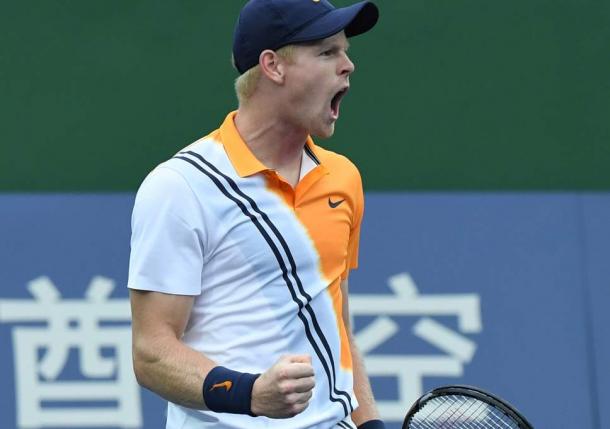 Jo-Wilfried Tsonga is not back to his defend his title. Richard Gasquet, the fourth seed this year, is the only former champion in the draw, although Diego Schwartzman, who is seeded second, has reached and lost in every final in the two-year history of the European Open. Gilles Simon and Gael Monfils, seeded fifth and sixth respectively, will look to continue the French dominance in Belgium. Frances Tiafoe and Robin Haase are the seventh and eighth seeds.
Stockholm
New dad John Isner returns to the tour at the Stockholm Open this week hoping to keep his London hopes alive. The American has spent nearly the entire season either in or close to a qualifying spot, but skipping the Asian swing leaves him with little time to make up a lot of ground. The Miami champion is the top seed this week.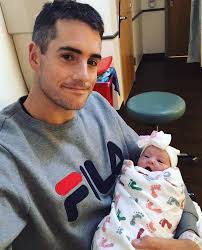 Isner is one of three London hopefuls heading to Sweden, although the other two are big-time longshots. Fabio Fognini will go for a fourth title of 2018 and keep his distant hope alive. Stefanos Tsitsipas, who will be looking to add a first-career-title to his breakout season, needs to reach at least reach the final to stay in contention for London. If he fails to reach the final, he will be eliminated from the race.
Juan Martin del Potro is the two-time defending champion but is taking a pass on this year's event. There are no former champions in the draw. Jack Sock, Lucas Pouille, Hyeon Chung, Denis Shapovalov, and Fernando Verdasco round out the seeds. The host nation will be represented by the Ymer brothers, Elias and Mikael.
Check back next Monday for a wrap up of week 42 and a look ahead to week 43 on the ATP World Tour. Come to www.vavel.com/en-us/tennis-usa/ every Monday or follow us on twitter @VAVELUSATennis for your #ATPWeeklyUpdate