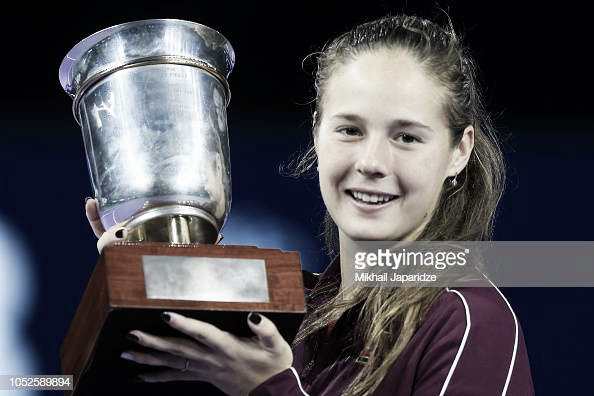 It was an outstanding tournament for home favourite Daria Kasatkina, who closed out the amazing week with her second career WTA title at the Kremlin Cup. The Russian played some top-notch tennis throughout the week, and although her serve may have been quite a liability through the week, it is even more impressive that the youngster was able to triumph on home soil.
In a thrilling and tense final, Kasatkina ousted and outlasted qualifier Ons Jabeur, who has been having a career breakthrough week, in three tough sets. The 21-year-old was forced to recover from a 2-6, 1-4 deficit to prevail over her Tunisian opponent, who struggled with a left thigh injury towards the closing stages of the encounter.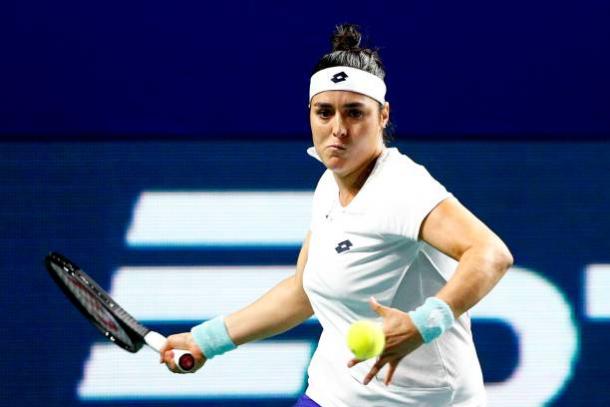 Jabeur, who had to battle through the tough qualifying rounds, was ranked outside the top-100 but played some scintillating tennis throughout the entire week and edged closer than ever to a maiden career WTA title, let alone a first Premier title.
However, it was not meant to be, with Jabeur narrowly missing out on a top-50 debut as she lost the huge lead in the second set. Nonetheless, it was an excellent week for the Tunisian who defeated the likes of Ekaterina Makarova, Sloane Stephens, Anett Kontaveit and Anastasija Sevastova along the way.
With this win, Kasatkina will finally break the duck and crack the top-10 on Monday's new rankings. Furthermore, having been so close yet so far to claiming titles this year (losing in the finals of both Dubai and Indian Wells), her hard work is finally rewarded as she will directly head to Singapore as the first alternate and will lead the WTA Elite Trophy field as the top seed.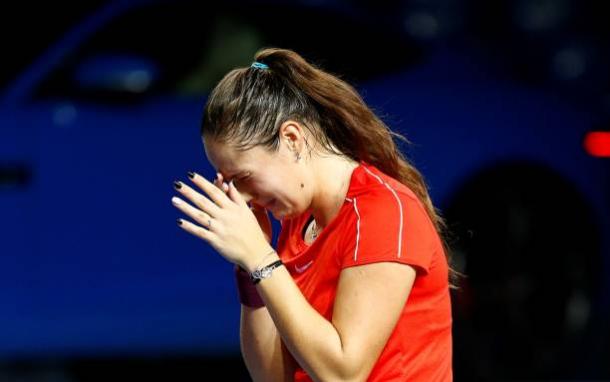 Jabeur overcomes her slow start to take the first set
Nerves are common in the early stages of a big final, especially when you are a 24-year-old making her debut in a final. Jabeur's limbs looked heavy early on, producing several uncharacteristic unforced errors which caused the Tunisian to be broken in the opening game of the final. Grabbing the early lead, this seemed to be a confidence-booster for Kasatkina, who is known for her struggles in finals.
Kasatkina was too passive and her serves certainly did not help — sending in some vulnerable first serves which provided Jabeur with the perfect platform to smash them for a return winner. Within a blink of an eye, the world number 101 found herself up 2-1 after settling into the conditions.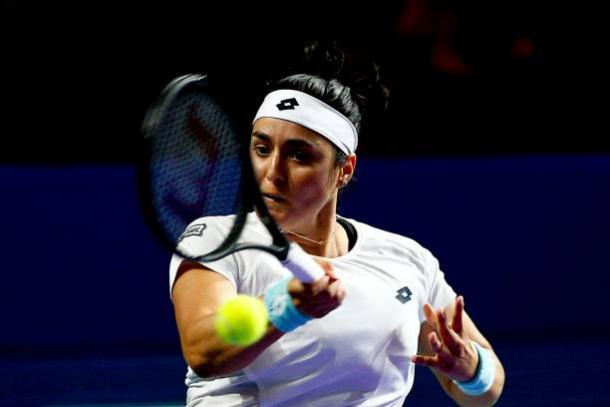 The Russian has always been struggling against hard-hitters and surviving her own service games became a problem as well. She has to go against Jabeur's huge returns but also redirect the pace such that she does not feed short balls for her opponent to pounce on. She was losing faith on her own serves after consecutive double-faults came at 30-15 in the sixth game.
Jabeur took her chances and converted for a commanding 4-2 lead which she ultimately consolidated. Kasatkina failed to anticipate the shots while the underdog was having everything go her way — eventually claiming the opening set 6-2 as Kasatkina was completely blown off the court within the opening 24 minutes of play.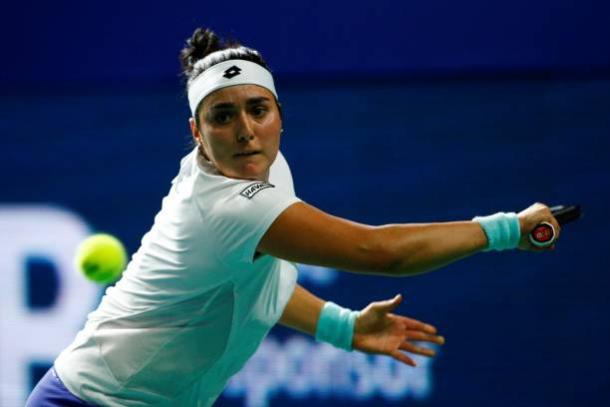 Kasatkina fights back from the brink
Just like the opening set, Kasatkina began the second set with a confidence-boosting break of serve. Jabeur's first serves betrayed on her when it mattered, while the Russian stepped up her returns and attempted to be more aggressive than usual. Despite owning a 40-15 lead in the following game, Kasatkina's poor serves backfired as Jabeur comfortably hit return winners off them and as a result, she saved multiple game points to return level.
Once again, it was all Jabeur from then on. She rode on her momentum and stormed towards a formidable 4-1 lead within a blink of an eye — and everything seemed to be over for Kasatkina at that point in time. She called for her coach Philippe Dehaes down for an on-court coaching session, and several inspirational lines ultimately made the difference.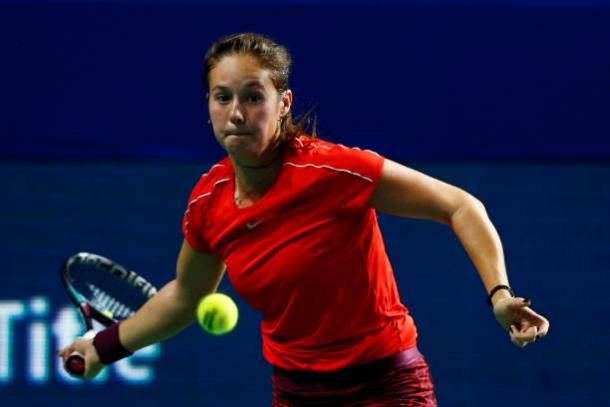 "Don't think that it is not possible, you're still in the match. You're gonna serve, you're gonna play," Dehaes was quick to input positivity into Kasatkina's mind at the start of the quick session. He added, "If you think it's finished, we change the job, you and me. I don't wanna change the job, I wanna stay here, I wanna win this title with you."
She heeded Dehaes' advice — sending in only kick or body serves, and using her forehands as a weapon more often. Those new tactics completely ruined Jabeur's momentum as she started to get puzzled with how Kasatkina was playing her shots. She started to commit a bulk of unforced errors, and Kasatkina erased the deficit with ease.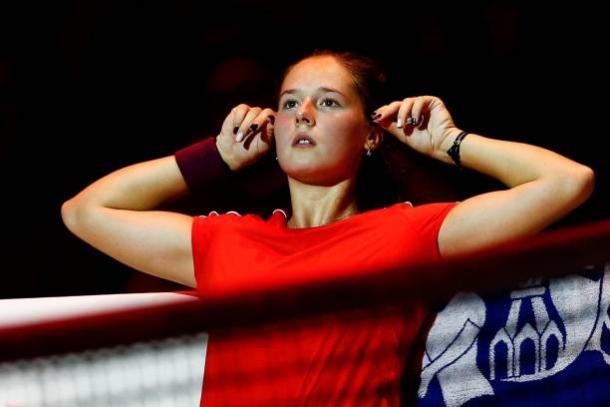 Consecutive marathon games came in the 11th and 12th game, where Kasatkina had to battle through a lengthy 16-point game to earn the golden opportunity to serve out the set before all her hard work went futile as her vulnerable serves proved to her Achilles' heel once more; and Jabeur strived to claim the win in straight sets by sending the set into a tiebreak.
Both players struggled on serve in the tiebreak, with the first six points going to the returner. Four consecutive unforced errors were produced by Jabeur from 3-3, and Kasatkina dutifully capitalized on her chances as she came out of nowhere to send the match into a decider.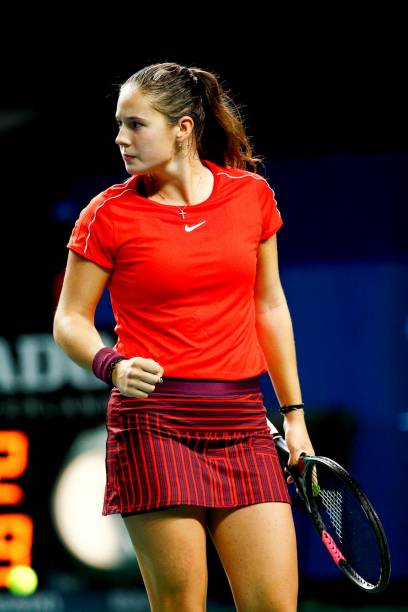 Kasatkina edges over the finishing line
All the momentum seemed to be with Kasatkina — she found her groove and rhythm, producing winners of her own for the early break. Many expected her to run away with the one-sided deciding set, but Jabeur fought straight back from 2-0 40-15 down. She struggled on the defence although that's where she had been throughout the entire match-up.
Serving at 3-4 down, Jabeur finally felt the pressure and yet another unforced error gifted Kasatkina with the crucial break which gave her the chance to serve out the championship. The Tunisian started to look in pain, clutching her left thigh area, but Kasatkina could not overcome the injured, but stubborn, Jabeur who refused to quit and throw in the white towel. She failed to convert a championship point and the world number 101 put herself straight back into contention.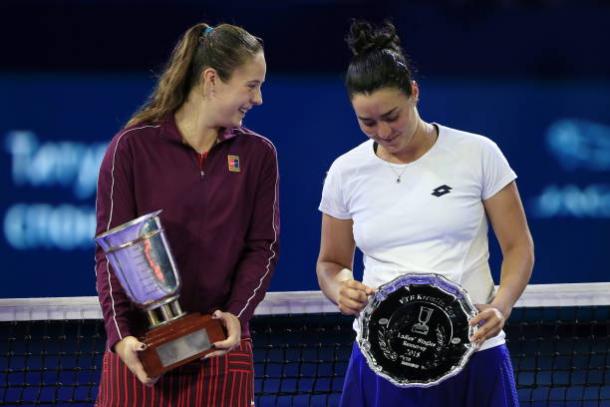 In the following changeover, Jabeur stood up throughout the entire period of time and did not sit down at all. She was trying to keep her legs warm, and hoping that the pain at her left thigh area would fade off. The pain was obviously hindering her from serving normally, and as cruel as the sport is, there could only be one winner and Kasatkina closed out the win after two hours and two minutes of play.