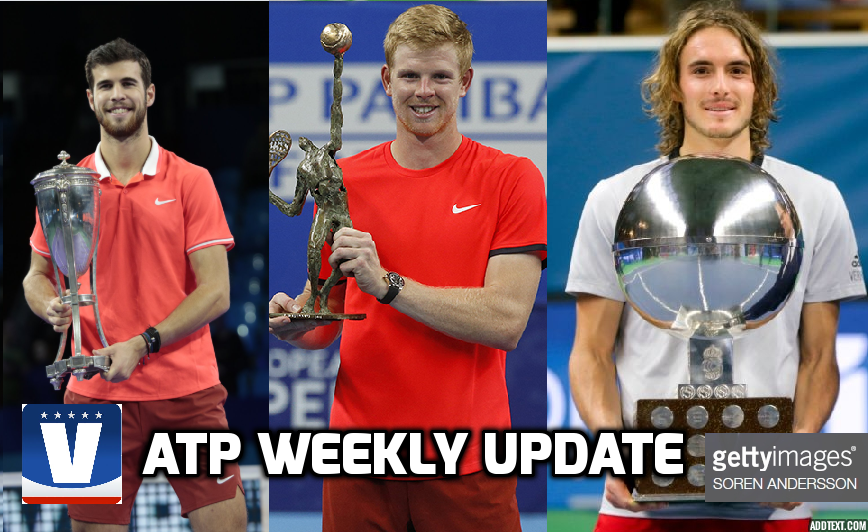 Here is your VAVEL USA ATP Weekly Update. Every Monday, we will be posting results and analysis from the previous week's singles action on the ATP World Tour, along with a preview to the upcoming week. Keep coming back to VAVEL USA every Monday for your ATP Weekly Update.
As the ATP World Tour enters its final phase on the indoor hard courts of Europe, the young guns stole the show with all three titlists being 23 years old or younger, including a pair of first-time titlists. With time to qualify for the ATP Finals running out, a few players were eliminated while a couple came up big to keep their hopes alive.
Here is your ATP Weekly Update for week 42 of the 2018 season.
Last Week's Results
Moscow
Coming into the 2018 Kremlin Cup, it seemed likely that the host nation's eight-year title drought could come to an end, the question was which young gun would hoist the trophy for Russians. It was Karen Khachanov who became the first Russian to win in Moscow since Mikhail Youzhny in 2009. The 22-year-old improved to 3-0 in career finals, topping Adrian Mannarino in the title match in straight sets for a second title of 2018.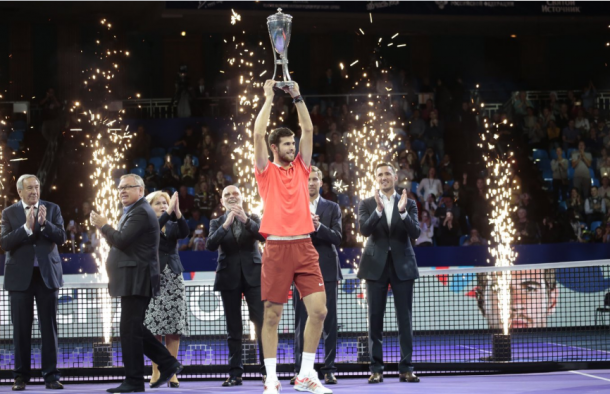 The highlight of the tournament came in the semifinals when the two Russian young guns, Khachanov and Daniil Medvedev, met in a three-set thriller. Khachanov came into the match without having lost a set and edged his compatriot in three tight sets to reach the final. Mannarino kicked off his tournament by upsetting the top seed Marco Cecchinato in the second round, but was no match for Khachanov in the final, winning only four games.
Antwerp
When he kicked off 2018 by reaching the semifinals of the Australian Open, Kyle Edmund looked to be in for a big season. While 2018 did not live up to that quick start, the Brit is ending his season on a high note after winning a maiden title at the European Open.
The top seed was strong from start to finish in Antwerp, not dropping a set on his way to the final. Against Gael Monfils with the trophy on the line, Edmund dropped the opening set but won the second and third in tiebreaks to claim his first career title. He had lost his only other previous final back in April.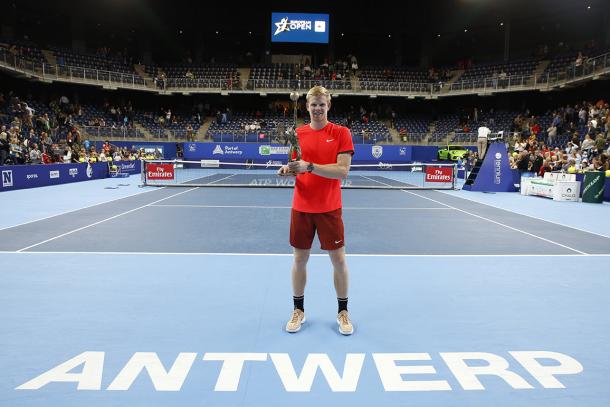 Monfils had also started the year strong, winning the title week one in Doha, but had not reached a final since. In Antwerp, he ended his countryman Jo-Wilfried Tsonga's title defense in the second round before topping second seed Diego Schwartzman to reach the final. Despite taking the opening set, Monfils could not claim the big points and fell short in the tiebreaks.
Stockholm
Stefanos Tsitsipas' breakout season now has its crown jewel. The 20-year-old won his first ATP title at the Stockholm Open, becoming the first man from Greece to win a title on the ATP World Tour. Tsitsipas had lost his first two ATP finals early this year, both against Rafael Nadal, but took advantage of playing a non-world number one in a final for the first time, taking down world number 145 Ernests Gulbis in straight sets for the title.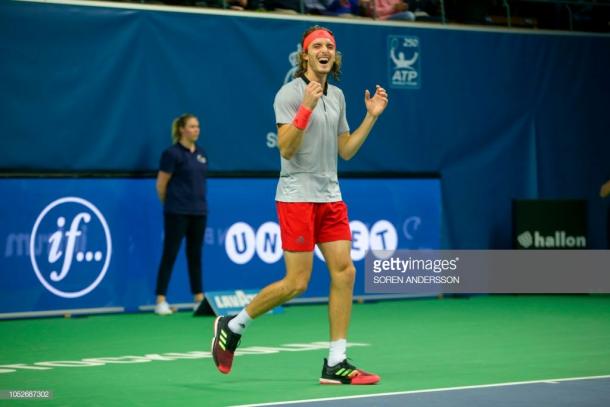 The Greek has struggled since his finals run at the Rogers Cup back in August and nearly suffered another early loss when he needed three sets to take out John Millman in the second round. After that, he did not drop another set, taking down second seed and fellow London hopeful Fabio Fognini in the semis before capping off the dream run against Gulbis.
Gulbis was once ranked as high as number nine in the world but has slipped so low that he needed to go through qualifying to reach the main draw. Once he did and won his first-round match, he took out three straight seeds, number seven Denis Shapovalov, number four Jack Sock, and top seed John Isner, who had won back-to-back three-tiebreak matches in his first two rounds, to reach his first final since 2014. In his seventh career final, the Latvian saw his perfect record in finals snapped in straight sets.
Rankings Update
Mover of the Week: Karen Khachanov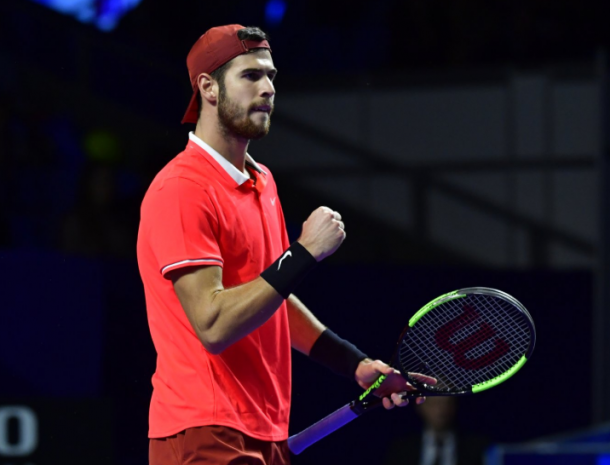 The Moscow champion moved up seven spots well past his previous career-high and into the top twenty for the first time at number 19.
Joining Khachanov as a top-twenty débutant is his countryman Daniil Medvedev, who moved up one spot from his previous career-high to a new one at number 20. Antwerp champion Kyle Edmund moved up one spot to match his previous career-high of number 14. The two French runners-up, Gael Monfils and Adrian Mannarino, both moved up five spots to numbers 33 and 44 respectively.
Race to London
| | | | | |
| --- | --- | --- | --- | --- |
| Place | Name | Points | Change | Points Back |
| 1 | x-Rafael Nadal | 7480 | - | - |
| 2 | x-Novak Djokovic | 7445 | - | (35) |
| 3 | x-Juan Martin del Potro | 5300 | - | - |
| 4 | x-Roger Federer | 5160 | - | - |
| 5 | x-Alexander Zverev | 4770 | - | - |
| 6 | Marin Cilic | 3825 | - | - |
| 7 | Kevin Anderson | 3720 | - | - |
| 8 | Dominic Thiem | 3535 | - | - |
| Top | Eight Qualify for | London | | Points Back |
| 9 | John Isner | 3020 | +1 | 515 |
| 10 | Kei Nishikori | 3000 | -1 | 535 |
| 11 | Borna Coric | 2300 | - | 1235 |
| 12 | Fabio Fognini | 2225 | - | 1310 |
| 13 | Kyle Edmund | 2150 | - | 1385 |
| 14 | Stefanos Tsitsipas | 2085 | - | 1450 |
The chase pack compressed a bit with Milos Raonic and Marco Cecchinato both being eliminated after early losses in Antwerp and Moscow respectively. There are still 1500 points up for grabs were someone to win a title this week and next.
John Isner's semifinal run in Stockholm allowed him to reclaim the ninth spot in the race, hopping back over Kei Nishikori, although he still trails Dominic Thiem by over 500 points with just two weeks to go. Kyle Edmund and Stefanos Tsitsipas' titles allowed them to stay alive in the race, although they both still need to run the table to have a hope of qualifying.
This Week's Action
There are two big 500-level events on the schedule this week, the final multi-event week of the season. With most London contenders in action, the field will likely be trimmed this week.
Basel
A strong field will head to the hometown of world number three Roger Federer looking to deny the Basel-native a ninth title at the Swiss Indoors Basel. Federer is the top seed this week and will be looking to defend the title once again. The Swiss has won eight of the last 12 tournaments in his hometown.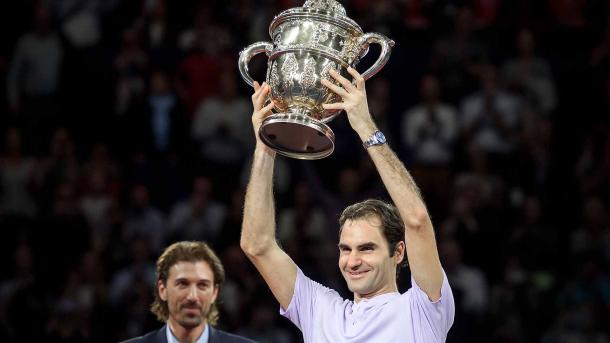 Marin Cilic is the only other former champion in the draw, having won back in 2016. He is seeded third this week behind Federer and Alexander Zverev. Cilic could clinch a spot in London by reaching the final (depending on other results) but will have his hands full in the first round against Denis Shapovalov. Stefanos Tsitsipas is the fourth seed and will look to keep his momentum going after winning his first career title last week.
Jack Sock, Marco Cecchinato, Daniil Medvedev, and Roberto Bautista Agut round out the seeds. The draw also features Swiss favourite Stan Wawrinka and surprise Stockholm finalist Ernests Gulbis, who opens against Sock.
Vienna
The 2018 Erste Bank Open could have massive implications in the race to London as eight contenders are in action. Leading the way is home-hero Dominic Thiem, who could use a strong result to help consolidate his place at the ATP Finals. He is joined by Kevin Anderson, who is also looking to lock up a spot in London. They are the top two seeds. Grigor Dimitrov is seeded third.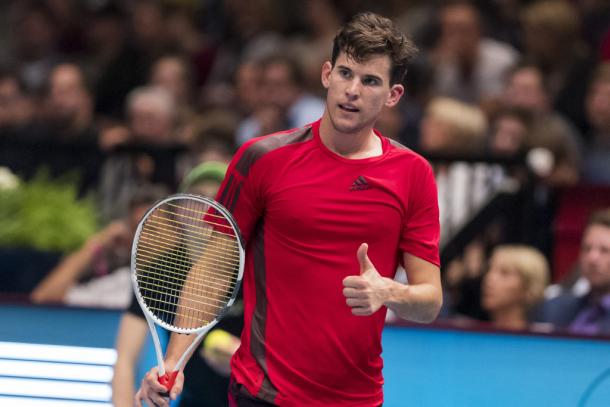 Six men looking to sneak into London will be looking for big results in Vienna, meaning a few will likely see their bids come to an end in the Austrian capital. John Isner, the fourth seed, currently sits in ninth, one spot out of the qualifying zone and needs to win at least one match to keep his hope alive. However, the American will need a bigger result if he hopes to sneak in. A first-round loss and a Thiem title would eliminate him from contention. Kei Nishikori, the fifth seed who is 20 points behind Isner, is in the same boat.
Borna Coric, seeded sixth, needs to at least reach the final to stay in London contention. However, he needs a title if Thiem reaches the quarterfinals and will be eliminated if the Austrian wins the title. Fabio Fognini and Antwerp champion Kyle Edmund, the seventh and eighth seeds, both need to win the title to have any hope of qualifying. Fognini will be eliminated if Thiem reaches the final and Edmund will be eliminated if Thiem wins his opening match.
Check back next Monday for a wrap up of week 43 and a look ahead to week 44 on the ATP World Tour. Come to www.vavel.com/en-us/tennis-usa/ every Monday or follow us on twitter @VAVELUSATennis for your #ATPWeeklyUpdate