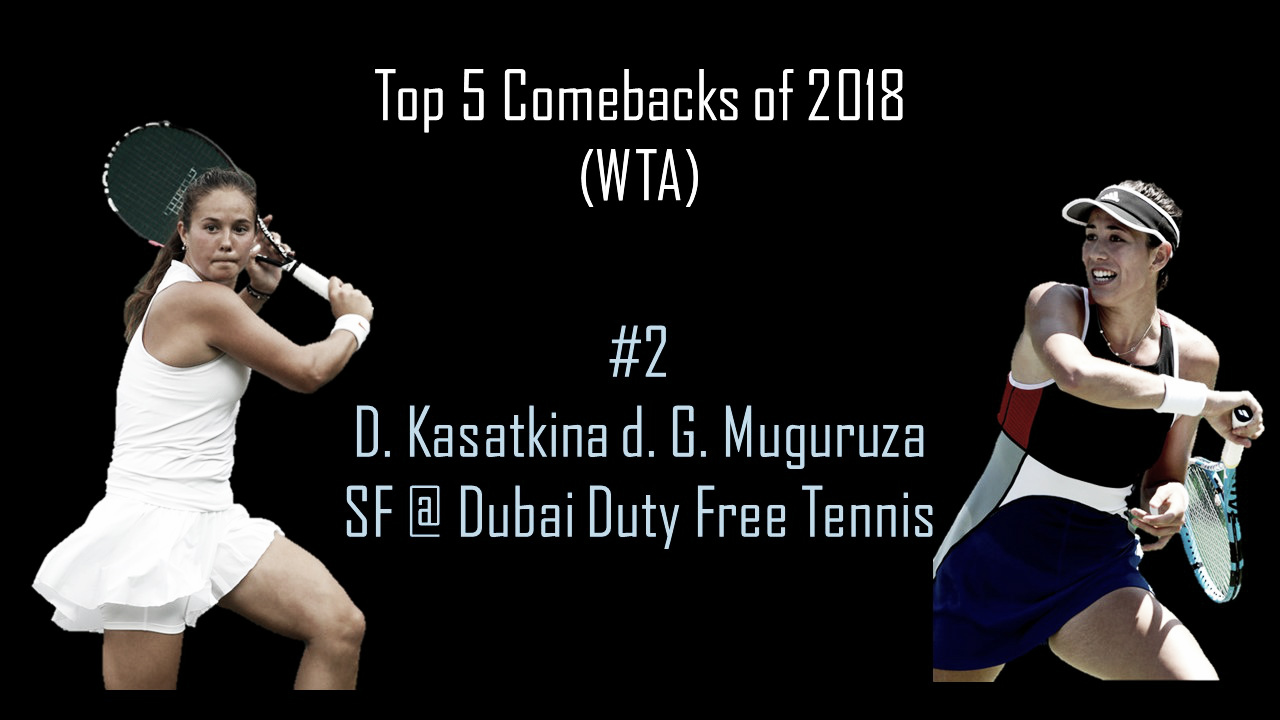 Coming in second on the WTA Top 5 Comebacks of the Year would be the classic clash in the semifinals of the 2018 Dubai Duty-Free Tennis Championships between the talented Russian youngster Daria Kasatkina and two-time Grand Slam champion Garbine Muguruza.
Their first meeting at the 2017 Brisbane International was a thrilling one, with Muguruza saving a match point to triumph, and their second meeting was not an exception. This time, it was the Russian who prevailed in a thrilling two hour, 33-minute encounter having saved three match points to book a spot in the biggest final of her career. (Kasatkina went on to reach a Premier Mandatory final at the BNP Paribas Open in her next event)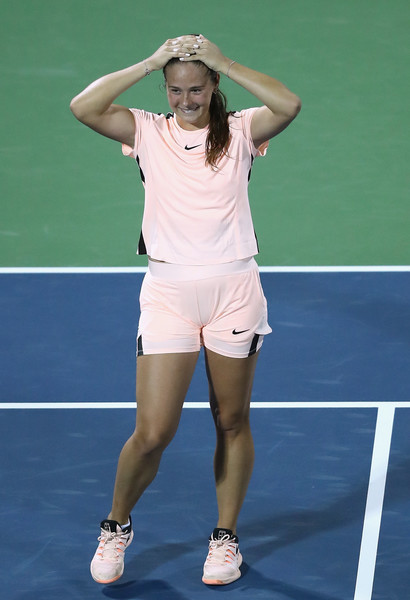 Firing 30 winners, Muguruza edged closer than ever to the victory when she led by a set and a break on two different occasions but failed to convert a total of two match points. A staggering statistic would be the number of unforced errors the Spaniard committed — 60 of them proved costly, especially during the crucial moments. Kasatkina may have produced only 19 winners, but she kept her statistic board clean by hitting only 38 errors which is less dire as compared to her opponent.
Muguruza took a quick first set 6-3 before rallying to earn a break in the second set but was pegged back multiple times. Kasatkina fought back from a disadvantageous position on several occasions although the Spaniard had served for the match once. From 0-3 down in the tiebreak, the spontaneous Russian battled to save three match points and send the match into a decider, which she ultimately dominated.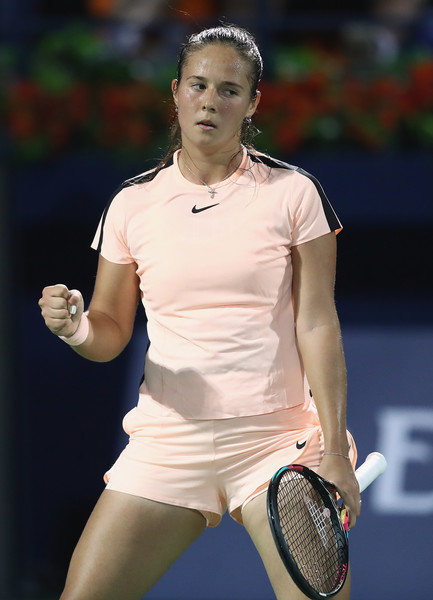 Muguruza grabs the quick first set
A marathon game kicked off proceedings for the match as Muguruza had to escape from trouble by stepping up to the occasion immediately. Kasatkina troubled her with some stubborn defence, redirecting the pace and mixing up the shots but the Spaniard went for the lines and charged towards the net, fending off four break points to hold serve in the opening game.
Comfortable service holds followed but Kasatkina got into some serious trouble in the sixth game. Her vulnerable serves were starting to get exposed by Muguruza and with some terrific aggressive play from the then-world number three, she managed to secure the first breakthrough.
After the relatively slow start, Muguruza was flawless on serve and ultimately consolidated the break; closing out the first set 6-3 after just 38 minutes of play. Kasatkina committed way too many unforced errors while the Spaniard remained consistently solid, putting up a good performance for the Dubai crowd.
Kasatkina edges the second set
Trailing on the scoreboard, Kasatkina certainly felt the pressure having to play catch-up as the second set was an all-or-nothing affair for the Russian. She almost lost a 40-0 lead in the first game but rebounded to close out the game confidently with a stunning backhand down-the-line winner.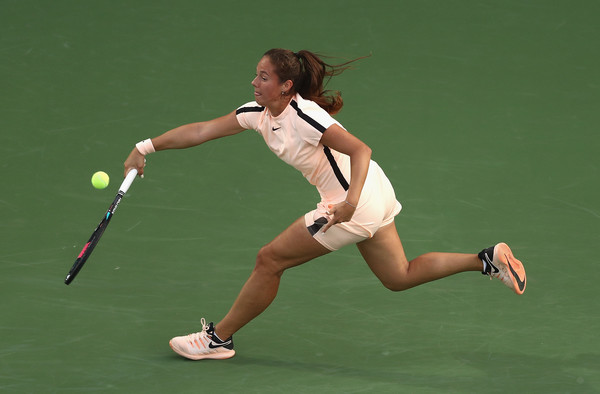 Muguruza continued to put up a perfect serving performance — losing just five points on serve since the opening game until 3-3 in the second set. Both players got stuck in a marathon seventh game on Kasatkina's serve lasting 10 minutes, but it was Muguruza who broke serve for the second time in the evening as the youngster failed to deal with the Spaniard's pace on her shots.
However, Muguruza put in four consecutive unforced errors, including a double-fault on break point down, and returned the favour to Kasatkina who did not have to do much to return on serve. She failed to clinch the chance to go ahead in the set and got involved in yet another tricky service game as Muguruza continued to dig for the strong returns. A 103 km/h second serve on the Spaniard's sixth break point was brutally punished as Kasatkina was broken on the second consecutive occasion, this time gifting Muguruza the golden opportunity to serve out the match.
Attempts to be more aggressive than ever backfired — and that was what Muguruza would have regretted doing while serving for the match. She was two points away from grabbing the important win which would have otherwise changed her season, but poor backhands proved to be costly as Kasatkina broke back once more.
Fighting back from a 0-3 deficit in the tiebreak, Kasatkina earned two set points but failed to convert as Muguruza stepped up her game when it mattered; coming up with some big forehands to save them. Kasatkina had originally lost the match when her forehand was called long on Muguruza's first match point, but a desperate, yet smart, Hawkeye challenge found out that the forehand just barely clipped the line.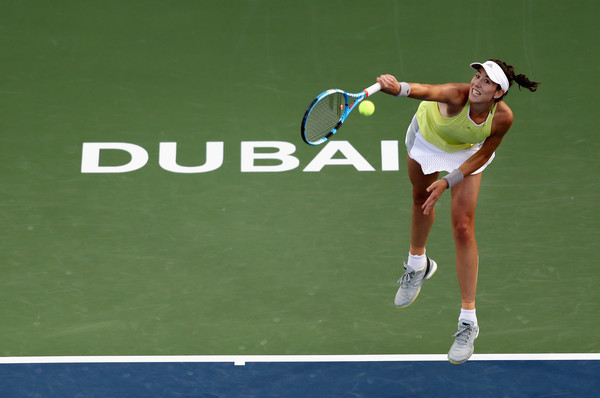 A thunderous forehand winner helped Kasatkina fend off the first match point before some world-class defence from the Russian helped her return level once more. Consecutive backhand errors saw Muguruza's chances slip away, and ultimately another risky forehand backfired as Kasatkina claimed the second set 7-6 after a marathon.
Kasatkina dominates the decider
A tired-looking Muguruza found herself in some deep trouble as Kasatkina rode on her momentum, firing an impressive forehand winner from a defensive position to claim the break in the opening game of the deciding set. The Spaniard just could not do anything right, with Kasatkina mixing up the serves and ruining her opponent's rhythm.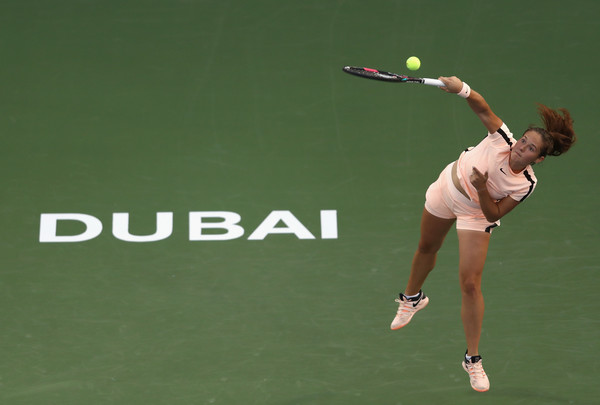 Although Muguruza got onto the scoreboard with the help of a confident service hold, her level was not good enough to match Kasatkina. She was unable to find the consistency in her game and that proved costly as all the Russian needed to do was to wait for an unforced error from Muguruza.
Fabulous defensive skills from Kasatkina aided her in claiming yet another break, this time consolidating it for a commanding 5-1 lead within a blink of an eye. Serving to stay in the match, the intensity of Muguruza's game was gone as she eventually sent a forehand long on match point as confirmed by Hawkeye.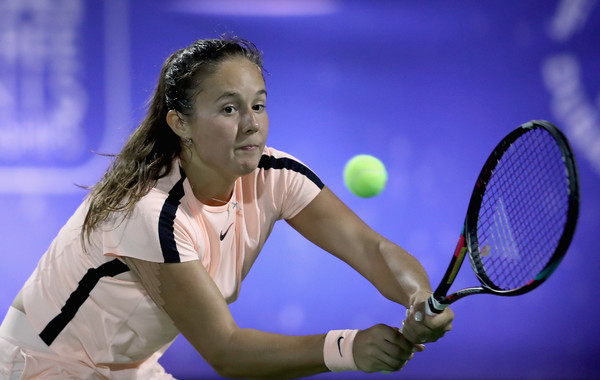 What they said: Kasatkina reflects on the win, Muguruza reflects on missed chances
Having been so close to the victory, Muguruza would definitely be disappointed with how she failed to close out the win. Referring to the three match points she owned, she mentioned, "I think I had to play them better. But I think, you know, she was not missing a lot. She was inspired when she was under pressure. I had to all of a sudden hit an incredible shot or a winner or something like that to kind of break a little bit the rally."

The Spaniard was also full of praise for her younger opponent, "I think she likes to play when she's under pressure. Her best tennis comes when she's about to lose, I feel. With the matches she normally plays, she's always in danger, and all of a sudden she kind of comes back."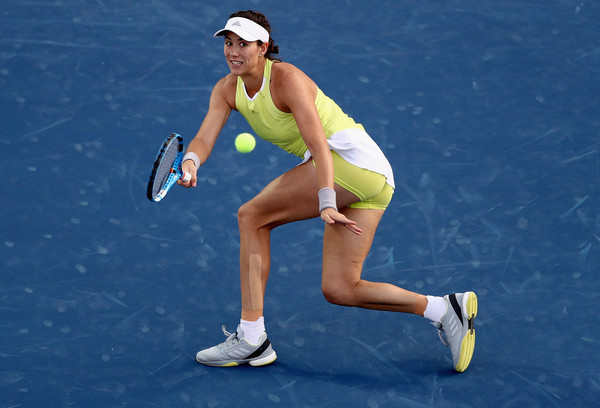 Kasatkina herself was also amazed at how she managed to turn the tides and prevail in this thrilling encounter, "When you're winning from match points, you don't know why. I was just trying to fight for every ball because Garbine, she's playing unbelievable. She's very tough opponent. She's hitting so hard, playing so fast. I was just trying to do whatever I could."
Having fought to save two match points and defeat Johanna Konta in the second round, Kasatkina had nothing to fear in her path to success. "After winning two matches from match points, I don't scared of anything already. Playing tiebreak every match, no, I don't scared." Although she went on to lose in the final, Dubai was the breeding spot for her success as it began a terrific season for the Russian.
Ultimately, Kasatkina made the final of Indian Wells before claiming her second WTA title in Moscow, ending the year inside the top-10 while Muguruza experienced a poor season, finishing the year outside the top-15.