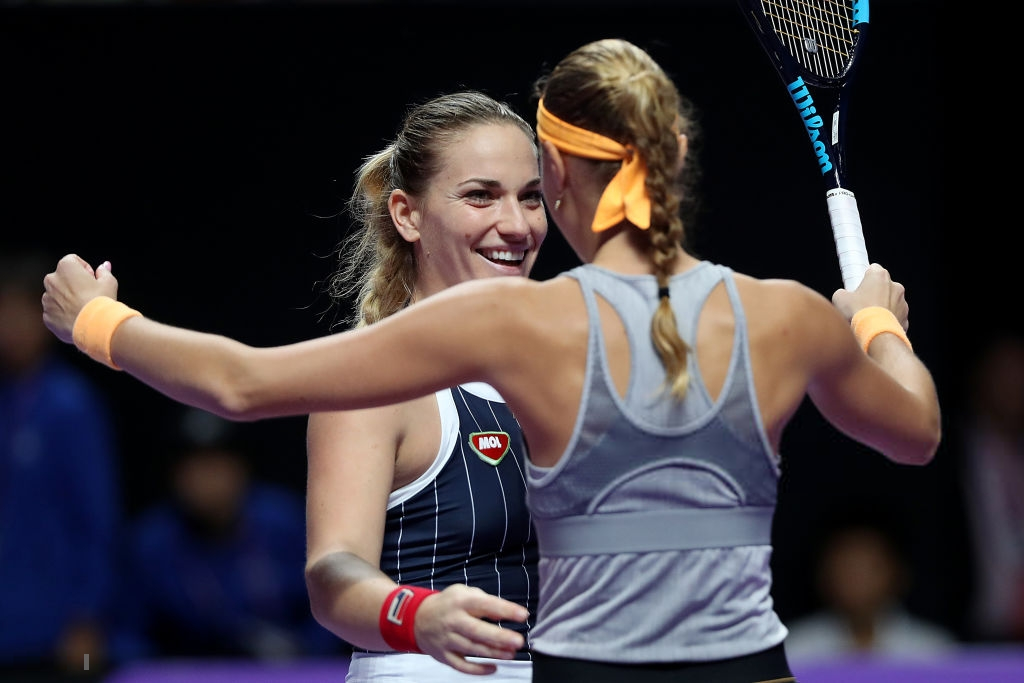 Defending champion Timea Babos and Kristina Mladenovic's dreams of a second consecutive WTA Finals title continued in Shenzhen, beating Australian Open champions Samantha Stosur and Zhang Shuai and exacting revenge for their loss in the Melbourne final. Recovering from a huge deficit in the match tiebreak, Babos and Mladenovic stormed into the final for the second year in running.
Babos and Mladenovic came back from a set and a break, triumphing 1-6, 6-4, [10-8] to claim the impressive win even when everything seemed to be going against them. Taking an hour and 29 minutes to seal the victory, the Shenzhen Bay Sports Centre witnessed one of the best atmospheres this week, especially with one of the local players, Zhang Shuai, being in action.
Stosur and Zhang dominated throughout the majority of the match, firing 19 winners to just 18 unforced errors, but was unable to convert on the important points later on as the Chinese's errors proved critical in the closing stages. Babos and Mladenovic were only able to find 16 winners and hit 25 unforced errors and won two fewer points, but still managed to seal the spot in the final.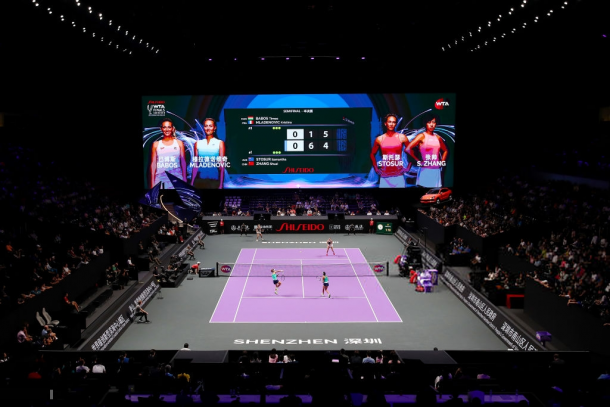 Babos and Mladenovic stun the crowd favourites in three sets
A fantastic start saw the defending champions claim the break in the opening game, but from there it was one-way traffic for Stosur and Zhang. They replied with eight games on the trot, dominating the net with their timely interceptions and remaining solid at the baseline, prevailing on multiple deciding points to edge closer than ever to reaching the final of the year-end championships.
All it took was a backhand error from Zhang at 2-0, 30-0 in the second set for the momentum to shift. Coincidentally, that seemed to be the first unforced error from the Chinese in quite a while. Babos and Mladenovic broke straight back and took charge from there, getting fired up and boosting their confidence.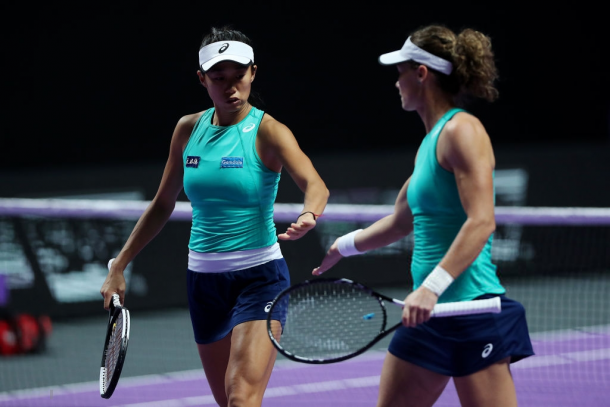 Serving to stay in the set, a costly volley error from Stosur sent the match into a deciding match-tiebreak. Babos and Mladenovic rode on their momentum and sprung out to a quick 3-1 lead, but lost six consecutive points to trail 3-7 with their dream of defending the title slowly dying off.
This time, a smash into the net from Zhang completely killed their team's momentum, and Babos and Mladenovic took full advantage to rattle off seven of the next eight points to steal the [10-8] win eventually. A smart challenge from Babos allowed them to earn a match point before a lucky netcord favoured them as Stosur and Zhang ended their campaign in the semifinals.