"Donna Vekic has spoken out about the challenges she and other tour professionals face as the WTA Tour returns to action after a hiatus more than four months due to COVID-19. The Croat, seeded sixth at this week's Palermo Ladies Open, joins a number of players with growing concerns as the sport tries to resume.
Vekic talks about efforts to help lower-ranked players in times of financial need
The world number 24, a member of the WTA Players Council, is frustrated that there has been little help for the lower ranked players, who have suffered the most during tennis' hiatus.
"It's very difficult to make it fair for everyone", she said. "It's not very difficult, it's literally impossible. That's what we've been struggling a lot with. It does not matter if you are representing the top 10, top 20 or top 50, we've all, as a council, been working to protect lower-ranked players and this is something we have not been able to do."
Croat comments on her scheduling difficulties
Vekic also spoke about her scheduling, calling it "difficult" to decide where to play on a week-by-week basis. She is also upset not having her full team on hand as new tour guidelines limit each player to one team member.
"It's a little bit frustrating to not being able to have my full team with me on-site", she added. "Other than that, I cannot and don't want to complain about the hotels and the site as I know it is not easy financially for the tournament. Honestly, i'm really happy to be here. It's just the restrictions on-site that are more frustrating to me."
Vekic calls for "common sense" approach to combating virus
The world number 24, a quarterfinalist at last year's US Open, is hoping for practical solutions to try and contain the spread of the virus.
"I don't think players are going to go out in nightclubs and partying. If you want to go out for a walk, it's normal. If we all have to over the next few months stay in the rooms and be only on-site, everyone will go insane. So to just have some common sense would be pretty good in this period.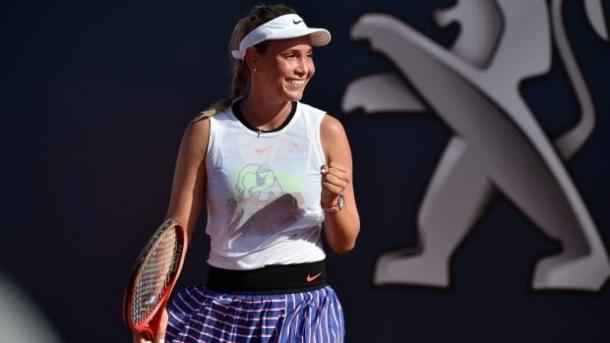 "Of course I'm careful and cautious, but i'm not going to pretend to be locked in the room all day when I'm not. I went for dinner in the city. We're being careful and not being close to people, but I'm not locked in the room and 90 percent of players aren't. We don't have a bubble here.
"In New York (there will be a bubble) and there will actually be fans and if everyone respects that and it makes sense, I'm all for it. If rules are contradicting each other, it makes sense."