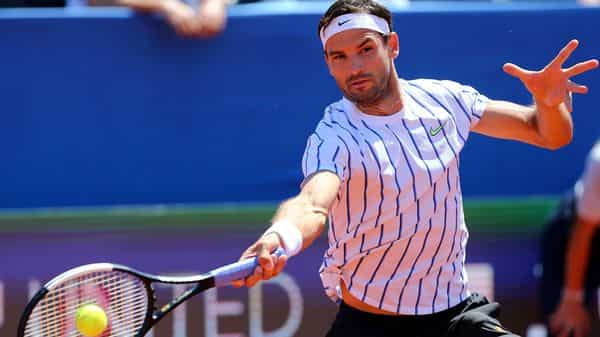 As players decide whether or not to travel to the United States for the upcoming Western and Southern Open and US Open, in the wake of COVID-19, one player who is still undecided is Grigor Dimitrov.
The Bulgarian, a semifinalist at Flushing Meadows last year, is unsure if his body will be able to withstand the rigors of three weeks of hard court tennis in North America.
Dimitrov casts doubt over entry into Western & Southern Open, U.S. Open
After testing positive for the virus following his participation in Novak Djokovic's failed Adria Tour, Dimitrov took a few weeks to recover before playing in the Ultimate Tennis Showdown, but admits he is still struggling.
"Right now, I'm very uncertain [about competing in the Western & Southern Open and US Open]", he said. "I'll be completely honest, I am very uncertain. I thought about it and I keep thinking about it every single day. I feel like there are so many questions I have to ask and there are so few answers."
Bulgarian talks about tough travel during global pandemic
He knows what going through it is like, stating "I've had it and I know what it is" while also mentioning the travel difficulties.
"For Europeans it is hard because you have got to travel about 12 hours to get to New York and take a couple of planes, then get to a hotel, and the bubble is a bubble, but I mean statistically we're like over a thousand people in the same place and it's just not easy."
'Things are going to look a little more complicated'
The world number 19 is fearful of what might happen should a player contract the virus while at a tournament.
"I hope nobody gets it but if somebody gets it things are going to look a little more complicated. Even if we have agreements with governments about quarantine and everything, we just never know what will happen from one day to another so it puts a lot of limitations on the schedule.
"I want to compete, but at the same time I am not entirely sure that my body is going to hold up even though I have been on the mend and I have been practicing a lot more and I have been feeling like I have more energy and more of everything. It's still a question.
We're definitely going to wait and see what some of the announcements are going to be and probably make a decision from there. Right now, it's such a delicate time that I cannot say 'yes I'm going' or 'no I'm not."