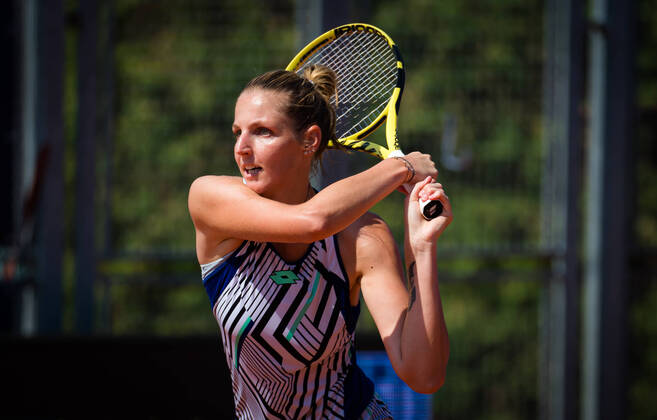 Kristyna Pliskova recorded one of the best wins of her career, knocking out second seed Petra Martic in the second round of the Prague Open and she discussed how her game has evolved on clay following the victory.
Pliskova addresses a wide range of topics ahead of Prague quarterfinal
Part of the Czech's success this week is her ability to get off to quick starts, having taken the first set against Linda Fruhvirtova 6-2 and 6-1 against Martic.
"The first sets are amazing for my side I would say", she said. "Not really missed balls and the serve is quite there almost every time I need it so I feel like I'm struggling a little bit in the beginning of the second set. That's something I need to work on, but I won two times in two sets, so I'm happy."
With the new protocols on tour in place, Pliskova's routine has changed and it seems to have benefitted her.
"For me, it's great to play first round cause there's warm-up at 10 and a little bit to change and take a quick shower. There's not much time to think about the match and I don't have to warm up with it again a lot, so the timing is good for me. I go right from the warmup to the match. The weather was not so hot today, so I felt also physically OK."
She assessed the potential of Fruhvirtova, who is just 15 and made her main draw debut at the WTA Tour level.
"The first round was really tough physically. She's 15, so there's not much she can do when I play well, so it was more about me. Today, I knew if I played well I could lose, so it was different, but I'm happy my game was there."
"I think definitely she can play, but I think it's quite soon to say how she can go. She's still 15 and you never know with the injuries and things around. What I know about her and her sister is they practice a lot, so that's the only thing I would say is not great from their side cause they cannot grow much more. I think it's kind of their limit, so we will see if they will improve."
Since reaching the final here in 2017, Pliskova has made more quarterfinals on clay than any other surface and she talked about what has improved in her game on that surface.
"I feel like I'm playing a little bit better on clay. The results are not like finals every year. I remember I was playing (the) final here (in 2017). The Center Court is quite fast and I feel good here, so that's why I made the final. I feel good on clay (the) last couple of years. I have more time. It's good for me that it's not fast so I can focus on my game and let's see how far I can go."