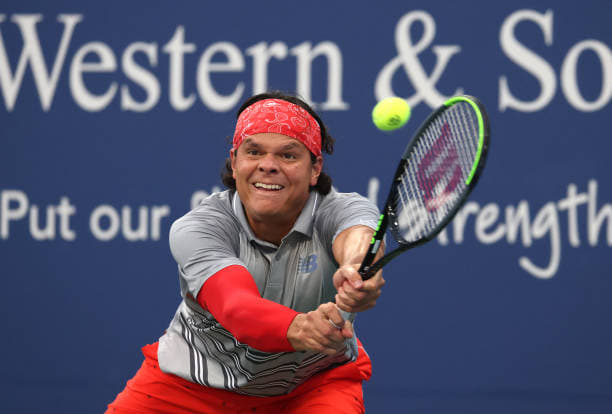 After comfortably dispatching Andy Murray last night Milos Raonic took on his next opponent in the quarter-finals. He was playing a young Serbian by the name of Filip Krajinović who has had an impressive run this week notably beating the number two seed Dominic Theim in straight sets 6-2,6-2.
This was their first-ever meeting. Raonic known for his booming serve and big forehand was on full display in this one. He had a perfect service game and then went on to earn three break points on Kraijinoivc's first service game. He managed to save all 3 before holding serve.
Kraijinovic managed to flip the script on Raonic and managed to earn break points of his own in the next game and was able to convert as Raonic whiffed at a ball on a breakpoint. Kraijionovic took the lead 2-1 in the first break of the match. Both players held serve the rest of the set and Kraijinovic managed to win the first set 6-4.
That would be the first set Milos Raonic had lost all tournament and were wondering if an upset was on the cards. The beginning of the second set was much like the first set to almost a mirror image. Raonic would hold and have three more break points of his own once again but Kraijinovic was up to the task of saving them.
Once again at 1-1 Kraijinovic got the crucial break once again to lead 2-1 on his serve. We jump to the seventh game with Kraijinovic leading 4-3 when Raonic got another breakpoint to get back on serve. Kraijinovic once managed to save his seventh break point of the match. With Kraijinovic serving at 5-4 we thought potentially the match was over the upset would be complete but the unthinkable happened. Raonic had 2 more breakpoints once again to level the match at 5 and managed to win one of them.
The match was officially turned on its head and we headed to a second set tiebreaker to decide if the match was going three sets or if Kraijinovic would respond to getting broken. The momentum of breaking seemed to give Raonic the energy he needed to race through the breaker winning it 7-2 and taking the second set 7-6 (2). We would now enter a third and final set.
On the fifth game of the third set and Kraijinovic earned the first breakpoint of the set. Raonic saved that one with a big forehand winner and a couple of points later saved another one with a big ace. At 4-5 Raonic faced match points but once again it was his turn to come up big and saved them.
He flipped the switch once again at 5-5 getting a breakpoint and this time converted to take a 6-5 lead. He had no issues serving it out and taking the match in three sets 4-6 7-6 (2) and 7-5. He will now face Stefanos Tsitsipas in the semi-finals tomorrow.