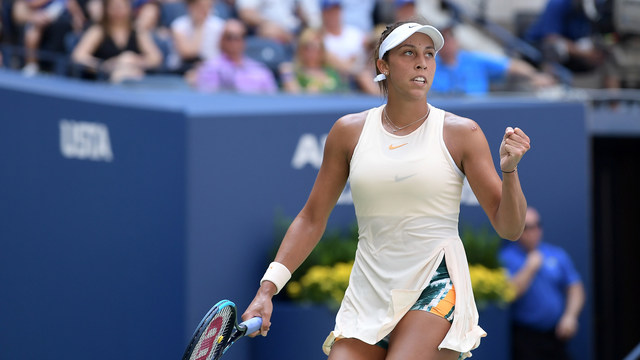 The US Open begins on Monday amid very different circumstances with the COVID-19 pandemic changing sports as we know it. With concerns over the deadly virus, six of the world's top ten have withdrawn, leaving Karolina Pliskova and Sofia Kenin as the top two seeds.
As the players gear up to contest the year's second major, VAVEL takes a look at the 32 seeds, best first-round matchups, darkhorses and predictions on who will lift the trophy in two weeks' time.
1. Karolina Pliskova: The Czech comes in off of a flat, dispiriting loss to Veronika Kudermetova at the Western and Southern Open, but she is a former finalist in New York (2016) and still possesses one of the biggest serves in women's tennis. Is she the favorite? No. Can she win it? Absolutely.
2. Sofia Kenin: With all due respect to the 21-year old American, it's hard to believe she is 2020's only major champion. Struggling since her shocking title in Melbourne (which is understandable), the slower courts may help her. Snuck up on everybody Down Under. Won't have that luxury this time around.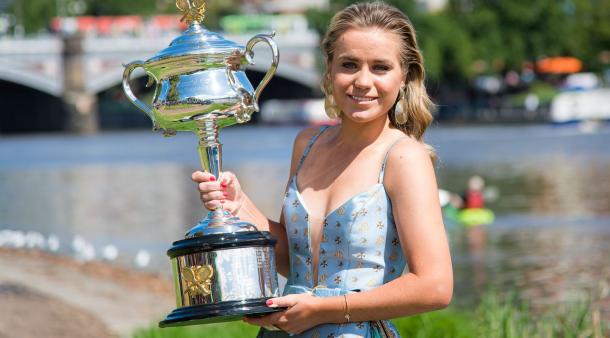 3. Serena Williams: Let's be honest: for the first time in a while, she's not the favorite (even if it was by default). She's actually gotten five matches in since the tour restarted, but all five have gone three sets and she hasn't looked good in any of them. Still plenty capable of winning, but it won't be as much of a shock if she doesn't this time around.
4. Naomi Osaka: She withdrew before the Western and Southern Open final, which is a shame because she played some good tennis this week and has beaten some quality opponents. Some have labelled her the favorite, but the ankle injury puts that status in doubt. If she's right, she's among the two or three favorites. If not, an early exit isd possible.
5. Aryna Sabalenka: I feel like she's been considered among the favorites to win a Slam for a while now, but she's yet to develop that consistency needed over seven matches in a major and split with coach Dmitry Tursunov (again). A replay of her second round match with countrywoman and Western and Southern Open champion Victoria Azarenka is on the cards and if Sabalenka goes out early this time, no one will fault her.
6. Petra Kvitova: This is the only major where the two-time Slam champion hasn't made at least the semifinals and that's probably because of the hot, humid conditions as well as the busy, noisy atmosphere of New York. With no fans at this year's edition, if she can navigate past Elena Rybakina or Dayana Yastremska in the fourth round, that could change.
7. Madison Keys: No one is talking about the 2017 finalist and she hasn't really given anyone a reason to, but she's made the quarterfinals or better in five of her last nine majors and has been to at least the fourth round here every year since 2015 (consistency that someone like Sabalenka, with a similar game, doesn't have.) With all of that firepower, it would shock no one if she took home her first major title.
8. Petra Martic: She's only seeded this high because of all the withdrawls, but credit her for being a consistent top 15-20 player and while she's not terrible on hard courts, this isn't her preferred surface. She is in a workable section of the draw until the quarters, where she would likely have to stare down Pliskova. In this highly unusual year, this is the type of player who could become the latest surprise semifinalist.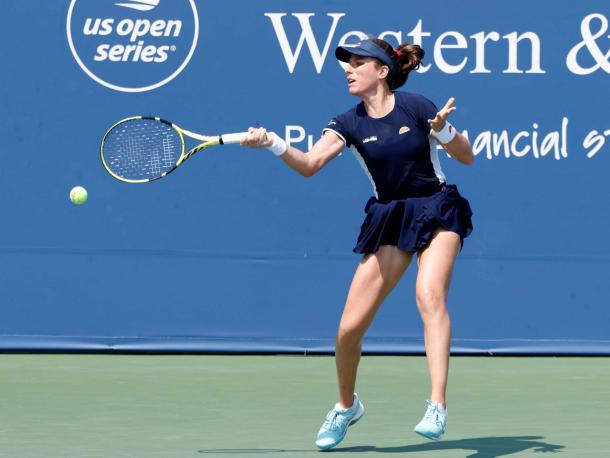 9. Johanna Konta: Now THIS is a Darkhorse despite the number next to her name. Was playing some outstanding tennis at the Western and Southern and her loss to Azarenka in the semifinals (despite a 6-1 third set loss) was nothing to be ashamed of. They could play again in the Round of 16 with the winner having a chance to get to the final weekend.
10. Garbine Muguruza: The good news? She made the Australian Open final and looked good doing it. The bad news? She's injured, having pulled out last week with an ankle injury. She should have beaten Kenin in the championship match in Melbourne. Still one of tennis' great enigmas, a quarterfinal against Serena would be fun to watch.
11. Elena Rybakina: Now here's a player who wishes tennis never stopped as she made the finals in every tournament she played in to start the year, save for the Australian Open. She's never been in this situation before where there are expectations for her and a third-round encounter against Yastremska is a showcase for tennis' future. It'll be fascinating to see if she regain that early-season form, but she is undoubtedlty a future major champion.
12. Marketa Vondrousova: The first thing that needs to be said is that it's great to see the Czech healthy again. Her draw is very manageable and her all-around game and court craft is a pleasure to watch. Could play Martic in the fourth round, a match we saw at Roland Garros last year, won by Vondrousova on her way to her first major final.
13. Alison Riske: What a shame that she has such a tough draw with Angelique Kerber and Pliskova in her section before the quarters. Otherwise, she could do some major damage. A hard-worker that deserves a ton of credit for doing so well later in her career.
14. Anett Kontaveit: The Estonian made her first Slam quarterfinal in Melbourne and had Osaka down a set this past week in that same round. Also made the final in Palermo after tennis restarted. She's always been a promising player with a ton of talent and it's nice to see her playing up to her capabilities on a more consistent basis.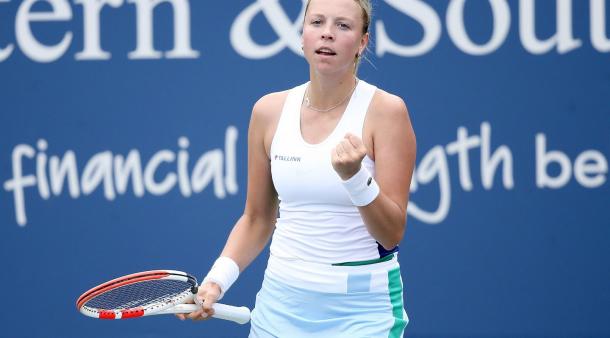 15. Maria Sakkari: Beat Serena at the Western and Southern (badly in the third set I might add) and is always tough from the baseline with more power in her game now. She is susceptible to big hitters and there are plenty in her section with Serena, former champion Sloane Stephens and Amanda Anisimova. On the other hand, if they're off their game (as was the case when she faced Serena last week), she's not the type of player you want to face.
16. Elise Mertens: Finalist in Prague, semifinalist at the Western and Southern and steady and comfortable on any surface. She won't wow you with her game, but she's the type of player that goes about her business quietly. Would love to see her play Kim Clijsters, who briefly coached her in 2018 before returning to the tour, in the third round.
17. Angelique Kerber: No former champion should EVER be counted out, no matter how bad their form may be. The 2016 champion hasn't played since the restart, so we don't know where she is at the moment. The German performs better when her ranking and expectations are lower. Watch out here.
18. Donna Vekic: I've always thought the Croat was slightly overrated as she doesn't do any one thing outstanding, although she did reach the quarterfinals here last year. Her first-round match against Kristyna Pliskova is one that could see Vekic heading home early.
19. Dayana Yastremska: Her high-profile partnership with new coach Sascha Bajin hasn't produced the results we all hoped it would with just one final (although it was a big one) in Adelaide. Give Bajin more time and a full season without interruption and the Ukrainian will soon, like third-round opponent Rybakina, will be a Slam champion.
20. Karolina Muchova: It's an absolute pleasure watching her play. Her easy, free-flowing game combined with her willingness to come to net often, something you don't see much anymore, makes her probably (at this point) the most dangerous player in this seed range. Has the premier first-round match against Venus Williams.
21. Ekaterina Alexandrova: Highest-ranked Russian is a hard hitter and won Shenzhen over Rybakina to start 2020. The biggest problem the 25-year old has is her first round opponent: Kim Clijsters. She'll benefit from not having a crowd against her, but let's see how she handles the pressure of being the favorite in the match.
22. Amanda Anisimova: So much talent, but from the looks of her matches since the restart, she still seems to be struggling with the loss of her father, who passed away at this time last year. When she's back focused and on, she can win this. Until then, any result for this brilliant teenager is acceptable.
23. Yulia Putintseva: She has a fairly easy draw to the third round until she faces Vondrousova. Putintseva's greatest skill is getting under people's skin and she's done it wonderfully to get to this point. She is entertaining, though.
24. Magda Linette: What a year it's been for the Pole as she's gone from a solid top 50 player to a seed at a major. That's what two titles will do for you. Unfortunately, she's in the same section as Kontaveit and Osaka, so she won't go farther than the third round, which would be a career-best in New York.
25. Zhang Shuai: Two-time major quarterfinalist has been to the third round here three of the last four years and has the game to cause some of the higher-ranked players problems. She'll get that chance in the third round against Keys.
26: Sloane Stephens: Think about this: Sloane is 1-7 on the year and she's seeded (albeit with the help of players withdrawing). It's maddening to see this happen to a player with so much talent and, as I said with Kerber, you never count former champions out, but until she puts together even a couple of wins in a row, it's hard to make any substantive case for her.
27: Ons Jabeur: She made history in Melbourne as the first African player to reach a Slam quarterfinal and is another player that is lovely to watch. Kenin got her Down Under and they could see each other again here in the third round with an entirely different result certainly possible.
28. Jennifer Brady: Won her first career title in Lexington two weeks ago and is ranked at a career high of 40th. Made the fourth round at the Open in 2017, losing to Pliskova and she may get her again one round earlier. If the Czech isn't on top of her game, we could see a big upset.
29. Veronika Kudermetova: 23-year old Russian who recorded the aforementioned win at the Western and Southern over Pliskova. She's 5-12 lifetime at majors, her best result the third round at the Australian Open this year. Sabalenka or Azarenka will beat her at that stage here.
30. Kristina Mladenovic: Give her credit for rebuilding her game and ranking. A former Open quarterfinalist, she's in a great section of the draw and getting back to the last eight isn't completely out of the question.
31. Anastasija Sevastova: Semifinalist in 2018 faces a stern challenge right away against Cori Gauff. She's a long way from that form of two years ago and will be the underdog despite being the seeded player. Osaka awaits in the third round if she gets there.
32. Rebecca Peterson: She almost got double-bagelled by Mertens at the Western and Southern and here she is seeded. A third round against Kvitová is the best she could hope for. Even losing to either Marie Bouzkova or Jessica Pegula in the second round is a real possibility for the Swede.
Unseeded players to watch
Victoria Azarenka: She "won" the Western and Southern title when Osaka gave her a walkover, but her form all week suggests she may have come out on top even if the match had been played. She's playing her best tennis in a long time, which is great to see. A long run here will signal that she is indeed truly on her way back.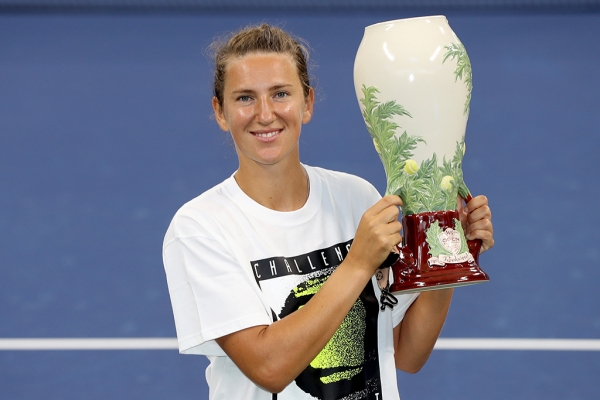 Kristyna Pliskova: While her sister deservedly gets all the attention, Kristyna is putting together some good results and has a monster serve. I think she'll beat Vekic and that's why she's on the list as she could very well go a couple rounds further after that.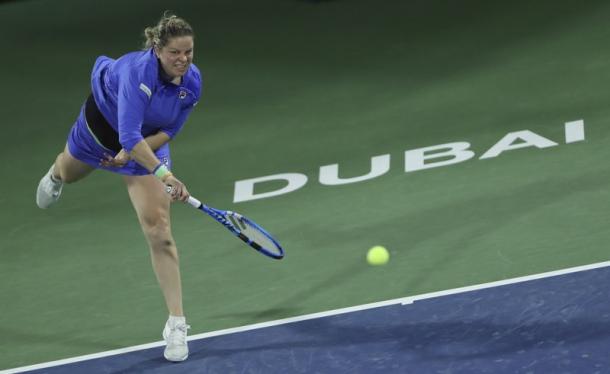 Kim Clijsters: It's not so much whether she can win the tournament (that seems like a stretch). Rather, it's to see just how far she can take this comeback. She hadn't played much before tennis was paused, but was rightfully granted a wild card. Seems committed to taking this into next year, but let's enjoy her while we still have her.
First round matches to watch
Muchova vs Venus: Contrast in styles, a legend goes up against a rising young star. This is where not having a crowd can hurt Venus, but she's playing well enough to win this. Excitement abounds.
Vekic vs Kr. Pliskova: Big, lefty serves from the Czech should be enough for her to pull off the upset, but it should be close throughout and will likely go the distance. Good watch if it's on a fast outside court, as well.
Clijsters vs Alexandrova: The draw did the two-time Open champion no favors in handing her a solid opponent. The power will be on display on both sides of the net and if Kim can win this, then that's a big step going forward.
Semifinals: Kontaveit def. Kerber, Keys def. Azarenka
Final: Keys def. Kontaveit