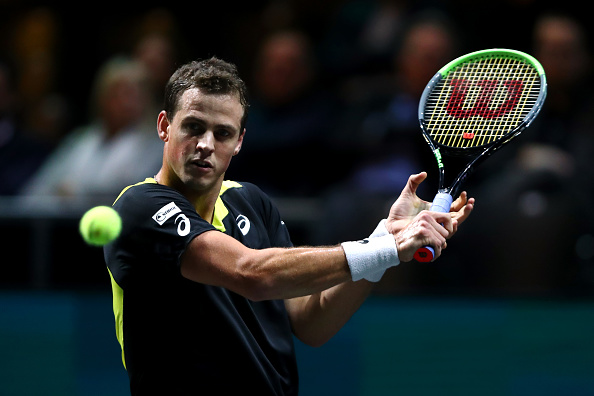 Facing Philipp Kohlschreiber his first match, Vasek Pospisil was playing his first Grand Slam in over a year at the US Open since he spent most of last year recovering from back surgery.
The first set started with both players holding their serves until 2-2 when Pospisil seemed to struggle to hold his service game and we though Kohlschreiber would be able to break the Canadians serve but he managed to pull through and hold.
Pospisil got his first break point of the match which was also a set point at 4-5 30-40 but Kohlschreiber would save it and hold his serve to make it 5-5. The first set would be decided by a tiebreaker and Pospisil would be the first to strike earning a break at 1-2 to take an early lead. He would cruise from there winning the breaker 7-4 and taking the first set 7-6.
The second set was almost like the first with both players holding their serves till 5-5 when once again Pospisil had breakpoints. On his third breakpoint, he would manage to break the Kohlschreiber serve to lead 6-5 and serve out the second set winning it 7-5.
Pospisil would have early chances to break in the third set at 2-2 he would have two but Kohlschreiber would save both and manage to hold his serve. Pospisil had another chance to break at 4-4 and this time he was able once again to get the break to take the lead 5-4 and a chance to serve out the match.
Unfortunately for Pospisil Kohlschreiber had other plans as he managed to break the Pospsil serve for the first time in the match to make it 5-5. Pospisil would respond in the next game but pushing for another break and he would end up breaking Kohlschreiber once again to lead 6-5 and have a second chance to serve it out.
He had three match points on his serve and Kohlschreiber would manage to save all three and create a breakpoint of his own to force a tiebreak. In that tiebreak, it was on serve till the fifth point that Pospisil would manage to get an early break of serve and he would cruise the rest of the way to win the breaker 7-3.
He would win the match 7-6, 7-5, 7-6 and will face fellow Canadian Milos Raonic in the next round.