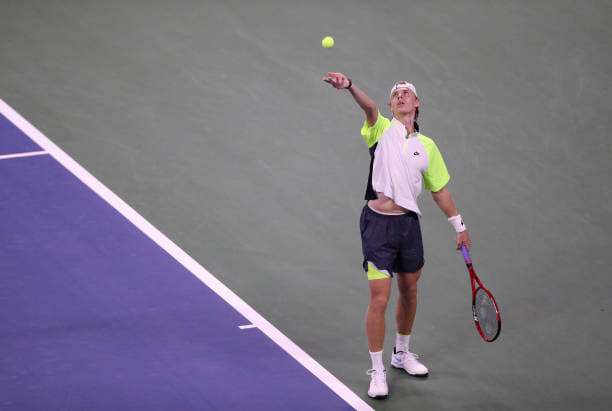 Denis Shapovalov faced off against Soonwoo Kwon in the second round of the US Open, a match being played on Louis Armstrong. The match started on serve and at the start, it looked like Shapovalov was in fine form hitting some nice forehands and winning some nice points.
Both the forehand and backhand were on full display and it seemed Shapovalov was hungry for the early break in the match. At times he was a bit too aggressive and that's when the unforced errors would creep into his game giving Kwong an opportunity to stay in the game
In the seventh game of the first set, Kwon managed to get two early breakpoints on Shapovalov serve. The first one he saved with a brilliant forehand that went cross-court before he saved the second one with a second-serve ace. We jump to 5-5 in the first and this match was turning into a big battle with both players hitting from the baseline waiting for the opponent to make an error or miss.
We saw lots of long and intense rally and it was great to watch and it made the match more interesting to see who would get the first break. We would settle the first set in a tiebreak and that's when Shapovalov turned up his game and managed to get an early break in the breaker to lead 3-1.
He managed to secure that break with his backhand that went crosscourt and it was quite the shot. At 5-4 Kwon managed to get the break back when Shapovalov hit a forehand long and it was 5-5 and somehow he had squandered his lead. Kwon would win the next two points to win the breaker 7-5 and take the first set 7-6.
Shapovalov had managed to hit 5 errors in a row when he was up 5-2 to give back life to Kwon. In the second set, Kwon struggled in his opening game to hold his serve but managed to fight through it to hold.
The same thing happened to the Canadian the very next game but as Kwon did he managed to hold to make it 1-1. The next game was a long one that lasted over seven minutes and Shapovalov managed to have breakpoints but each time the South Korean was up to the task of saving it.
Shapovalov got his first breakpoints of the second set at 2-2 and he would manage to get the break to take an early lead. That would be the only break of the set and both player held serve from that point and the Canadian served it out at 5-4 to win the second set 6-4.
We enter the third set and this time it was Shapovalov turn to face some pressure as Kwon earned a breakpoint but it was quickly saved with a huge down the line forehand. At 2-2 Shapovalov once again had breakpoint but it was Kwon turn to save it.
Both players kept getting opportunities to break but were getting shut down each time. Finally, Kwon was able to break Shapovalov to go up 4-2, Shapovalov responded immediately in the next game breaking back with a huge forehand pass down the line with Kwon at the net to go back on serve.
During the changeover, Shapovalov called for the trainer who would work on his calf and ankle as he had seemed to pull it during a point. He would be ok and managed to even up the set at 4. He wouldn't lose a game after that and the next game would get the crucial break to lead 5-4 and serve out the set 6-4.
He would go on quite an impressive winning four games in a row to steal the set from Kwon. He would keep the momentum going into the fourth set when he would have chances to break in the very first game and he did just that to take a 1-0 lead.
He had a chance at a double break after holding to lead 2-0 but Kwon was up to the task of once again saving it. Shapovalov would earn another break to take a 4-1 lead. He would serve it out at 5-2 to book his spot in the 3rd round with a final score of 6-7, 6-4, 6-4, 6-2.
He will next face Taylor Fritz in the third round a match that will most likely be played on Friday.