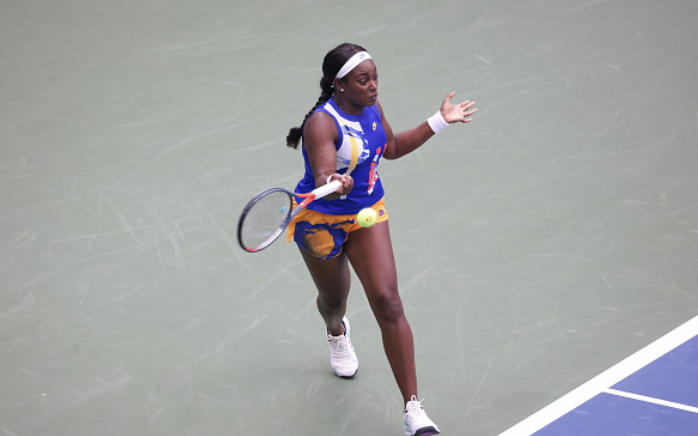 Sloane Stephens is no stranger to playing on the big stage. She knows quite a bit about playing in the spotlight as a two-time major finalist and a major champion. However, Stephens' game has been erratic of late. Which Stephens would show up today?
Olga Govortsova no doubt was hoping it would be the Sloane Stephens that she could easily defeat; however, the American was in no mood to lose early at the US Open. While it was not her cleanest tennis, it was some of her better tennis in recent times.
Mother Against The Champion
The American had the advantage in experience and easy power; yet, the Belarusian mother had her own weapons. She came prepared with a powerful forehand and serve. They would prove inadequate as she struggled in her movement, which led to a lot of errors.
The first set was all Stephens. She dominated in all the statistics that mattered. She used her serve effectively when she was threatened, and her quiet power and savvy playing did the rest. She was fully engaged in the first set and committed mentally to fighting through the rough spots. She fought off all three breaks against her serve, frustrating her opponent.
Second Set More Competitive
The Belarusian did not quit despite going down an early break in the second set; yet, she lacked the weapons to consistently disturb the rhythm of the American. While she made it a tad more interesting in the second set, there was never any doubt who the victor would be.
Govortsova got her first break of the match in the fourth game of the second set; yet the American did not panic. Stephens calmly went about her game and regained the double break in the seventh game with the pace and depth of her shots.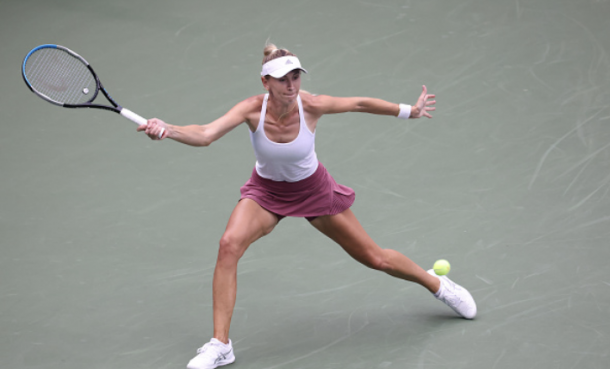 Match on Racquet of the American
Tennis matches can sometimes surprise you, and when Stephens plays, many fans have been surprised, but today the American stayed engaged the entire match. A little dip in focus in the second set and a few poorly executed drop shots may have caused a few butterflies in the stomach, but Stephens remained committed to winning this match in straight sets.
Between The Lines
The statistics also corroborate the results. While the Belarusian had a better first serve percentage, that was the only stat where she dominated the American. It has been said that you are only as good as your second serve and Govortsova did not win a point on her second serve the entire match.
Despite the higher first-serve percentage, Govortsova only won fifty-one percent of her first serves and she was also hurt by her inability to capitalize on her break point opportunities. Seventeen percent won on break points, combined with more errors than winners made it impossible for the Belarusian to upset the American. With the 6-2, 6-2 victory, Stephens sets up an intriguing match-up in the third round against fellow American, Serena Williams.