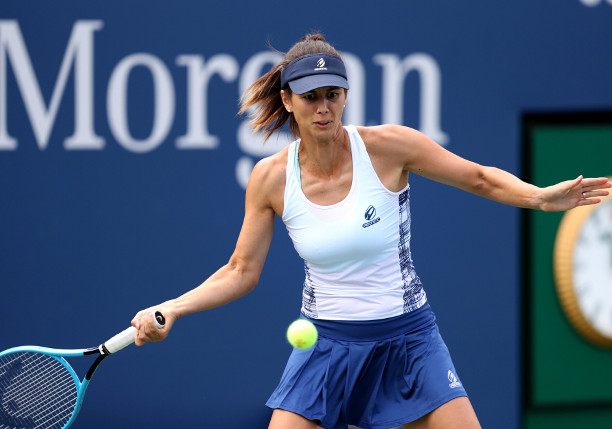 Tsvetana Pironkova is back in a big way. The Bulgarian, playing in her first WTA Tour event since 2017, shocked 10th seed Garbine Muguruza to reach the third round at the US Open. After leaving the sport to start a family, Pironkova talked about her decision to return, her expectations for the rest of the event and what the future holds.
Pironkova on surprise run so far after cruising through first two rounds
The 32-year old breezed past Liudmila Samsonova in the first round, dropping just five games and admitted after the match "i'll be honest, I didn't expect that, but i'll take it. Yeah, maybe it's a little bit surprising. I maybe expected to be more nervous but I was calm the whole time. This is a big success for me. The first match in three years, I was pretty solid. I'm happy with the way I played."
After surprising Muguruza, she said "it was very difficult to get into the match. She was swinging pretty well. It took me time to adjust my game. I was just trying to be there and put the ball in the court. Little by little, I found my rhythm and started swinging well. I'm very, very happy I won this match.
"I'm not going to hide, I didn't expect my first tournament to be so good and to play so well. It's welcome! That's why I came back, for these matches and these stages."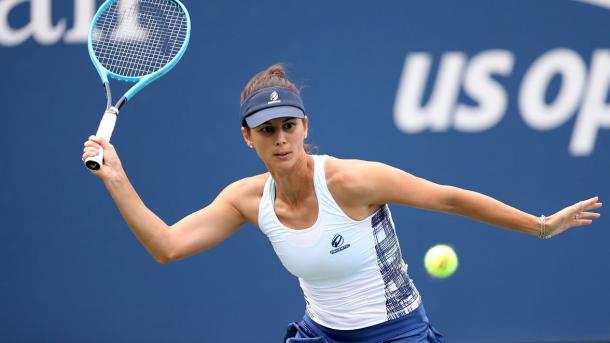 Rule change key factor in decision to come back, says former Sydney champion
When the WTA changed the rule for special rankings protections for returning players, Pironkova, who won her only career title in Sydney in 2014, was motivated to return and in March, she announced her comeback to the tour.
"The WTA rule change is actually one of the reasons I decided to come back because the opportunity is really great. I can play 12 tournaments with the ranking I last had when I stopped playing. Two of those tournaments can be Grand Slams, which is a great opportunity as you can see. Here, because of the coronavirus, that was something in my favor.
"I got straight to the main draw and that this huge opportunity in my first match coming back. And we also had a little bit more time, because before we had two years to come back but now it's three. To be honest I wasn't sure if I was ever going to come back, but at one point, I just started missing the tour and missing the competition.
"I didn't want to miss my chance to use my special ranking because I realized that was a huge opportunity for me."
Bulgarian challenging herself to return after becoming a mother
As one of nine mothers in the draw, Pironkova is happy to see so many of her fellow players having children and still playing, saying "it's definitely really nice to see more and more moms every year" while assessing her own situation.
"For me I wasn't sure if I wanted to come back because at one point I was already very tired. I played more than 15 years on tour non-stop and I had huge injuries that would take me away from the tour for a long period of time. At one point I wanted to take my time and enjoy the experience that I had, being pregnant and having my son. I wanted to experience that to the fullest.
"It was great, I have to say. I was feeling pretty comfortable being a full-time mom. Maybe too comfortable. I said OK I have to take this challenge and get out of my comfort zone. Sometimes a person needs to push themselves. You have to take challenges to keep fresh and develop and push yourself.
"I'm used to doing that all my life and at one point I was just super happy and comfortable with my kid and everything. I started to just wanted to push myself and i'm glad I took the challenge."
Surprise run coming after months of preparation for Pironkova
Opportunity arose and the Bulgarian felt good as she began to get herself back into playing shape to prepare for a comeback.
"When the time came I started practicing again. Unfortunately, right at that time the pandemic happened. So my plans were initially to come back at the end of March, but maybe it's for the best I had little bit more time to practice more."
She was interested to see how all of that hard work would pay off when she arrived at Flushing Meadows and she is undoubtedly pleased with the results so far.
"I was really curious what my level is at the moment. I was really curious to see if my preparation was adequate and yield good results. I'm happy to see I did the right things. I wanted to see if I still have it. My first practice was in the far courts and out there it's even faster. I thought 'oh this is great'. But then the inside, it's a little bit slower but it's still a fast surface.
"It suits me, it suits my game. That was a nice surprise for me. Before the courts were much, much slower."
Bulgarian details plans for structure of her comeback
With her comeback in high gear after just one tournament, the 32-year old plans to use her protected ranking carefully as she charts the course for the future.
"The plan is to use my special ranking to play certain tournaments but i'm probably going to take more time to prepare for each tournament. I'm not going to jump from tournament to tournament as I did before because I realized that I need more time to prepare, Now we're playing on hard court and pretty soon we'll play on clay court so I need time to make the transition."
Although her husband and son aren't in New York with her, she knows how pleased they are with her run at Flushing Meadows so far. "He was watching. His dad sent me a video. They were both watching and cheering."