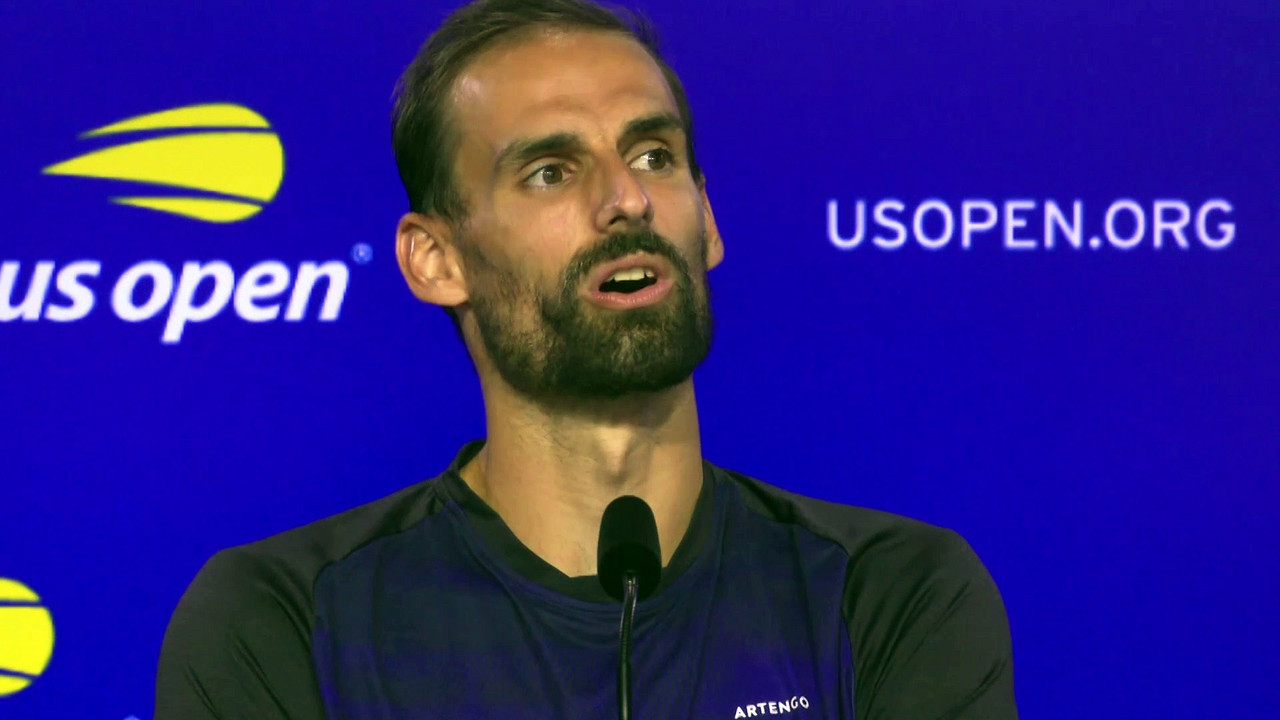 Dorian Descloix is probably a name not many people know, but he's the new coach of Victoria Azarenka and as she prepares to face Elise Mertens in the US Open quarterfinals, the Frenchman spoke about how the partnership began, where it is now and what lies ahead for him and the Western and Southern Open champion.
New Azarenka coach opens up about relationship with two-time major champion
Descloix spoke about how the two began working together and how the relationship evolved.
"Okay, so we started to work together the beginning of February this year. Then we worked for two months. Because of the COVID, I had to go back to France for a few months. My first role with Vika was to be like a hitting partner. So I was just practicing with her.
"Then session after session she asked me some advices on the court. She wanted to give me, I mean, the key to do the session, I mean. Then she gave me my chance to be, like, the coach. Now it's working pretty well. We have a good communication. We talk a lot on the court.
"She has goals, big goals. She wants to win big titles again. I try to help her to win big titles."
The Frenchman knew he needed to get to know her better to have the partnership work and they worked through the difficult times to get to where they are now.
"It's a long process because at the beginning we didn't know each other, to be honest. It was tough. The first sessions were really tough. But we tried to communicate a lot. On the court, when were in the evening at the restaurant, we talk about everything.
"She has a kid, I have three kids, so we have something in common. Now she's really relaxed on the court, really, really relaxed. When she's here she's like Victoria the tennis player. When she goes home to our house in Long Island, she's like a mother. She's totally different.
"It works like this. When we are here on the site, we talk about tennis. Then when we were at the house, we talk about life, everything. She's really relaxed like this. It's working pretty well."
"To be honest with Vika - I will talk just for Vika because I don't know for the other players. But for Vika, it's the same. When she's on the court, she just think about herself, you know, the way she has to play. She just focused on her game. To be honest, she doesn't need to play good that there is a crowd around her.
"She just need to be, like, focused on her game. She sometimes need to look at her team. We just communicate with the eyes. But for her, there is no good effect or bad effect on the situation. She's just a tennis player. She's doing her job on the court."
During the Western and Southern Open, Descloix spoke about her positive mindset and how Azarenka moves on should a point not go her way.
"The biggest surprise for me was now she feels really confident, really confident on the court. Even if she miss sometimes, she try to stay positive every time. She miss, okay, I adjust, next point will be different. It's totally different. She know she have an aggressive game on the court.
"She really aggressive on the court. She know she going to miss sometimes. It's okay. Just a mistake. You have another point to play. She stays positive. For me it's the best thing. She saved three, four, five set points against Ons Jabeur, against [Alize] Cornet. And she stayed positive.
"And that is why maybe last week it turns on this way because she stayed positive and it work. She has to keep this in mind that even if you are not playing good sometimes, even if you are missing, it's just okay, it's just a point, next one you will be here. Okay, I will fight for the next one."
A potential blockbuster semifinal with Serena Williams looms, but Descloix isn't looking past Mertens.
"For the moment she will play Elise Mertens in the quarterfinal. It would be perfect if she can play against Serena in the semifinal. To be honest, we didn't talk about that for the moment because we are here day by day, match by match.
"She has a big match to play Elise Mertens. She's a really good player. For the moment we just focus on this one. If she wins this one, we're going to start talking about the match with Serena. To be honest, we just focus now on the match with Elise Mertens."