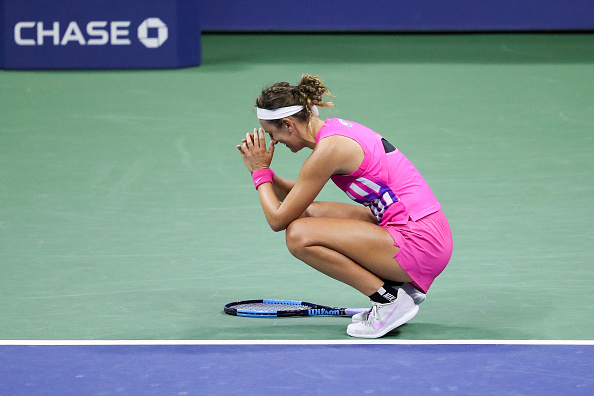 Seven years ago Victoria Azarenka fell in a second straight US Open final to Serena Williams. They were the top two players in the world and Azarenka was the only woman who could consistently challenge Williams, who was arguably playing the best tennis of her career during this period.
In spite of William's dominance over the 2012 and 2013 seasons, Azarenka had still been able to win two Australian Open titles as well as twice reaching the final in New York, and was also a semifinalist at both the French Open and Wimbledon. The Belarusian had spent 51 weeks at the top of the world ranking and was also the runner-up at the 2011 Year-End Championships. There was little doubt that she was one of the best players in the world, arguably the best aside from Serena.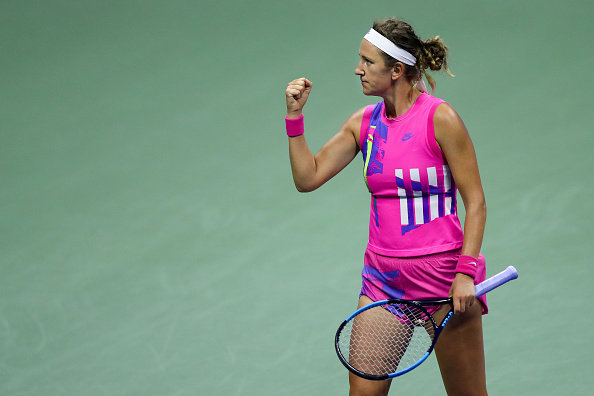 A run to the final at Flushing Meadows in 2013 was a fourth Grand Slam singles final for Azarenka. Seven years later, the Belarusian sealed a spot in a fifth final by beating Williams for the first time at a Grand Slam event. It has been quite some journey for her to return to the biggest stage of all.
2014-2015: Injuries and inconsistency
Azarenka came into the 2014 Australian Open as the world number two and two-time defending champion. She was the second favorite for the title behind Williams, and became the outright favorite when the American was surprisingly knocked out by Ana Ivanovic in the fourth round.
Having cruised through her first four matches, the world number two was on an 18-match winning run and was widely expected to beat fifth seed Agnieszka Radwanska in the last eight. Azarenka had a 12-3 head-to-head against the Pole and had won their past seven meetings, yet it was Radwanska who prevailed, winning 6-1, 5-7, 6-0.
Watching highlights of the contest, it is clear that Azarenka was struggling with her movement and was in evident discomfort at times. It would emerge that she was suffering from a foot injury that would rule her out of the French Open, and would disrupt the rest of the season. Having started 2014 ranked second in the world, Azarenka ended it at 32nd in the rankings.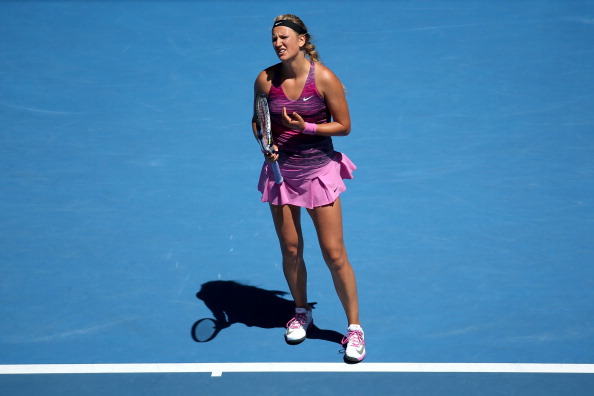 2015 would also prove to be frustrating for her. She would reach just one final, losing to Lucie Safarova, and was once again troubled by injury, choosing to end her season shortly after the US Open due to an issue with her left leg. Runs to the last eight at both Flushing Meadows and Wimbledon saw her finish the year at 22nd in the world, ten spots higher than the previous season, but it had still been an incredibly frustrating 12 months for the Belarusian.
2016: Resurgence and pregnancy
After two seasons dogged by injury, Azarenka's start to the 2016 season was incredibly encouraging. She won an 18th career title, her first title since August 2013, when she prevailed at the Brisbane International in the opening week of the season. She did not drop more than three games in a set on her way to the title, and returned to the top 20 for the first time since 2014.
The former world number one fell in the last eight of the Australian Open to eventual champion Angelique Kerber, who she had beaten in the Brisbane final, though signs that she had returned to her best form were still more than present. This was evident less than two months late when she played in both Indian Wells and Miami.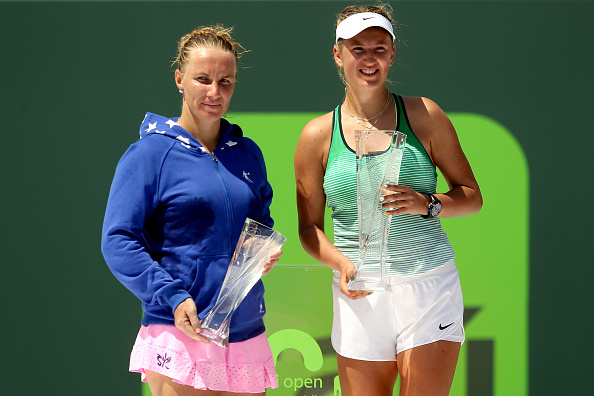 Azarenka dominated the 'Sunshine Double,' winning both events in a feat only previously achieved by Steffi Graf and Kim Clijsters. The Belarusian had beaten Serena Williams and Svetlana Kuznetsova in those finals and returned to the top five in the rankings, and looked primed to soar even further over the following few months. That did not prove to be the case.
Injuries began to trouble Azarenka once again during the clay court season, and she retired in the opening round of the French Open before withdrawing from Wimbledon. Shortly after Wimbledon, Azarenka announced that she was pregnant with her first child.
She welcomed her son, Leo, in December 2018.
2017-2019: Return and struggles on and off court
Just six months after Leo was born Azarenka was back on court and the signs were encouraging. In just her second tournament back she reached the fourth round of Wimbledon, losing to Simona Halep, and she looked primed for a strong return on her favored hard courts.
Difficulties off court halted Azarenka's return. After splitting from her partner, the Belarusian was embroiled in a lengthy custody battle for Leo. She could not leave California with her son whilst the legal battle dragged on and did not play again in 2017. Azarenka would eventually win custody of Leo in early 2018 and signs were promising when she finally returned to the tour in March, reaching the semifinals of the Miami Open, though struggles began to set in after that.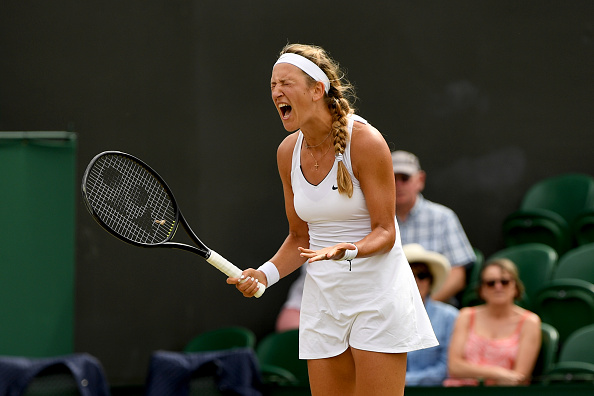 Azarenka could not string a consistent run of matches together and could not make any major inroads at Grand Slams over the next few seasons, failing to make the second week at any of the seven Grand Slams she played. A first final in over three years also ended in disappointment, retiring due to injury at a set and a break down to fellow major champion Garbine Muguruza in Monterrey.
Azarenka ended 2019 ranked 50th in the world, having reached a high of just 38th since returning in 2017. It did not seem likely that she would return to the upper echelons of the game.
The lowest point during that period came at the Australian Open in 2019, when the Belarusian was visibly emotional in press following a first round loss to Laura Siegemund. "I've been through a lot of things in my life," said Azarenka. "Sometimes I wonder why I go through them."
She reflected on that loss following her semifinal win in New York. "Well, that was a really tough moment for me personally. Obviously I'm the kind of player and person who shows their emotions, wear my heart on my sleeve."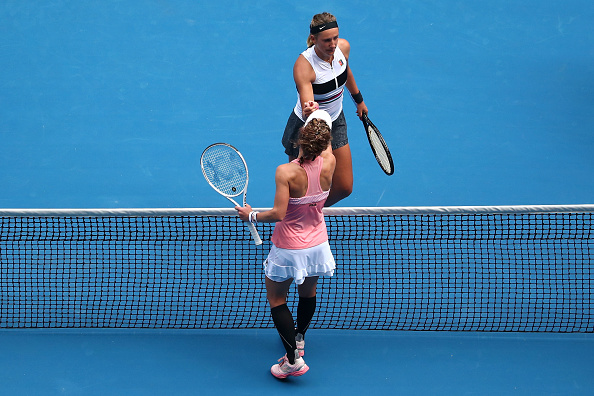 "Vulnerability is good. Having emotions is good. For me personally, feeling myself constantly as why things happen to me the way they happened was not beneficial. I stopped doing that. I started taking more responsibility for what I do, for what happens to me, and responsibility of how I'm going to react to situations. That helped me grow. That helped me become a better person that I am today. I think that shows on the tennis court, too."
The player we've seen over the past few weeks is certainly a different one to the one we saw lose in Melbourne last year.
2020: New coach and resurgence
Before the suspension of the WTA Tour due to the coronavirus pandemic, Azarenka had played just one match all season, losing in the opening round in Monterrey after withdrawing from the Australian Open. This was the two-time Australian Open champion's first tournament working with new coach Dorian Descloix.
Descloix, who reached a career high of 666th in his career and is just a year older than Azarenka, has said it was difficult to form a relationship with the Belorussian early on. "It's a long process because at the beginning we didn't know each other, to be honest. It was tough. The first sessions were really tough," said the Frenchman. "But we tried to communicate a lot. On the court, when were in the evening at the restaurant, we talk about everything."
Azarenka's partnership with Descloix has proven to be a revelation. She still looked far from her best in an opening round loss to Venus Williams in Lexington, though she proceeded to pick up her first title in four seasons at the Western & Southern Open. The Belorussian beat the likes of Donna Vekic, Ons Jabeur and Johanna Konta to reach the final, and picked up the trophy after Naomi Osaka withdrew from the final due to injury.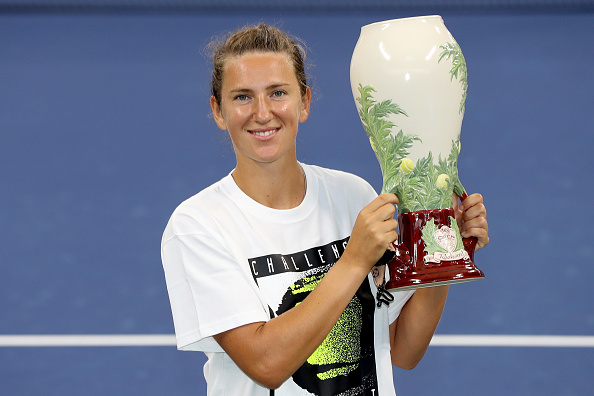 Her run meant the spotlight was on her heading into the US Open, and she maintained her high level with a run to the semifinals. She dropped just one set on her way to the last four, against Karolina Muchova, and her high level of tennis was particularly highlighted in her quarterfinal win over 16th seed Elise Mertens. "Yeah, that was pretty good," Azarenka mused in her on-court interview after dropping just one game to the Belgian.
The win over Mertens set up a 23rd career meeting against Williams. "I like playing against the best. That's where you see yourself, your level, the biggest challenge," said the Belarusian ahead of their meeting. "That's what I'm working hard for, to play on the biggest stages against the best players. There's no one as tough mentally as Serena. I love that challenge."
Williams had won 18 of their 22 meetings before this and had won all of their ten meetings at Grand Slams. So much of the narrative this tournament has been about her ongoing quest for a 24th Grand Slam title and, as she broke three times in the opening set, it seemed that she would continue that quest and end Azarenka's run.
The world number 27 rebounded however, breaking twice to force a decider and then holding on to an early break of serve to prevail 1-6, 6-3, 6-3 in what is undoubtedly one of the biggest results of her career. She will now face Osaka in the final, having missed out on the chance to play her a couple of weeks ago.
What has been noticeable about the Belarusian is how relaxed she has appeared on court. At times in the past couple of seasons she has looked fraught on court; that no longer appears to be the case. She appears more calm and serene on court, regularly seen smiling and generally looking much more relaxed on court.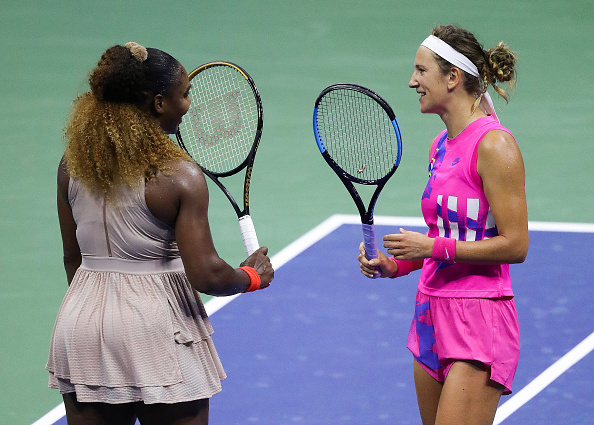 This was evident in her semifinal against Williams. She struggled early on and, when she was starting to work her way into the contest down 0-4 in the first set, fell victim to a lucky netcord for the American having dominated the point. Instead of appearing frustrated, a smile broke out across her face.
"Everything is an experience for me. I live in the moment. I enjoy the moment no matter what it is. I take life as it comes," said Azarenka after her win against Mertens. After beating Williams last night, the Belarusian said that her run was more enjoyable than similar successes in the past. "Feels more fun this year, more fulfilling, more pleasant for me, yeah. It feels nice, nicer."
It seems that Azarenka has found her happy place in life and on court, playing the type of tennis that took her to the number one ranking and taking pride in continuing the sport whilst raising her son. Both herself and Osaka will be aiming for their third Grand Slam singles title when they face off on Saturday. Win or lose, we may get used to seeing Azarenka back in the latter stages of slams.