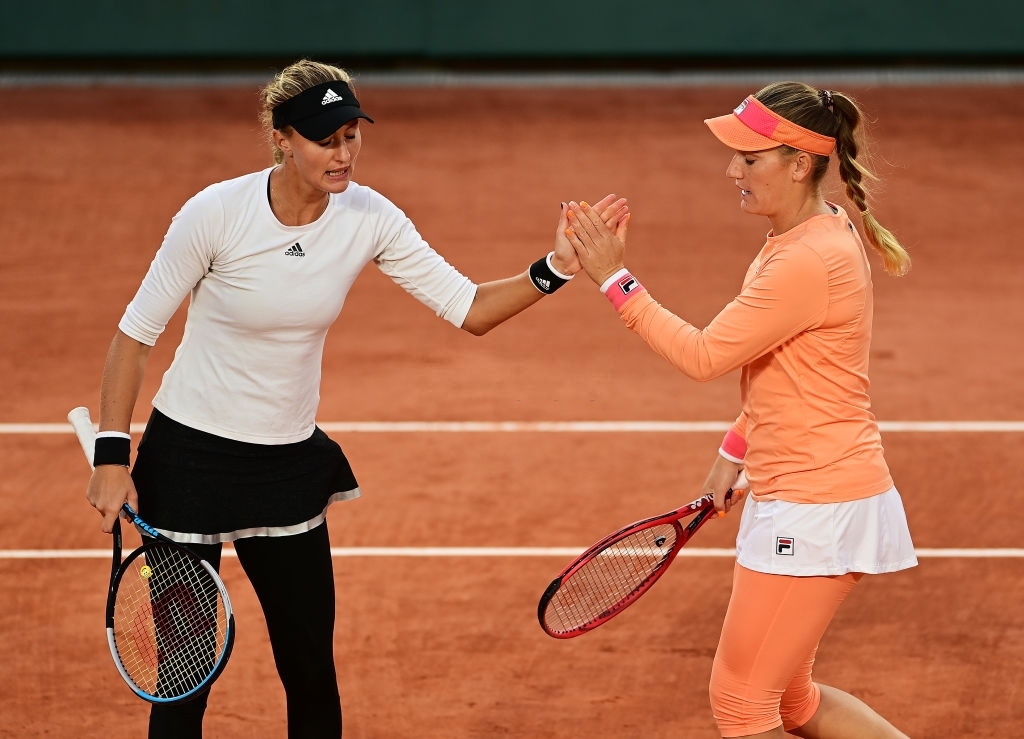 The highest seeds left standing in the women's doubles competition of the French Open, Hungary's Timea Babos and local hope Kristina Mladenovic faced off against Czechs Barbora Krejcikova and Katerina Siniakova, a clash between the past two winners in Paris. It was the more experienced second-seeded pairing of Babos/Mladenovic which prevailed in a three-set tussle for a spot in their seventh Grand Slam final.
Six match points needed for Babos/Mladenovic three-set victory
The second seeds began the match with a hold of serve but had to save two break points before that. The first break of serve came in the third game with the Czech pair on serve, with Babos/Mladenovic converting their first of two break point chances courtesy of a double fault from their opponents.
The Czechs, however, would return valiantly in the next game, breaking their opponents to love, only to be broken once again after that. Babos/Mladenovic would end the streak of breaks next, saving a break point en route to holding serve for 5-2. They would subsequently break the 2018 champions one more time, this time earning the first set 6-2, in 34 minutes.
The defending champions carried their momentum into the second set, taking the first eight points to go up a break 2-0. A loose service next, however, saw the Czechs take the break back, doing so to love. A couple of service holds followed, each team having need to save at least a break point in their respective service games.
The fourth-seeded Czech team would then go on a three-game winning streak, surrendering just three points to last year's winners in the process, to enact a 5-3 lead. They would eventually serve out the set, winning it 6-4, making this the first clash between them to go the distance
The decider began with the Hungarian/French pair prevailing over their opponents in an eight-minute game which saw the latter having two break opportunities. They would have to do the same in their following service game, saving a break point this time around to hold serve after more than seven minutes.
Meanwhile, Krejcikova/Siniakova faced less issues on serve, the pair dropping just three games in their first two service games of the decider. They stepped on the gas in the fifth game, carving out three break points before converting their second to go up 3-2. Their lead, however, was short-lived as Mladenovic-Babos reclaimed the break, before holding serve for 4-3.
Two more service holds ensued with the defending champions now a game away from returning to the final. It was here they notched their very first match point but could convert as their Czech opponents hurried away with the service hold soon after. They soon found themselves down a break point in the next game after an untimely double fault but regrouped to clinch the crucial hold of serve to lead 6-5.
The final game proved to be a tight affair as Krejcikova/Siniakova looked set for a comfortable hold at first. That lead, however, dissipated and the Czechs soon found themselves down match point on four occasions.
Despite managing to put all four match points away, a costly double fault brought up the fifth one, and Babos/Mladenovic slammed the door shut this time, pulling off a forehand volley to convert their sixth match point to win 6-2, 4-6, 7-5, maintaining their spotless record over the Czechs, after nearly two hours and 30 minutes on court.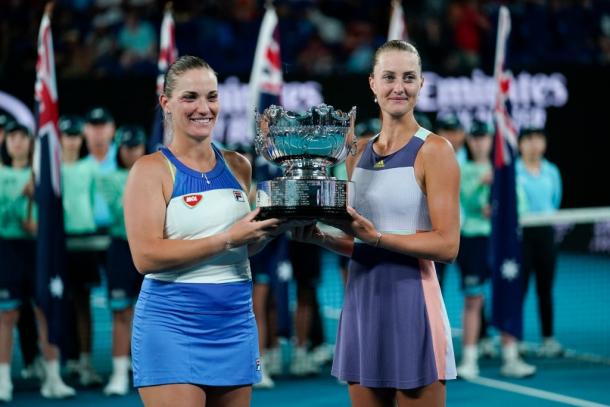 Key to the Hungarian/French pair's win is their success rate on points behind their first serve, winning 45 of such points out of a total 67 (67%) while their opponent managed just 60%. The defending champions fared better on break points as well, scoring 46% of their 13 opportunities in contrast to their Czech opponents who were successful in four of 15 (27%). The former also finished the match winning four points more than their opponents, 111 to 107.
Up next
Standing in Babos/Mladenovic's way from their fourth Grand Slam crown together are the 14th-seeded Chilean-American pairing in Alexa Guarachi and Desirae Krawczyk. The latter, who have two titles to their name, in contrast to the second seeds, will be contesting their the biggest final of their career to date.