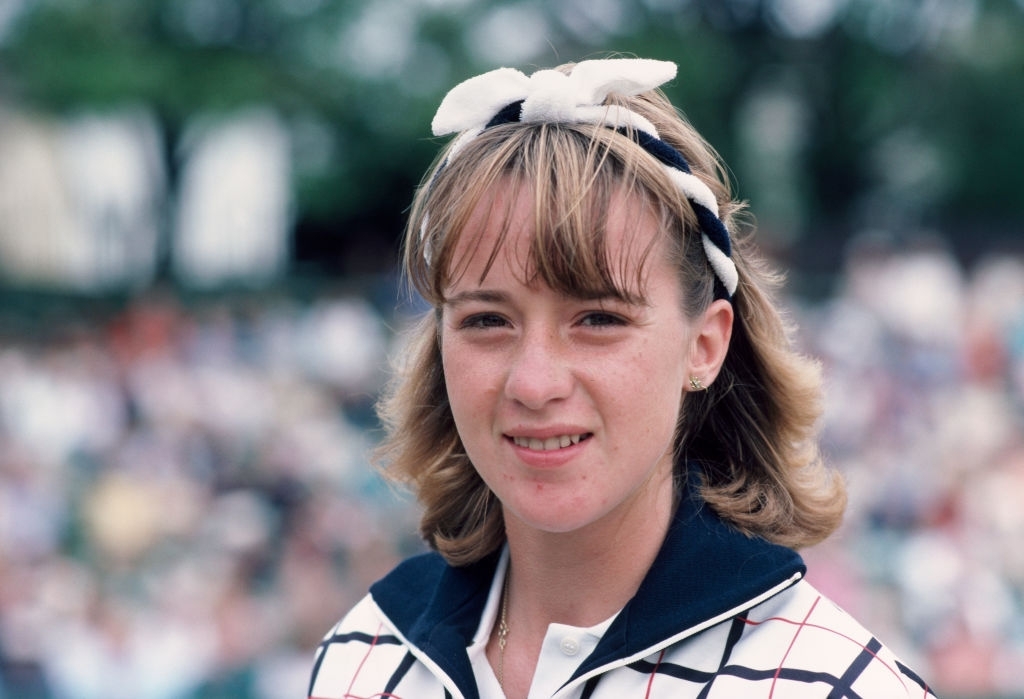 She has neither Martina Navratilova's trademark serve-volley and aggressive forward moving game nor Monica Seles' controlling and punishing two-handed groundstrokes nor Steffi Graf's signature inside-out forehand and graceful footwork.
Instead, she has been noted for her consistent and steady baseline game, spending most of her time patiently counterpunching, much like her idol, Chris Evert.
"My first tournament that I won in Lugano 1984. Actually, each title that I won is very special. My first win against Chris Evert, this was just two weeks after Lugano, at the Italian Open, also in 1984. My Olympic medal. My first two wins against Martina Navratilova. Yeah, there are quite a few."
Few, in words, but many, in fact, these are the career best moments, verbatim, of none other than Manuela Maleeva.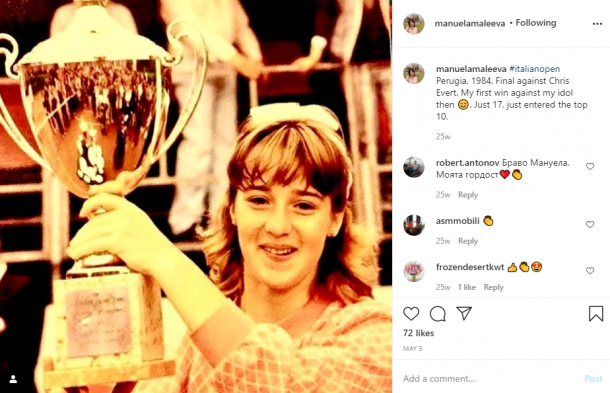 A native of Sofia, Bulgaria, Maleeva, who was born on Valentine's Day of 1967 and had turned professional in 1982, would go on to score one more win over Navratilova, in the final of Zurich in 1993. It was her sole Tier I title, besides making it a total of three victories out of 14 career meetings between the pair.
Against Evert, Maleeva racked up her second, and last, win over the American in a third-set tiebreak at the Hilton Head semifinals in 1987.
Moreover, at the Olympic Games, Maleeva came one set shy from equalling her Seoul 1988 result at Barcelona 1992, against Mary Joe Fernandez in the last eight, only to succumb to the American 5-7, 6-1, 6-0.
Nevertheless, the Bulgarian-Swiss would finish her career with quarterfinal or better showings in both Olympic appearances, one each for her home country Bulgaria and adopted home Switzerland.
Maleeva, now 53, and residing in La Tour-de-Peilz, situated in the canton of Vaud, Switzerland, gladly took the time to sit down for an exclusive interview where she discussed topics ranging from her tennis career and the unprecedented Maleeva sister act to family, retirement life and personal pursuits, also providing insights of her own on the current state of the game.
In this first installment of the series, Maleeva retraces her celebrated tennis career, her biggest wins, her Olympic achievements, and her Grand Slam consistency, inter alia.
'I didn't know … that if I don't get to the final, we would not have money to go to the next (tournament)'
Maleeva, the first-ever female professional athlete to emerge from Bulgaria is no doubt a trailblazer in her home country. The youngest national champion at the age of 13 in 1980, she is, till this day, the Balkan nation's one and only Olympic medallist in tennis.
She kicked off her professional career in 1982, with her debut coming in the form of a Grand Slam tournament, the French Open. She had to come through qualifying, and made the main draw, where she lost her opening match to American Lisa Bonder.
"Actually, my first professional tournament was just a few weeks before that French Open. I don't know if you know there were those Satellite tournaments with prize money of 10,000. Something like the Futures now. I got a wildcard for one tournament in Italy. Coming from Bulgaria with my mother who was my coach, we had no idea about professional tennis. So I had played some good junior tournaments, I had won the junior European Championships and that's why I got that wildcard for that Italian Futures tournament," Maleeva explained.
"We went to that tournament, I didn't know, my mother had not told me that if I don't get to the final, we would not have money to go to the next one, there were five in a row. I got to the final there, and I got another wildcard for the next tournament. And like this I played singles, doubles, I was in the semifinal, final, winning them," she added.
"And I needed one more tournament to get on the ranking. At that time, you needed six to get in the rankings. So I got another wildcard for Challenger, and I was completely dead tired. I had played like finals, 70, 80 matches, in a few weeks, but this allowed me to be ranked, and I came into the rankings as 157th, and this allowed me to play qualifying of the French Open."
"I won three matches (in qualifying), the last one I won it from match point, and then I got into the main draw where I had the bye in first round because the byes, they were … the bye was not for the seeds, they will draw it, it could fall on anyone, the bye. So I had a bye, and I lost. Actually its second round that I lost to Lisa Bonder because I had the bye, yes."
"And then I won the French Open juniors, the second week. And like this, I was 120th after the French Open. I got into the qualifying of Wimbledon, where I went through the qualifying, I lost second round, but after that I was number 90. And then I was in the main draw for the US Open. So it all happened in a matter of very few months, I played a lot of matches and that's how it all started."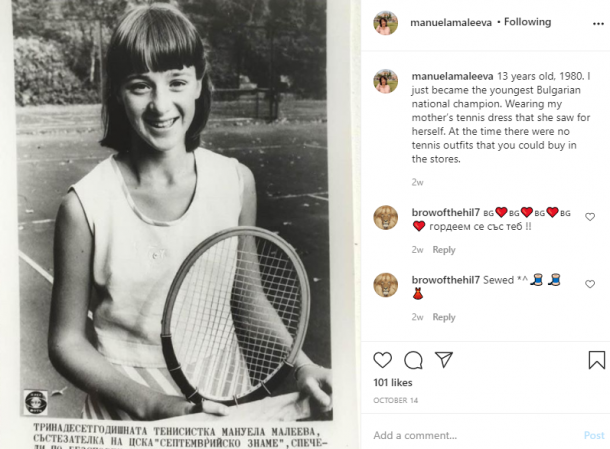 Maleeva's rise did not stop there as she continued making further inroads after that, recording her first-ever career quarterfinal in Brisbane to finish 1982.
The next year, however, was a less eventful affair for the then-16-year-old, with just two quarterfinals to boast, at Hilton Head and Indianapolis.
It was in 1984 where she broke through, winning five titles, one of them, at the Italian Open, saw her beat her idol Evert in the final 6-3, 6-3, becoming the seventh player to beat Evert on the dirt.
She also obtained her first Grand Slam seeding at the French Open that year, and never missed a seeding until retirement 10 years later, before making her Grand Slam quarterfinal debut at Wimbledon, which would turn out to be her standalone best result on the lawns there.
At the US Open after that, she claimed her only Grand Slam tournament title, partnering Tom Gullikson to win the mixed doubles event. To top it all off, she finished the year by being crowned Newcomer of the Year.
'Winning that match in the (Olympic) quarterfinals … knowing that the two semifinalists get a bronze medal'
In 1987, Maleeva obtained her best result at the year-ending WTA Finals, making the last four where she was stopped by Argentine Gabriela Sabatini.
The year after, at the Seoul Olympics, a 21-year-old Maleeva entered the competition riding a decent amount of momentum, having just won the title in Phoenix and prior to that, made the last eight at the US Open.
As a matter of fact, she had to miss the opening ceremony in the South Korean capital as she was still competing in Phoenix at the time.
"Well, the first Olympics, it was just incredible to be at the Olympic Games. A lot of athletes dream of it. Tennis was not an Olympic sport, and Seoul was the first official Olympic Games … in the Open Era. It is amazing feeling to be amongst all those athletes from all over the world. The Olympic Games that I watched as a kid, to be there."
Maleeva's form showed there would be no stopping her in Seoul, making the semifinals without the loss of a set and dropping no more than four games in each set played. There, she fell to Sabatini.
Nevertheless, the Black Sea state Olympian was guaranteed at least the bronze medal by virtue of her semifinal result, which she jointly took home with America's Zina Garrison, who lost to eventual gold medallist Graf, which saw the German complete the Golden Slam, in the other semifinal.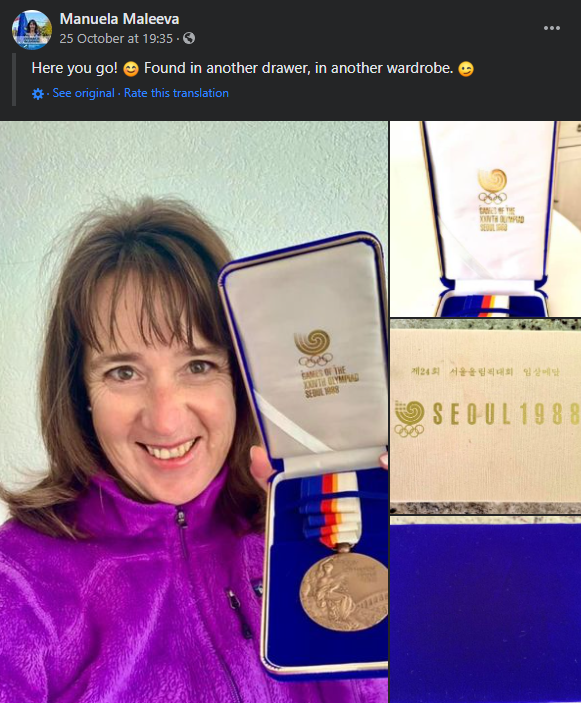 "Winning the Olympic medal, winning that match in the quarterfinals against Rafaella Reggi, an Italian player, knowing that the two semifinalists get a bronze medal. We didn't have to play for third and fourth place. So, and Rafaella, she had just beaten Chris Evert before that. So I had a tough draw actually, with Chris being my half, and she beat her. So, it was a match that I really, really wanted to win, you know. Just knowing that I will have an Olympic medal, this was, yeah. So I played well, I won relatively easy, two sets."
"And then, as I told you the other day, I missed the opening ceremony, so this was something I regretted because the opening ceremony is something incredible also."
"But then, in the next Olympic Games in Barcelona, I managed to go to the opening ceremony, so this is a very nice memory. And those Games in Barcelona, they were a bit tougher in the sense that I lost in the quarterfinals to Mary Joe Fernandez, and I had won the first set. And I was just one set away again from an Olympic medal. Yeah, this match, it took me quite a while to digest that I had lost it. But again, okay this time it was for Switzerland, but again, the Olympic Village, or the athletes, and just being in the Olympic Games, it is incredible," said Maleeva.
'I really wanted to thank … Switzerland, that's why I decided to play for Switzerland'
Maleeva would begin to represent Switzerland in 1990, after becoming a naturalised Swiss citizen in 1987 via her marriage to coach Francois Fragniere, where she had begun competing as Manuela Maleeva-Fragniere.
"My husband at the time, now my ex-husband, he was my coach and he is Swiss. We started living once we got married and I was traveling most of the year but still our home is here in Switzerland. I was practicing here in Switzerland with other Swiss players, and I just wanted to give back a little bit to the country that had really adopted me and was really proud for myself, for me. It was not an easy decision but I felt I really wanted to thank, in a way, Switzerland, that's why I decided to play for Switzerland."
"At the time, I was not speaking much French. It came later on but it was a very easy transition in the sense that I was even more appreciated and I felt that people were behind me. I know that a lot of Bulgarians were probably disappointed that I had stopped playing for Bulgaria but for me, it doesn't. Anyway, for me, I have two homes, Bulgaria and Switzerland. My heart and my roots are always in Bulgaria but Switzerland gave me so much and I felt the support of the Swiss public and Swiss fan which was very nice."
The year 1992 saw Maleeva team up with compatriot Jakob Hlasek at the Hopman Cup where the duo scored Switzerland's first title there, defeating Spain in the final.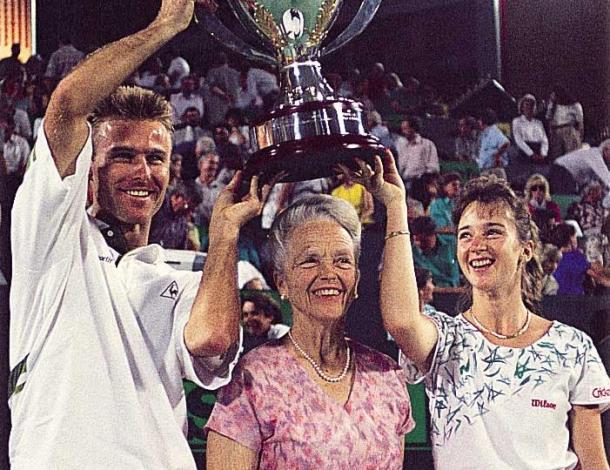 'Although I grew up on clay but my game changed where I like fast surfaces, no wind, no Sun'
The Bulgarian-Swiss has showcased her ability to deliver on all surfaces throughout her career, making at least one final on each of them. Her most fruitful one, however, has been indoor carpet, nine of her total 19 titles coming on this surface.
In fact, 19 of her overall 37 final appearances came indoors, notably, four consecutive finals at the Pan Pacific Open beginning 1984.
"Australian Open (is my favorite Grand Slam). The last few years, I liked playing a lot indoors, and a lot of the tournaments I won were indoors in Japan, in France I won two indoor tournaments in Bayonne, although I grew up on clay but my game changed where I like fast surfaces, no wind, no Sun."
"I love playing in Japan, this is where I became a star, I made a lot a lot of fans in Japan. Yeah, I was like a star, I was the real star in Japan, you know, where people will be sleeping in front of my hotel to get an autograph. I needed bodyguards but I really appreciate them, there were never problems with my fans. They were all very kind, very respectful, and I always played well in Japan, I don't know why but I really played some of my best matches, won some of my best tournaments there."
"And, otherwise, I like Paris, the French Open, I won the junior French Open so Paris stayed for me always, Roland Garros stayed as a special tournament. Of course, there were years where I didn't play that well but overall, it is a nice tournament. And then, I prefer maybe more the tournaments in Europe because they were a bit closer to home because we were traveling so much so I am kind of more at home in Europe," the Bulgarian native added.
"But there are some tournaments that don't exist anymore like tournament in Phoenix, Arizona, that I won, it was very special. I won in Wild Dunes, in North Carolina. I think Wild Dunes doesn't exist anymore, the town, because one of the hurricanes that swept it away, yes. I like the tournaments that I won, more or less."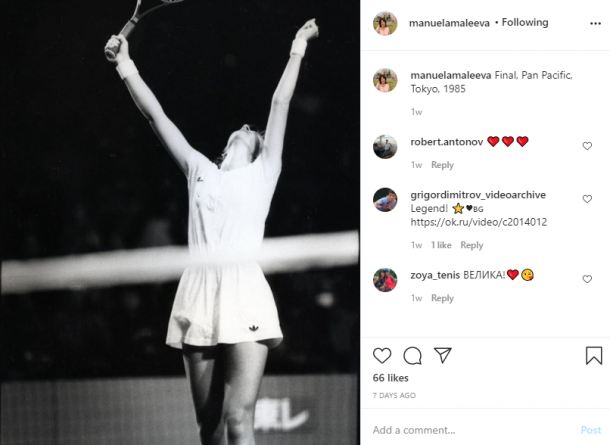 On other surfaces, Maleeva made 12 finals on clay and her biggest success here fittingly came in her adopted home of Switzerland, making six finals across Lugano and Geneva, four of those coming back-to-back beginning 1984.
On hard courts, she was a tournament winner on four occasions, among them being the inaugural Indian Wells event, in 1989. She made her sole final on grass at Birmingham in 1986 but lost to Pam Shriver.
When asked about her personality on the court and her playing style, Maleeva replied saying, "I seem calm on the court but I wasn't really. I was a big fighter. For me, winning a match was a matter of almost life and death. So, I hated losing and I would just prefer to die on the court than lose."
"Didn't show much emotions, I was keeping it inside of me, but very nervous before each match, never knowing if I will win it or not. Never sure, you know, so a lot of pressure. Quite much perfectionist, never satisfied with myself, always thinking I can do more. So, a bit hard on myself."
"I grew up on clay so I was more of a baseline player, using a lot of drop shots. And then, with the years that went by, I became more and more aggressive player. Still a baseliner, but I easily go to the net, serve improved a lot. So I started liking playing on hardcourts, developed a more aggressive game."
'When I was number three in the world, they (Navratilova and Evert) were the two in front of me'
Maleeva finished every season beginning 1984 inside the top 10, the highest being sixth (1988), until 1993 where she missed by a whisker, 11th. She would also hit her career-high ranking of third on the week of 4 February 1985, 10 days shy of her 18th birthday.
Maleeva stood behind Navratilova and Evert, who were first and second, respectively, in the rankings, that week. It was the period in history when the latter two were untouchable, and their 15-year-long rivalry in full swing.
"Rivalries, you know, I was in a few generations of top players, Martina and Chris Evert. I played with them for a while. When I was number three in the world, they were the two in front of me."
It would take top-level opposition to stop the Bulgarian-Swiss in finals. Save two, all her 18 runner-up finishes have come to the likes of top 5-ranked stars in Hana Mandlikova, Navratilova, Evert, Shriver, Graf, Sabatini, Seles, and Conchita Martínez. In 13 of the said 18, she went up against the top seed in the championship round.
"The win against Chris was my first big win against a legend in tennis," Maleeva continued. "Then, came the era of Gabriela Sabatini, Steffi Graf, Arantxa Sánchez (Vicario). I played with them for quite a while, and then towards the end of my career, Martina Hingis started coming out, I have never played against her. I played many matches against Steffi Graf, a lot of three-set matches. I have beaten all the others, from Sabatini, Sanchez, Mary Joe, Martínez, Mary Pierce, there was Mandlikova also, with Martina and Chris, Pam Shriver."
'You could not be top 10 for so long if you didn't have consistent results'
At the Grand Slams, where she has 41 total appearances to boast, Maleeva has always been a fixture in the latter stages, posting a total 22 showings in the last 16.
In 14 of those, she would progress to the quarterfinals, and also moved past that stage twice, both of them coming at the US Open, in 1992 and 1993.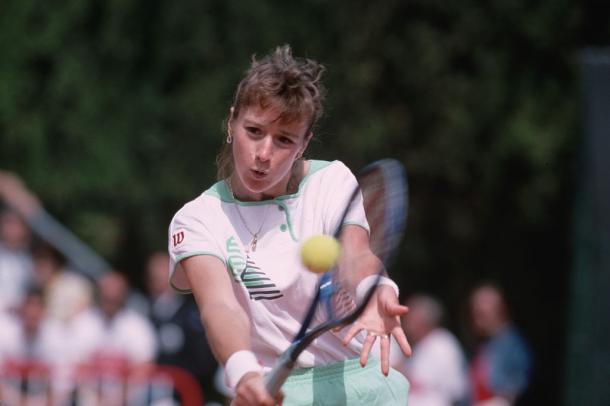 "I was just a steady player, I was a top 10 for almost 10 years. So you could not be in the top 10 for so long if you didn't have consistent results. I wish I had even better results in the Grand Slams but often I played in the quarters, Chris Evert or Navratilova, Steffi Graf, so I was not very lucky with the draws so they were the best players. We had some close matches but it was tough matches for Grand Slam so, its consistency, that's my game, consistent."
"There is an extra motivation (to do well) but also, there is extra pressure. It is very tough to deal with that pressure, and in all Grand Slams, it is even more. That's the most important place."
Of a broken pinkie and a semifinal run
Talking about the 1993 US Open, this tournament, in particular, holds a story not many might know – the tale of a broken pinkie which culminated in a very unexpected semifinal run.
"It's the little finger. I just broke it. Very stupidly. I was playing doubles with my sister, and I had just won the first round match. The ball boy threw the ball, I was serving. It was during a match. I was just wanted to catch the ball and the ball was not coming strong, I just wanted to catch the ball and I don't know why the ball hit my finger and 'Oh, I broke my nail!' I looked at my finger and its falling, like this. I was trying to put it back and then it falls."
"I realized something serious had happened, I tried to play but it was impossible. I could not hit a two-handed backhand, it was too painful. We went to an emergency hospital where they saw I had broken it, and I had decided to try and play. I had a day off the next day, and I decided to play the second round match. I had a splint under the finger because it was broken on top so if I had something on top, it was very painful."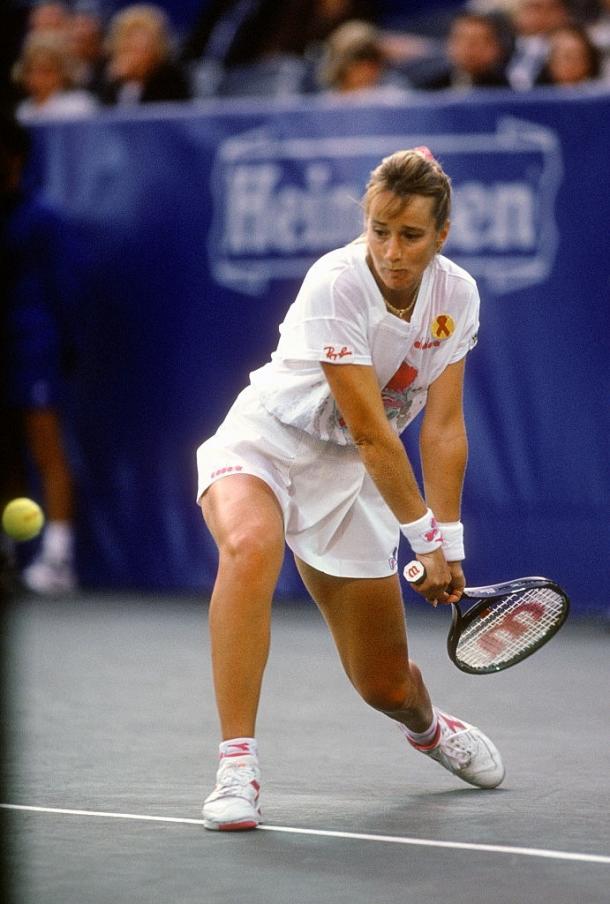 "So the physios at WTA, they made this small splint but it was still very painful. The doctor at the US Open put an anesthesia injection into the broken finger which was horribly painful but after a while, after it had the effect, I could play the match without much pain. Everybody knew that I had the broken finger, nobody knew that I could play. But I played, and I won."
"And for the next match, the doctor said I cannot put more injections, you have to deal like this. So I went on the court, and it took almost a set until I get used to the pain and all that. And I kept on winning, and winning, and I got to the semifinals with the broken finger. This was in 1993, I think, I lost in the semifinals to Steffi Graf."
In that semifinal against Graf, Maleeva came within a set from her maiden Grand Slam final but crumbled as Graf stole twelve of the next thirteen games to take the match 4-6, 6-1, 6-0. That would also be the last of 17 meetings between the pair, where all but one of them have come at the quarterfinal round or better.
One of the best players to have never made a Grand Slam final: 'I would probably put less pressure on myself'
The US Open remains Maleeva's most successful Grand Slam event. Her career-best results at this stage did not only come at the Big Apple but nearly half of her Grand Slam quarterfinal or better appearances were achieved here as well.
Such was the Bulgarian-Swiss' reliability and consistency at the Grand Slams overall that she dropped her opening match just thrice, and remains one of the best players to have never made a Grand Slam final.
On whether she would change anything in her career for a Grand Slam final or title, Maleeva said, "I would probably put less pressure on myself. This pressure that I am talking about, the last six months, when I decided to retire, when I announced in six months I would stop playing, were the best months of tennis I have played because I had taken off my shoulders this few percentages of pressure that sometimes were just too much because I knew that soon it would be over. I will start another life that I don't have to defend the results next year."
"So, in a way, to get to a final or win a Grand Slam, okay on one hand, physically, you have to be in a perfect shape and, mentally, just taking off a little bit of the pressure off my shoulders, and maybe I could have played even better."
'I won the last tournament I played ... I could not have wished for a better way to finish'
Six months after announcing her intention to retire, Maleeva, indeed, would play her last official match, on the eve of her 27th birthday, which happened to be a final, on indoor carpet once again, at Osaka. There, she prevailed over Iva Majoli in three sets for her 19th and final singles title.
"I will pick up two, no, three (memorable wins). Okay, Chris Evert in the final of the Italian Open in Perugia in 1984. Martina Navratilova, I think it was 1992, round of 16, evening match, on centre court at the US Open. And, I had lost the year before that to her 6-0, 6-0, on that same court, evening match again. So I was just praying to win one game, I just didn't wanted to finish like the year before, and I ended up winning and it was one of my most incredible wins. It will always stay."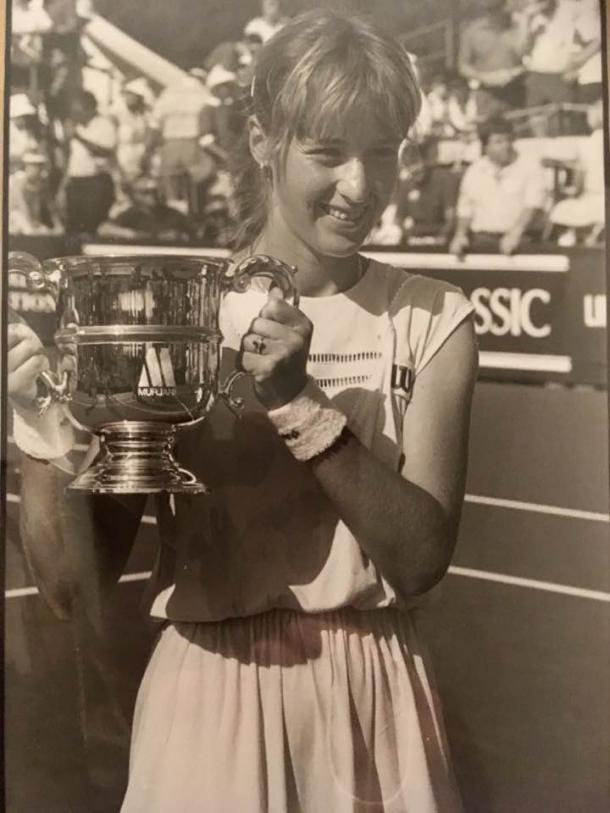 "And, probably, the third one, is the last match I played, in Osaka against Iva Majoli. I was down I think 5-2 in the third set, match points. And, I won the last tournament I played. So this also is very special."
"A lot of things went through my mind (in my last match). Not realizing that everything will be over in just a few hours. The one thing I knew in my life, the most important in my life, tennis, this thing was going to be over. As much as I was looking forward, there was sadness also because page was turning. The final ceremony after I won, we played a very tough match, it was a great match, it was very emotional."
"I don't know if you have seen, there are some videos on the internet that I am crying, the judges are crying, the crowd is crying. It was very, very, emotional. I kept on getting presents, they were throwing small presents from the public. Yeah, it was a day to remember. I could not have wished for a better way to finish."
'For me, at 27, I felt really used'
Maleeva would retire ranked ninth in the world and her name remained in the rankings until almost three months later and by then, she had risen to as high as fifth.
"I have no regrets at all about retiring. For me, at 27, I felt really used. Almost 15 years that I was traveling non-stop. And I really wanted to start a new life even though the last five years of my career I started making decent money."
"But it is nothing compared to the players now who can travel with a staff of 10 people, doctors, physios and so on. So, it was much harder to recover after matches, you didn't have all the staff who is traveling with each player. We were playing a lot more tournaments than they are playing now. I don't mean the virus time but regularly, the players play a bit less tournaments now."
"Things have changed and now it seems they can play until very late which, for me, is absolutely incredible and I am very happy they can do it. But I really finished with the best finish I could have, at the top, winning my last match, winning the last tournament I played. A lot of players thought that in a few months I would say that I miss tennis, and I will be back but, no, I didn't miss almost anything."
"Maybe sometimes I miss just making a great shot and the crowd really appreciates it but otherwise, I was really very tired from all the traveling. Mentally, I was just very exhausted because I am such kind of player, I was always under pressure and physically, I was not much bigger like the other girls so I have to compensate with my character that was tough but it demanded a lot of effort. So I didn't figure that I was really happy and I find it like this."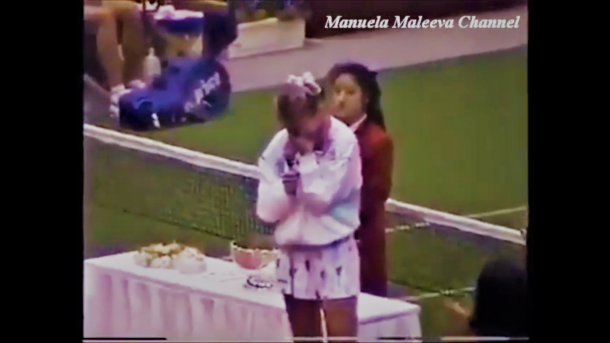 'A life that I am grateful that I have but I cannot say that I miss it'
"Nothing. A disappointing answer," Maleeva said when asked on the things she missed about life on tour. "Let me think. To tell you honestly, I don't miss much, anything, in the sense that I am happy with what I have, with what I have achieved, with what I learned in life but it was really, really tough also. Something that is difficult to say or difficult to describe if someone has not lived it."
"That pressure that is constant, it's during practice because you always worry 'Did you practice well enough? I could have done better, I could have done more.' Next day I have a match, there is the pressure of the match. Then we have to travel to another country, we have to do the thousands and thousands of kilometers. So, it was a life that I am grateful that I have but I cannot say that I miss it. I am happy I had it but (it's time to move on), yes," she added.
On whether she ever thought of coming back after starting a family, Maleeva responded, "No, I really wanted to be home. I wanted, really, to see the kids grow at home. I was very tired of the traveling. I could not imagine that I would start practicing again, that I would get in shape again, although I stayed in shape but it's different to be practising to play professional tournaments. And this, I just didn't have the will anymore."
"I wanted to enjoy but that new page had turned. But I am happy to see that women now can have kids and come back and play and enjoy. Yeah I am happy to see that but for me it was fine."
In the next segment, Maleeva talks about family and life post-professional tennis, sharing more what she's been up to since hanging up her racket, and also giving her take on the current state of the game.