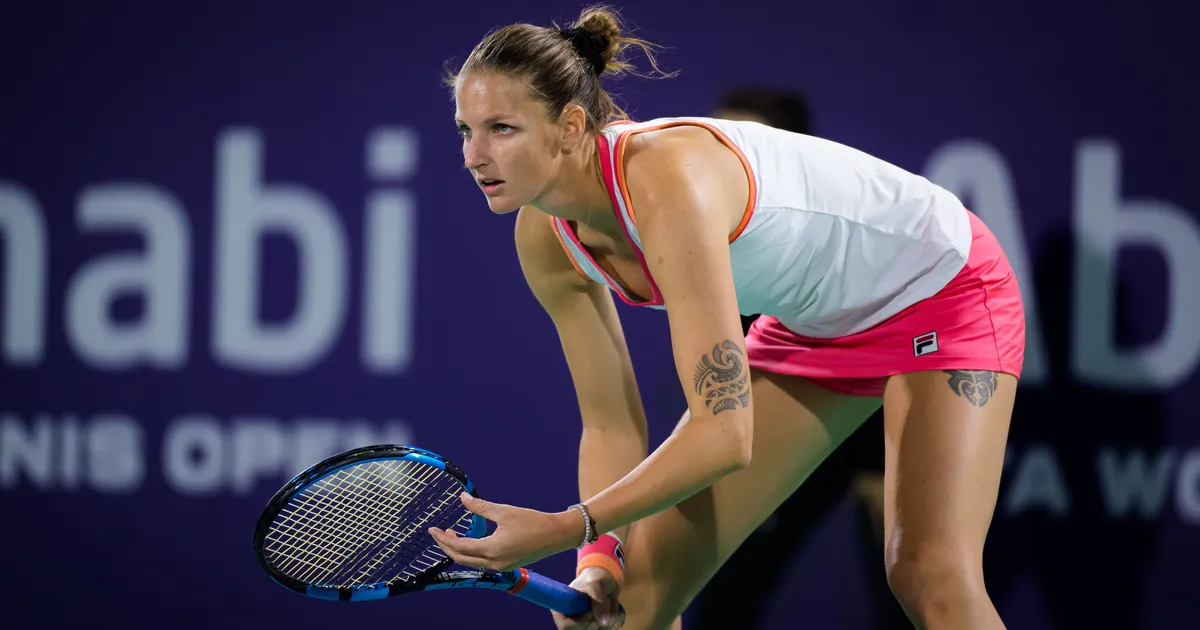 Karolina Pliskova met with the media following her 6-2, 7-6 (3) victory over Despina Papamichail in the first round of the Abu Dhabi WTA Women's Open.
Among the topics discussed were new coach Sascha Bajin, her adjustments to a different tournament at the beginning of the season and the protocols in place for the upcoming Australian Open.
"I just wanted to try to play the best I can"
With Sorana Cirstea forced to withdraw after suffering an abdominal injury, Pliskova instead faced Papamichail, a Greek lucky loser ranked 278th who was making her WTA Tour-level debut, but the former world number one seemed largely unaffected by the last-minute change in opponent.
"Not so difficult, to be honest and of course, appropriate for something. I still had I felt a couple of hours just to change my feeling about that match, but it was a first day, so I didn't expect much from myself from the match, so no matter who was there, I just wanted to try to play the best I can.
"Today, the conditions are not great. Super windy, a little cold, so I don't think it was a great match. Of course, I didn't know my opponent at all, so I didn't know much what to expect, how she's going to play. I had some good moments, some bad moments. Of course, happy to win my first match this year."
'I'm never changing a coach because of my results"
With another new coach in her camp this year in the form of Bajin, the Czech revealed why she switches so often and doesn't base her decision mainly on results.
"Well, to be honest, since i'm changing pretty much every year for the last couple of years, I think it's going easier and easier. Of course, with some of the coaches is maybe a little more tough because somebody doesn't expect.
"Most of the people, at least the people, which they are clever and they're intelligent enough to understand the situation and maybe that's my feeling doesn't always have to be great, no matter how good the season was.
"As I said before, i'm never changing a coach because of my results. Mostly it's about my feeling and what I want to improve. Maybe we are not always on the same page with the coach, but I would never change a coach just because i'm losing."
"Hopefully we can improve my game at some point"
As for what Bajin can actually bring to her game and whether the tour's extended break following this event can give them extra valuable time to work on things, Pliskova was very candid in her response.
"I spoke earlier about my success. I think all is clear. Of course, if I change coach, I want to improve and i'm trying to choose the coach, which would help me to improve and to achieve my goals. That's why I change. That's my expectations for this year.
"Hopefully, we can still improve my game at some point, can be return, can be movement. Of course, I believe we can do that. And also definitely I had a lot of time already with Sascha off the court in the offseason. It was quite long, to be honest.
"I think when you change your coach, it's better to have more time than just to have a couple of weeks so we just get to know each other a little better and we can spend some time together. I would love to play more tournaments, to be honest because I think I did enough work the past weeks.
"The situation is what it is. I'm just happy that there's going to be one more tournament before the Australian Open. Hopefully, I can play some matches here and then we will see."
"It is better to accept it the way it is"
The Australian Open has set strict guidelines as they, along with the rest of the world, continue to deal with the COVID-19 pandemic as best they can and the world number six is accepting of whatever is put in place.
"No, actually not. Of course, I still don't know my flight and my hotel and all this stuff, but I guess it's going to be decided soon. I live, you know, every day the same. I don't really need to know in advance what was going to be tomorrow.
"For me, (it's) enough to know one day before I leave somewhere. Of course, our life is in a suitcase, so there is not much to think about. Anytime they tell me 'you can leave to Australia, I will leave. Not really big issues with this.
"Of course, everything is going to go by the plan and we can all make it there, nobody's going to be sick and we can all compete, so no, not really having any issues with the planning so far and even if I would have, I don't think there is much I could change or what I could do. It's better to accept it the way it is."
"I think I need just to go through this and to play as many tournaments as I can"
Pliskova has had great success at the beginning of the year, winning three of the last four times in the season-opener at Brisbane, but she is adapting to the change in schedule.
"Not really different because every time for the last couple of years, if you don't count last year, I just had so many matches and i've been finishing quite late, playing the WTA Finals by the end of the year. I think I need just to go through this and to play as many tournaments as I can.
"Of course, the first match is always maybe not nice and is a little bit tricky. I lover Brisbane. I always thought I played good matches there, but yeah, never like really amazing the first couple of matches and of course you improve the more you play, so that's what i'm hoping for."