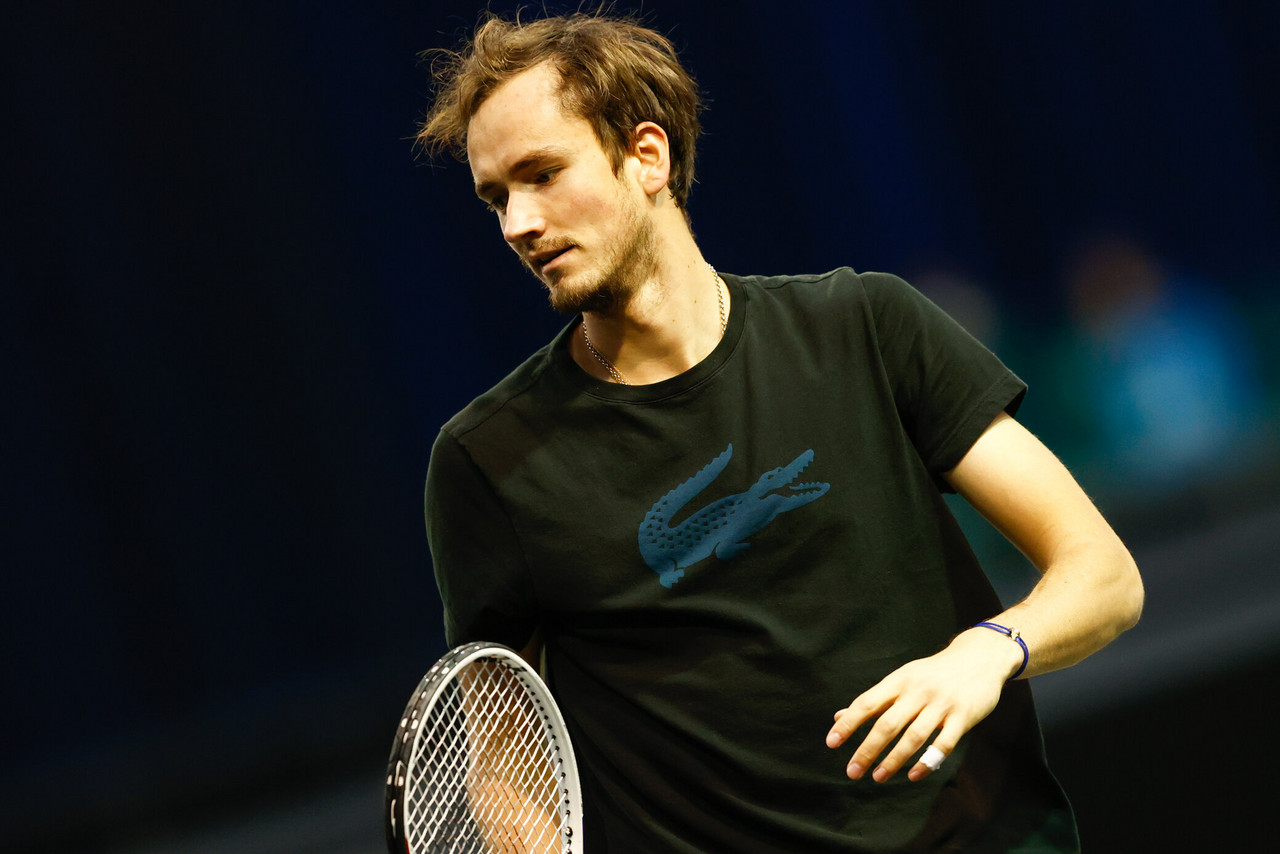 Daniil Medvedev met with the media ahead of his participation at the ABN AMRO World Tennis Tournament and the Russian discussed a number of subjects as he prepares for the ATP World Tour 500 event.
Russian talks about incredible string of results in last few months
Medvedev has won 20 of his last 21 matches with the only loss being to Novak Djokovic in the Australian Open final, but he also knows what claiming titles at the Rolex Paris Masters and ATP Finals at the end of last year as well as the ATP Cup to start 2021, he's gained confidence in the big moments.
"It's a great achievement. It's great to know those numbers. It's for sure confidence when you win some tournaments. (I) won three in a row. One of them (ATP Cup) was a team competition.
"When you get the confidence going, in the tight moments, you feel like you can always make winners, put the ball in the court when you have to and make your opponent miss.
"For sure the tough work I have been putting in in practice through (the) last two or three years has paid off and I feel like on the court I can do many good things."
Medvedev recounts Australian Open finals defeat
The loss to Djokovic in Melbourne denied the Russian his maiden major title as the Serb prevailed 7-5, 6-2, 6-2 and he acknowledged the world number one was simply too good on the day.
"For sure, I thought about it a little bit. (I) more discussed it with my team and my coach than thought about it by myself. To be honest, Novak played really good. It's that type of match where you get out from the court and you feel like you didn't play well.
"There is a reason because there is no reason I wouldn't play well because I just won 20 matches before playing well, so there is no reason this match I will not play well. He did everything good, he was playing good, playing good tactically.
"I couldn't find my stance on the court. I think we would replay the match, I would do some things differently in terms of tactics of the game. It's experience. For sure, I will do some things differently. This match he won because he was the better player."
New career high beckons for two-time major finalist
If Medvedev were to reach the final, he would climb to number two in the new ATP rankings, but the Russian isn't yet thinking about becoming the first non-"Big Four" member to crack the world's top two since 2005.
"Yeah, for sure, it's a bit of pressure. It's a normal part of a tennis career and tennis life to have some pressure. I would say the most pressure would start around the quarters or semis. In the first or second round, it's still kind of far to look ahead.
"I'm getting ready for my first round and i'm not thinking at all about this, but for sure when it comes closer it's going to stay in my mind and i'm just going to try to do it."
"I like it. They changed it a little bit. Usually, when you've been there a few times and then they change it. First impression is everything is new, 'where do I go?, what do I do?'
Since they have no fans this year, they try to make more space for players. Practice courts, they make big space so you can warm up and do many things. I think they did a good job. They try to make everything best for the players, so I really like it."
Medvedev speaks about recent Russian success
With Russia winning the ATP Cup and Aslan Karatsev reaching the Australian Open semifinals as a qualifier, Medvedev talked about the resurgence Russian tennis is enjoying, which also includes Andrey Rublev in the Top 10 as well as Karen Khachanov.
'I think it's great. (The) popularity of tennis in Russia is growing. Hopefully, we can be here a long time and make tennis really popular in Russia. Everybody starts to follow tennis. Everybody starts to post pictures about playing tennis.
"I'm really happy about it. I'm very happy for Andrey having an unbelievable last year (and) reaching the quarters of the Australian Open. Karatsev made something unbelievable. He's in the history books now. Hopefully, he can continue his run throughout the season.
"We have some guys who are coming up who can be Top 100 or higher in the next few years, so let's see how it goes."
"The draw is really strong"
Medvedev talked about the strength of the draw at the event as well as facing Dusan Lajovic and with the conditions as they are, the world number three expects a tough battle against the Serbian.
"The draw is really strong. For a 500 event, it's one of the strongest draws ever. We have six Top 10 guys which is unbelievable. About Lajovic, the courts are really slow here, the balls are slow, so the conditions he probably will like.
"I need to prepare my game. The serve will be important. The more returns you put in the court, the more pressure you put (on). That's gonna be the key and of course i'm expecting a tough match against Dusan."