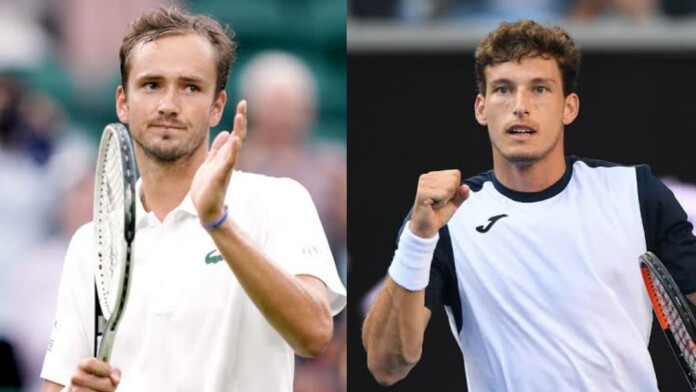 The quarterfinals are ready
END OF THE MATCH: RUSSIA QUALIFIES FOR THE QUARTERFINALS
3º Set Granollers - Feliciano López (6-4 2-6 4-6) Karatsev - Rublev
3º Set Granollers - Feliciano López (6-4 2-6 4-4) Karatsev - Rublev
3º Set Granollers - Feliciano López (6-4 2-6 3-3) Karatsev - Rublev
3º Set Granollers - Feliciano López (6-4 2-6 2-2) Karatsev - Rublev
3º Set Granollers - Feliciano López (6-4 2-6 1-1) Karatsev - Rublev
Russia forces third set
2º Set Granollers - Feliciano López (6-4 2-6) Karatsev - Rublev
2º Set Granollers - Feliciano López (6-4 2-5) Karatsev - Rublev
The first set point for the Spanish team
1º Set Granollers - Feliciano López (6-4 1-4) Karatsev - Rublev
1º Set Granollers - Feliciano López (4-4) Karatsev - Rublev
1º Set Granollers - Feliciano López (2-2) Karatsev - Rublev
Doubles match started
Everything is decided in doubles
2º Set Carreño (2-6 6-7 ) Medvedev
2º Set Carreño (2-6 6-6 ) Medvedev
2º Set Carreño (2-6 5-5 ) Medvedev
2º Set Carreño (2-6 4-5 ) Medvedev
1º Set Carreño (2-6 3-4 ) Medvedev
MEDVEDOV TAKES THE FIRST SET
1º Set Carreño (2-6) Medvedev
1º Set Carreño (0-4) Medvedev
1º Set Carreño (0-2) Medvedev
The match begins
The second match will be Carreño vs. Medvedev
Feliciano Lopez's victory point
SPAIN WINS THE FIRST POINT
3º Set Feliciano López (2-6 6-3 6-4) Rublev
3º Set Feliciano López (2-6 6-3 5-3) Rublev
3º Set Feliciano López (2-6 6-3 4-2) Rublev
3º Set Feliciano López (2-6 6-3 3-1) Rublev
3º Set Feliciano López (2-6 6-3 1-1) Rublev
Feliciano Lopez wins the second set
2nd Set Feliciano López (2-6 6-3) Rublev
2º Set Feliciano López (2-6 4-2) Rublev
2º Set Feliciano López (2-6 1-1) Rublev
Spanish fans cheer in the stands
RUBLEV TAKES THE FIRST SET
Feliciano López (2-6) Rublev
Feliciano López (1-5) Rublev
Feliciano López (1-3) Rublev
Feliciano López (0-2) Rublev
The game started
Tennis players warm up
The moment of truth is approaching
We are still waiting
Feliciano Lopez vs Rublev
Finally, Feliciano López will play first
In a few moments the last round of the group will begin.
Order of play
Spain wants to retain its title
España quiere revalidar el título
Group A standings are as follows
1 hour
How to watch Spain vs Russia live in the Davis Cup ?
What time is the match Spain vs Russia in the Davis Cup ?
Recap of the 2019 Davis Cup final where Nadal beat Shapalov to give Spain a 2-0 win over Canada.
Moment in which the Spanish pair: Pablo Carreño and Granollers seal the first victory of the Davis Cup 2021.
How does Russia arrive?
How does Spain arrive?
Background
Headquarters
Preview of the match
Welcome to VAVEL.COM's LIVE coverage of Spain vs Russia in the Davis Cup.