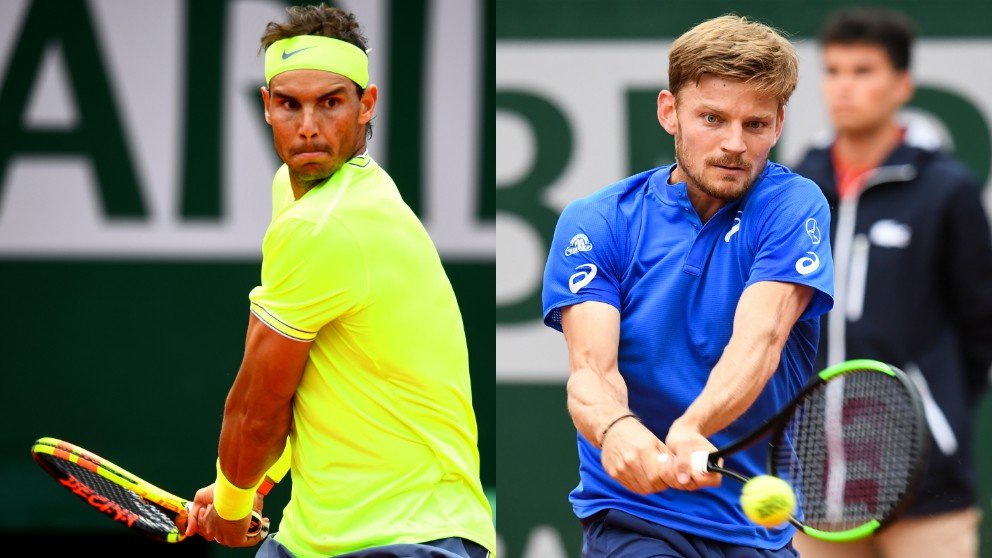 END OF MATCH: NADAL QUALIFIES FOR QUARTERFINALS
3º Set Rafael Nadal (6-3 5-7 7 -6 ) David Goffin
3º Set Rafael Nadal (6-3 5-7 6-6 ) David Goffin
3º Set Rafael Nadal (6-3 5-7 5-6 ) David Goffin
Rafael Nadal's score
3º Set Rafael Nadal (6-3 5-7 5-5 ) David Goffin
3º Set Rafael Nadal (6-3 5-7 4-5 ) David Goffin
3º Set Rafael Nadal (6-3 5-7 4-4 ) David Goffin
3º Set Rafael Nadal (6-3 5-7 3-4 ) David Goffin
3º Set Rafael Nadal (6-3 5-7 3-3 ) David Goffin
3º Set Rafael Nadal (6-3 5-7 2-3 ) David Goffin
3º Set Rafael Nadal (6-3 5-7 2-2 ) David Goffin
3º Set Rafael Nadal (6-3 5-7 1-2) David Goffin
3º Set Rafael Nadal (6-3 5-7 1-1) David Goffin
3º Set Rafael Nadal (6-3 5-7 0-1) David Goffin
END OF SECOND SET: GOFFIN WINS AND EVERYTHING WILL BE DECIDED IN THIRD SET
2º Set Rafael Nadal (6-3 5-7) David Goffin
2º Set Rafael Nadal (6-3 5-6) David Goffin
2º Set Rafael Nadal (6-3 5-5) David Goffin
2º Set Rafael Nadal (6-3 5-4) David Goffin
2º Set Rafael Nadal (6-3 5-3) David Goffin
2º Set Rafael Nadal (6-3 4-3) David Goffin
2º Set Rafael Nadal (6-3 4-2) David Goffin
2º Set Rafael Nadal (6-3 3-2) David Goffin
2º Set Rafael Nadal (6-3 3-1) David Goffin
2º Set Rafael Nadal (6-3 2-1) David Goffin
2º Set Rafael Nadal (6-3 1-1) David Goffin
2º Set Rafael Nadal (6-3 0-1) David Goffin
RAFA NADAL TAKES THE FIRST SET
1º Set Rafael Nadal (6-3) David Goffin
1º Set Rafael Nadal (5-3) David Goffin
1º Set Rafael Nadal (4-3) David Goffin
1º Set Rafael Nadal (3-3) David Goffin
1º Set Rafael Nadal (2-3) David Goffin
1º Set Rafael Nadal (2-2) David Goffin
1º Set Rafael Nadal (2-1) David Goffin
1º Set Rafael Nadal (1-1) David Goffin
1º Set Rafael Nadal (1-0) David Goffin
Before the start of the match there was a tribute to Marc Lopez, who retired.
All set
Goffin's last participation in 2019
Nadal at the Madrid Open
Goffin has yet to concede a set at the Madrid Open
Four times they have met on clay
The match will start late
1 hour
How to watch Rafael Nadal vs David Goffin ?
What time is the match Rafael Nadal vs David Goffin at Madrid Open ?
Nadal was finally in the box
Incredible game between Nadal and Goffin at the Madrid Open in 2017.
How does David Goffin arrive?
How does Rafael Nadal arrive ?
Background
Venue: The match will be played at the Magic Box in Madrid, a court located in the city of Madrid and inaugurated on May 8, 2009 with a capacity for 12,442 spectators.
Preview of the match
Welcome to VAVEL.COM's LIVE coverage of Rafael Nadal vs David Goffin at the Madrid Open