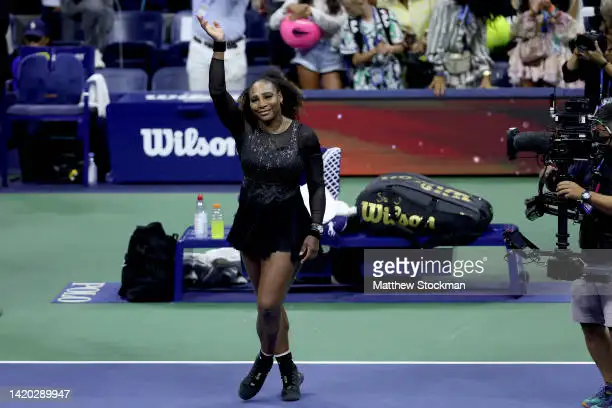 Serena Williams has played the final match of her legendary career as the 23-time major champion was defeated 7-5, 6-7 (4), 6-1 by Ajla Tomljanovic in the third round of the 2022 US Open.
The first set saw Williams build a 5-3 lead only for Tomljanovic to rally and win the final four games of the set.
It was more of the same in the second as the American climbed in front 4-0, the Australian fought back, but this time Williams was able to prevail in a tiebreaker.
She broke to open the third, but would not win another game, bringing to a close a career that spanned a quarter century and brought her 23 Grand Slam singles titles.
Story of Serena's final career match
Each player broke to start the match and after love holds from both, the first set was finely poised at 2-2.
Tomljanovic was holding her own with Williams so far, especially on serve, but she was broken to love to give the six-time US Open champion a 5-3 advantage.
The American was showing some nerves and after she flew a shot long, the Australian was back on serve and she extended her streak of games to four, leaving Williams flat-footed, painting the line on set point.
Williams opened the second set with a much-needed hold and strong play at the net gave her a much-needed break. A second break followed as Tomljanovic was now playing erratically.
Despite the huge deficit, the Australian was able to claw one of the breaks back before the six-time Open champion moved to within a game of winning the set.
What followed was a 23-point game went the way of the Australian and she was able to break and use that momentum to force a second set tiebreaker.
Williams went ahead in the breaker as an unforced error by Tomljanovic put her in front 2-1. Again the Australian would rally, leveling at 4-4, but the 23-time major champion finished strong, winning the final three points of the set.
The momentum seemed to be with Williams as she was able to get to consecutive lobs and force Tomljanovic into hitting long, breaking to open the third set.
What followed was something nobody watching, in attendance or covering the match could see: the Australian winning the final six games of the match.
Serving for the biggest win of her career, Tomljanovic needed six match points to close out the biggest win of her career, Williams hitting into the net, the final shot of a career that will be regarded as the greatest of all-time.