World number two Andy Murray secured his place in the Shanghai Rolex Masters semifinals with a battling win over David Goffin, 6-2, 6-2. Murray will now face the winner of Jack Sock v Gilles Simon for a place in the final.
The scoreline doesn't quite reflect the battle that took place, as both guys played extremely well to challenge each other. Although Goffin made Murray work hard for his victory, it never really looked in doubt as the Brit was in top form to claim his ninth win in a row.
First set battle
Murray opened the match with a hold of serve, already hitting two aces and one double fault on his way to a 1-0 lead. A loose return game from Murray gave Goffin a quick hold to love. Opportunities came for Murray in the next return game. Goffin came out on top of a 37 shot rally to bring up game point, but Murray's great defending won him the next two points. The first break point was lost with a forehand error but a double fault from Goffin quickly brought up another. Two loose shots from Murray got Goffin out of danger and a big winner gave the Belgian the well-fought hold.
Murray held to love, dictating extremely well with his forehand, to put the pressure straight back on Goffin. The Belgian began his service game with a double-fault and Murray's ability to always make his opponent make the extra shot paid off as Goffin hit a smash wide. Murray finished off a 32 shot rally with an inside-out forehand winner as he turned defense into attack to bring up break point. The Brit didn't have to do anything from then to earn the break as it was gifted by Goffin with another double fault to give Murray a 4-2 lead.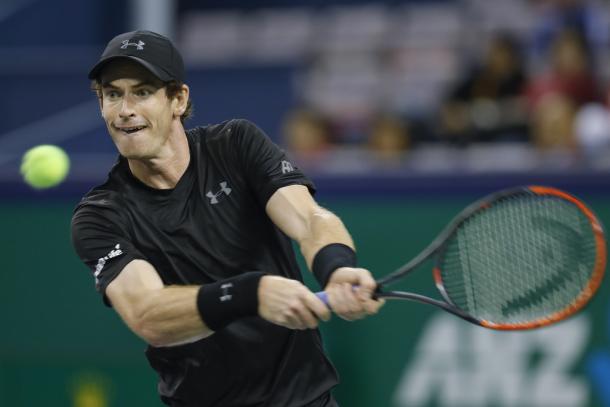 Goffin earned himself two break points in the next game for a chance to go back on serve immediately. An ace from Murray saved the first and Goffin had the next point on his racket as he raced in to finish off the short ball from Murray but a horrific miss into the net brought them back to deuce. Goffin was made to feel slightly better about his mistake as Murray hit a double fault to bring up a third break point, but a deep forehand winner followed by an ace and an error from Goffin gave the Brit the hold for a 5-2 lead.
Murray crunched two backhands down the line in a row to bring up two set points on Goffin's serve. The Belgian saved one with a forehand down the line winner and an error from Murray brought them to deuce. Goffin did well to defend as Murray took control of a rally with a big return and aggressive dictating forehands but eventually lost the point with a loose error to bring up another set point for Murray. A backhand long gave Murray the first set 6-2.
Deceptive scoreline
Murray took his fifth game in a row as he opened set two with a quick hold to love. Goffin followed with a nightmare opening to his service game, but he eventually found his range to fend off two break points and go back to deuce. In a grueling game that seen six break points for Murray, Goffin finally held on his sixth game point after 15 minutes. There was pressure on Murray as Goffin pushed from 30-0 to 30-30, but the Brit dealt with it by hammering down two aces to hold for 2-1.
Goffin looked to be cruising through a service game the complete opposite to the first of the set but Murray battled from 40-0 deuce. A couple of loose shots followed for Murray and Goffin eventually got the hold. The Belgian was pushing hard on return, often finding himself in control of rallies, but Murray's ability to turn defense into attack so quickly got him through as he saved two break points to go ahead 3-2.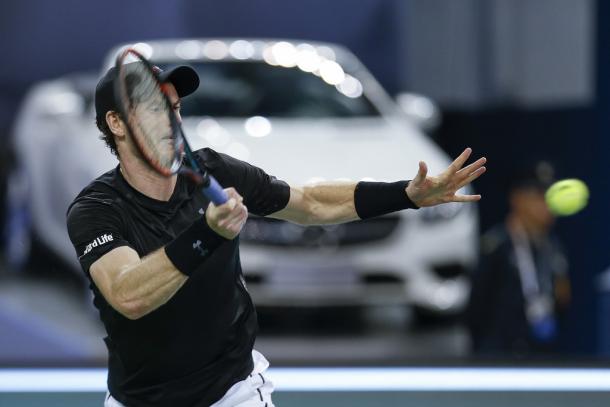 Murray continued to dominate with his forehand and returned deep to take a 0-30 lead on return. A couple of errors followed from Goffin to finally get the first break of the set and give Murray a 4-2 lead. A perfect drop shot from Goffin gave him a 0-30 lead on return in the following game. Big serving from Murray got him out of trouble to go a game away from the win.
The world number two was looking to close out the first set in similar fashion to the first as he went ahead on return while Goffin was serving to stay in the match. Two match points came for Murray, and Goffin was able to save one but he sent the second into the net to secure Murray's place in the semifinals.