World number 14 Nick Kyrgios has been sanctioned by the ATP after he failed to give his best efforts in his second round match at the Shanghai Rolex Masters last week. Kyrgios would have been banned from competing for eight tournament weeks but has agreed to see a sports psychologist, so the ban will be reduced to three weeks.
Another Incident for Repeat Offender
During his match against Mischa Zverev in Shanghai last week, Kyrgios' lack of effort was clear as he just patted the ball over the net multiple times while serving and walked off to his chair before Zverev had even finished serving. He also argued with both the umpire and a spectator in the crowd on his way to a 6-3, 6-1 loss. Kyrgios had already been fined $16,500 after the match, but after the investigation into the incident, the ATP has decided on an additional $25,000 in fines.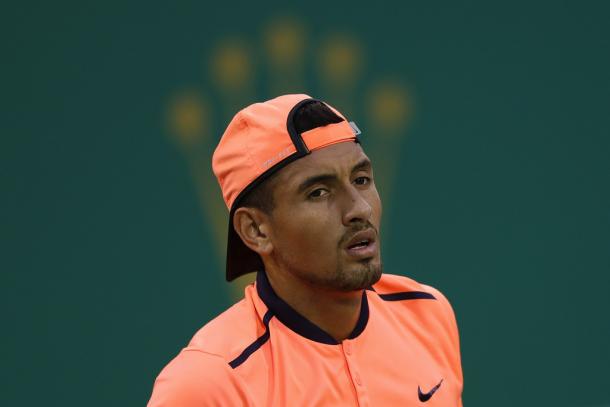 In a statement, the ATP confirmed that if Kyrgios were to enter into a plan of care from a sports psychologist or an approved plan by the ATP then the original eight-week plan would be reduced to three weeks. Tennis Australia has since announced that they support the sanctions and that Kyrgios has agreed to the care plan suggested by the ATP; "Nick's health and wellbeing is a priority and the ATP has offered a reduced penalty on the provision that he seeks appropriate professional advice, which he has agreed to do."
Kyrgios has expressed his regret about his actions in a statement on his website and blames a long injury filled season, but understands that it isn't an excuse. "My body finally just gave out in Shanghai both physically and mentally." He gave a long apology to the fans, both in the audience in Shanghai and around the world, who he credits as his motivation for success "...I love and value their support. Their energy is what motivates me to reach for the top of the game."
Kyrgios was in the running to qualify for the ATP World Tour Finals and a good run in Shanghai would have put him in prime position to reach the most prestigious tournament on the ATP calendar which he stated were an "important goal", but he will now have to wrap up his season early. He concluded; "I do understand and respect the decision by the ATP and I will use this time off to improve on and off the court. I am truly sorry and look forward to returning in 2017." Kyrgios will make his return at the Hopman Cup next year alongside teammate Daria Gavrilova, where they are defending champions.