The Shanghai Rolex Masters did surprisingly little to change the ATP Race to London except for taking time away from those on the outside of the top eight who are hoping to sneak in. Almost every contender for the ATP World Tour Finals suffered an upset in Shanghai, which means that the last three weeks will be more intense than ever. However, that's not to say that Shanghai had no effect. What seemed impossible two weeks ago is now a very real possibility: Novak Djokovic's grip on the number one ranking is slipping. Here's what you need to know this week in the Race to London.
Race Update
Nishikori qualifies
Despite skipping Shanghai with an injury, Kei Nishikori booked his spot in London for the third year in a row without striking a ball. Thanks to the early losses by nearly everyone behind him in the rankings, the Japanese became the fifth man to clinch a spot at the ATP World Tour Finals. The pressure is now off the Japanese, who can take his time and heal over the next month as he gears up for another London campaign.
Hopefuls stumble
With a few exceptions, it was a bad week for those hoping to claim the last three spots in London. Rafael Nadal, who sits in seventh, failed to put much space between himself and eighth place Dominic Thiem by losing in the second round of Shanghai. Gael Monfils, who sits sixth, also failed to take any strides towards qualification, falling in the third round. While Thiem, who sits in the eighth and final qualification spot, gambled by skipping Shanghai, he got lucky as everyone around him stumbled, meaning he remains in eighth and holds a similar lead over ninth place Tomas Berdych to that which he did before Shanghai.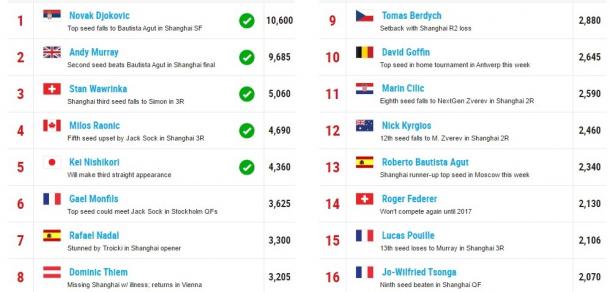 Berdych, who is 325 points back of Thiem for the final spot, missed a golden opportunity to gain ground and even reach the top eight, falling in the second round. Marin Cilic also failed to gain any ground with a second round loss. Early losses saw Lucas Pouille and Grigor Dimitrov also fell in the rankings. No one had it worse than Nick Kyrgios, whose season was ended in Shanghai, killing his late bid to qualify. After openly tanking in his second round match, the young Aussie was suspended for eight weeks by the ATP, , three if he agrees to see a psychologist. Even if Kyrgios accepts the latter, his suspension will carry through the BNP Paribas Masters, meaning his season and London hopes are finished.
The two men who had good weeks were David Goffin and Roberto Bautista Agut. Goffin's impressive quarterfinal run, which included a win over Monfils, closed the distance between himself and Thiem to 560 points as he jumped up to 10th in the race. Bautista Agut's shocking run to the final vaulted him back into contention, albeit with an outside chance. The Spaniard now sits in 13th, 865 points back of Thiem. He'll need big runs in all three remaining weeks, but it's still mathematically possible for him to qualify.
Race for number one
Despite Andy Murray's phenomenal form since May, losses in the Cincinnati final and US Open quarterfinals seemed to have killed any hope he had of overtaking Novak Djokovic at number one this year. However, his hot form since the US Open has seen him win back-to-back titles in Asia. That combined with Djokovic's recent struggles has suddenly ignited a new race for number one.
Two weeks ago, Murray was more than 2000 points back of Djokovic. As the tour returns to the indoor hard courts of Europe, Murray has closed that gap to just over 900 points. The pair will compete head-to-head in at least two more events this season (Paris and London) with 2500 points up for grabs. Murray will also be competing in Vienna, meaning he has an additional 500 points up for grabs that Djokovic, whose next event is Paris in two weeks time, is not chasing.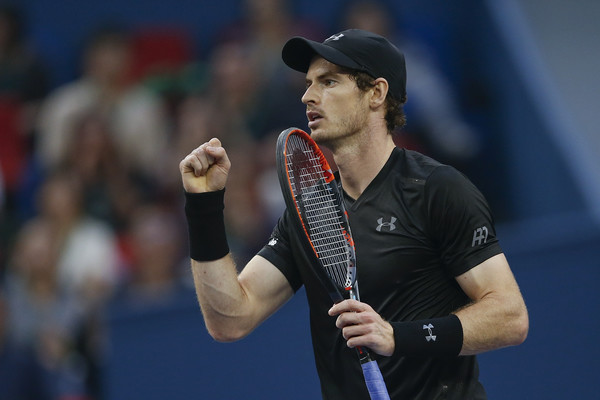 Murray now controls his own fate, as were he to run the table and win all three events, he would claim the year-end number one ranking and there would nothing Djokovic could do to stop him, other than beating him. Every point is now crucial for both men, as Djokovic needs to pick up his form going down the stretch. Early losses at either of his last two events could cost him the top spot. However, the good news for the Serbian is that he is the defending champion at both events. For the first time in a while, the race for number one could come down to the wire. Only once since Roger Federer first became number one in 2004 has the number one ranking been up for grabs at the ATP World Tour Finals (2014). It is quite possible that that will be the case this year.
This week's action
There are three 250-level events on the schedule for this week, meaning that it is impossible for anyone outside of the top eight to move into a qualifying position. Only three Race to London hopefuls are in action this week, one at each event.
IF Stockholm Open
Gael Monfils, currently sixth in the Race to London, has a golden opportunity to take big steps towards his first ever berth at the ATP World Tour Finals as he leads the field in Stockholm. He is the only member of the top ten in action and one of only two men in the top twenty who will take to the court in Sweden (the other being Grigor Dimitrov). The Frenchman will be the heavy favourite to take the title, which could be enough to seal his place in London.
European Open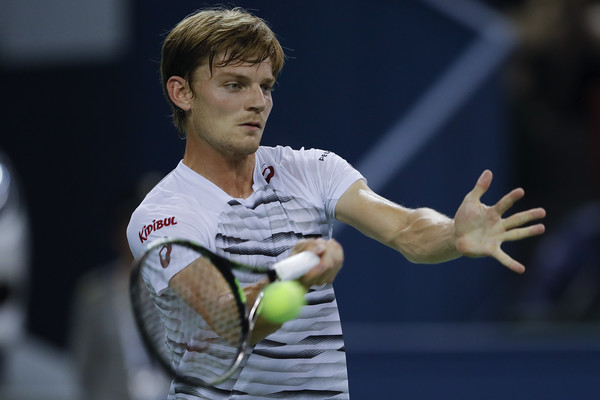 David Goffin will look to continue his late push to London as the heavy favourite in his home nation. The Belgian leads a field in Antwerp that only features three members of the top twenty, the others being veterans David Ferrer and Richard Gasquet. Goffin will have the home crowd at his back as the top seed will look to take more strides towards the qualification zone. With a title, Goffin could cut the deficit between himself and Thiem in half and would put him within striking distance next week in Basel. The Belgian needs to at least reach the semifinals to get to that point, but realistically needs a title this week if he hopes to qualify for London.
VTB Kremlin Cup
Surprise Shanghai runner-up Roberto Bautista Agut will look to stay hot as the tour shifts back to Europe for the final stretch. The Spaniard, who is currently 865 points out, needs a title to keep his outside hope of qualifying alive. It remains mathematically impossible for him to qualify before Paris, but cutting the deficit down by 250 points would certainly give him a boost heading into the final two weeks where a maximum of 1500 points are available. The good news for Bautista Agut is that he is the overwhelming favourite in Moscow, as the next highest ranking player in the draw, Viktor Troicki, is more than double the Spaniard's ranking (Bautista Agut is 13th, Troicki is 28th). This is a big opportunity for the streaking Spaniard.
Three weeks remain for the final three spots in London to be claimed, with a maximum of 1750 points available. A lot can still change between now and November 6th, the last day for players to reach the top eight.