At the WTA Elite Trophy, Roberta Vinci surely played the last match of her season, but she doesn't know yet whether it will be one of the last matches of her career or not. The Italian player, the fifth seed in Zhuhai, has suffered an early exit from the tournament at the round-robin stage, after two straight-set losses to Barbora Strycova and Petra Kvitova respectively. Despite the losses, she will still end her year inside the top-20 for the second year in a row, after reaching the top 10 for the first time in May, and a career-high ranking of 7th in the world.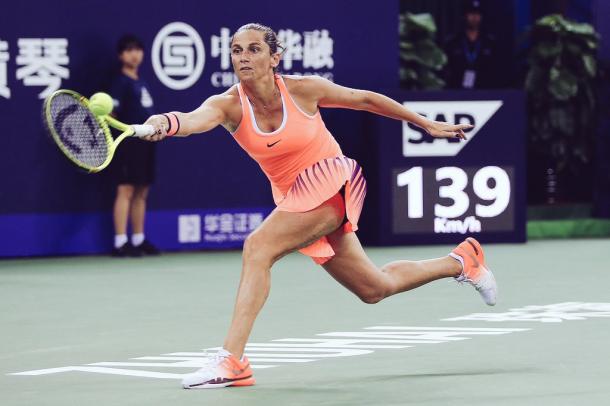 "I don't know if 2016 will be my last season".
Talking in her press conference after the match against Strycova, Vinci revealed that she hadn't decided yet about her future in the sport.
"I just want to finish this tournament and then I will decide", the Italian said. "But I don't want to think about my future. Just play this tournament, stay focused I hope three or four more days, and then we will see".
Vinci, who had suffered a foot injury at the U.S. Open, claimed that she was "feeling well" coming to Zhuhai, using the two weeks before the tournament "for recovery, for a little bit of rest, and practice. But the important thing is that I'm okay right now".
She then spoke about her loss against Strycova. "Today I tried my best. I went up 3-1 in the first, a lot of chance, but Barbora is a different player. She always comes to the net. She runs a lot. She is a solid, solid player. Bad luck today."
Vinci also said that she would have "tried her best" in her following match against Kvitova, which unfortunately resulted in another loss that didn't end her season in the way she would have hoped for.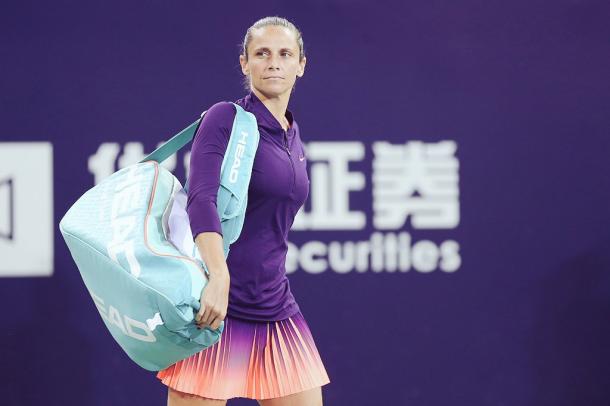 2016 season and the rumors of retirement
Vinci had started speaking about her possible retirement after this year back in 2015, but she has still to make a decision about it.
"Right now, I'm finished with this season and I want to go home", she told WTA Insider after her second straight loss in Zhuhai. "I'll be taking two weeks off for sure, without tennis or anything. Then I'll decide, if I'm still motivated, if I still want to continue at this level, and if I want to keep working. I don't know if I want to, or if I'm just tired right now".
Vinci had won the greatest title of her career in 2016, claiming her first WTA Premier crown at St. Petersburg Ladies Trophy, and had lived up to her excellent performance from last year's U.S. Open by reaching the quarterfinals, stopped only by eventual champion Angelique Kerber. "It was a good year, for sure", she said.
Vinci's doubts regard the mental and physical strength required to stay competitive on tour. "The tour is always tough and the players are always getting stronger. You always have to stay in good body and mind. Playing every single tournament is tough, but I'm so proud of myself for this year", Vinci said.
"If I want to stay on tour, I'll have to work a lot. But I don't know", she restated.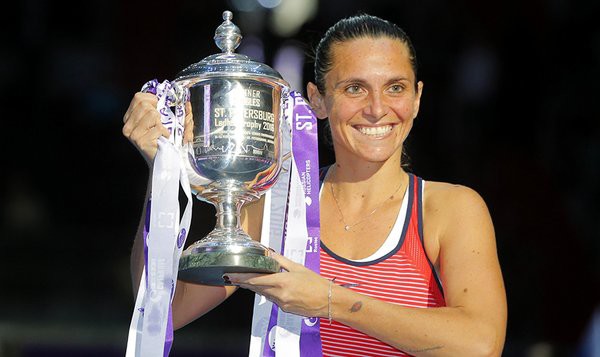 A definitive decision will come in the next weeks
Vinci claimed that the affection of fans will be important to make a final decision, but she added that she wants to make her decision alone - differently from compatriot Francesca Schiavone, who had created a social game to interact with the fans about her future.
Whichever will be her decision, Vinci said, it will be definitive. "I don't want to say, 'Yes, I'm continuing' and then in one week, I stop, or say, 'No, I'm retired', and then after a week, you see a video of me practicing", she said.
She then added that the affection of her fans gave her some doubts about her first idea of retiring at the end of the current season. "For me, it's nice because they want to know my future. If I say I'm going to retire and someone is sad, it feels good because it means they really love me and my tennis".
Vinci, then, will confirm a decision for her immediate future after taking some time to rest and reflect.
"It's normal for the fans and the journalists to want to know. Soon, I will let you know what is in my future".