The return of an international superstar. It would be one of the busiest days at the Stuttgart Open in their 40-years of history. Just because, Maria Sharapova would be playing her first match in 15 months after coming back from her drug suspension as she received a controversial wildcard into the tournament. Sharapova had her luck to thank as she did not receive the worst possible draw, and will be facing 2015 US Open finalist Roberta Vinci in the first round.
Roberta Vinci only has her luck to blame as the former world number one and five-time Grand Slam champion awaits for her in the first round, although she can only enter the tournament site on the match day itself since her ban ends that day. After a bright start to the season by reaching the quarterfinals of the Brisbane International, Vinci's season went downhill and was nothing but disappointing. From then on, Vinci has only reached one quarter-final in St. Petersburg where she failed to defend her title and instead lost to the eventual champion. The Italian has now lost six of her last seven matches and is in very poor form right now. Out of her nine losses this year, Vinci lost six of them to lower-ranked players as she mainly struggled against the hard-hitting players, allowing Sharapova to find some comfort in this match-up.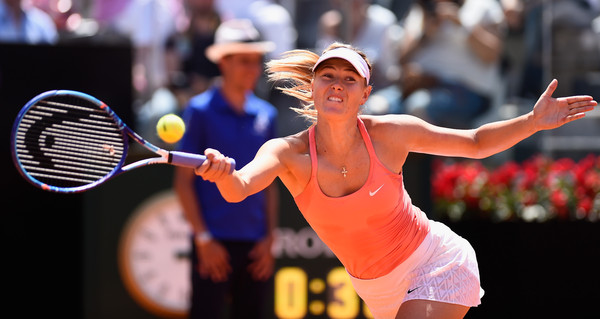 Maria Sharapova would be glad that she did not receive the worst draw possible as she leads her head-to-head record against Vinci and the fact that the match would be played on clay. As Vinci does not prefer playing on clay as compared to other surfaces, Sharapova has the edge in this one since she is known as the "Queen of Clay" in the past years after reaching three consecutive finals at the French Open. However, Sharapova would only be able to enter the tournament site on Wednesday and is not able to practice on the courts there only until that day. Furthermore, lack of match practice for the past 15 months might prove to be costly in deciding the result.
Pressure would be largely on Roberta Vinci as this is probably the most buzzed-about match of the whole year, and probably in the WTA history. Never in history where there is such an international superstar returning to action from a controversial drug ban like Maria Sharapova. The whole tennis world would turn their focus to this match, and it will most likely be the center of attention for the sports world on Wednesday. Handling the pressure is something Sharapova handles very well with her rich experience and excellent mental strength, therefore she has the slight edge here.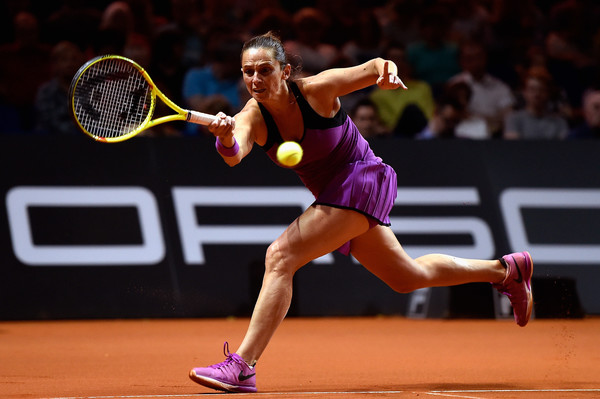 Who wins in this highly-anticipated clash?
The outcome of the match is highly unpredictable as no one knows about Maria Sharapova's fitness over these 15 months, and whether she can quickly adapt to the fast pace of women's tennis nowadays. However, based on her social media updates, the Russian superstar have been consistently going to the tennis courts and practicing in the gym, showing that her fitness should still be around the same range. The head-to-head sees Sharapova leading by 2-0, and losing just a mere four games in both of the matches combined.
Vinci has to play her best tennis to have any chance of winning, which is provided that Sharapova can even return to her best form in the match. Her backhand slice would prove crucial as Sharapova has already exposed the vulnerability of those shots in their past meetings, and the Italian has to mix in some proper topspin backhand shots to surprise Sharapova and keep her off-guard.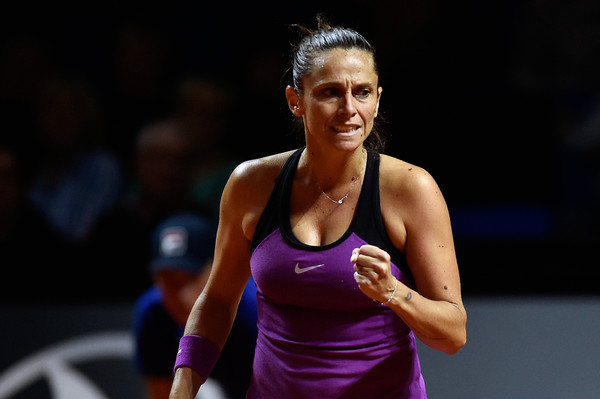 Out-of-nowhere drop shots off her backhand slices can also aid her in winning some points, and she should go up to the net more often to take the offense and prevent herself from being on the defense. Against such a hard-hitting player like Sharapova, the former top 10 player would have to play consistently and have a solid game. Lastly, her forehands and first serves may be a weapon as Vinci can dictate play with those bullet forehands, and strong first serves will help to open up the court for her and move Sharapova around.
Sharapova obviously has more weapons than her opponent, considering what she achieved on the courts in the past decade. Her serve would be crucial here, and it would be interesting to see whether if she can keep up her serving level. Sharapova must lessen her number of double faults and increase her first serve percentage as she usually wins more than 70% of her first serve points. Sharapova should also try to dictate play using her powerful groundstrokes and her sliding on the surface would also get her out of trouble when she is on the defense. Drop shots on clay could also work well, and Sharapova should utilize it often enough to mix up Vinci's rhythm.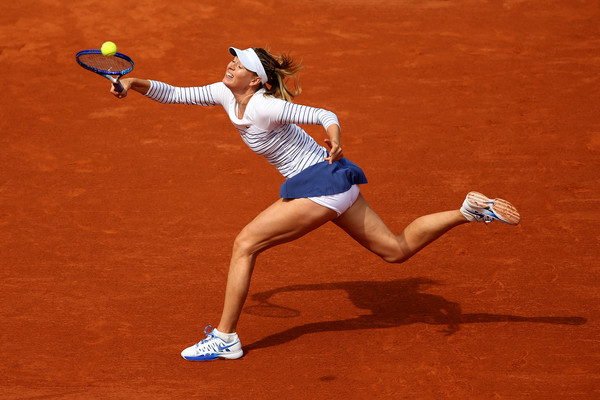 Attacking the forehand of Vinci is advisable too as her backhand slice will slow down the speed of the shots, allowing the Italian to play her normal and best tennis. Nevertheless, the outcome of this match would be fully dependent on Sharapova's form and how she performs in this match. This would be her first match back in 15 months, and no one would have any expectations on her performance.
Prediction: Maria Sharapova d. Roberta Vinci in two sets