Pablo Carreno Busta surpassed his first challenge at the Millennium Estoril Open. The Spaniard defeated countryman Tommy Robredo in route to the quarterfinals. The match ended 7-6(5) 7-5. He attended a post-match press conference.
"The first match of a tournament is always difficult. Tommy had already played a match, on Monday. On this surface, he is a very tough and dangerous player, always fighting until the end. It was not easy at all, I was not feeling comfortable, it wasn't my best match of the year however I won and that's what matters.", told to the last year's finalist to the journalists when asked about today's match.
Juan Martin del Potro announced his retirement from the tournament after receiving the news that his grandpa passed away. The tournament director, João Zilhão already sent the condolences to the Argentine player who is already travelling to Argentina after practising this morning: I'm so sorry for Juan Martin's grandpa death. He was extremely happy to be in Portugal again and playing this new tournament. He was very motivated about an excellent week of tennis. I talked to him, he was heartbroken."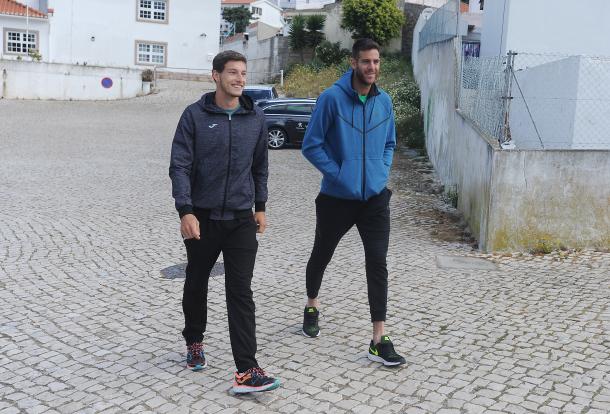 Carreno Busta heard about the news and commented on that and on how it would leave his path 'opened' to the final: "First, I'm deeply sorry for what happened, my feelings to him and I hope he can be back on the court as soon as possible. Juan Martin del Potro would meet me in the semifinals but I have one match left until the semis and his walkover doesn't affect me a lot."
Ranked 21st in the world, he has already made great tournaments here in Portugal. In the Millennium Estoril Open, he reached the semifinals in 2015 and the final in 2016. When asked about his chances this year, Pablo answered: "I hope yes. I hope this is the determinative year and I can win my first Estoril title. It's a special tournament for me, I've always had good results here, first, the semifinals and then the final last year, playing very good matches against big rivals. In this edition, there are big players too and I have to play well if I want to repeat what I did last year and if I want to win the title."
"I'm playing strong, I'm in a very good shape. In March it was when I was in a very good shape but I'm getting there again. I think right now I'm a better player than last year. Every match is a different one, last year's final it was a very tight match. At the moment, Almagro is playing, I don't know if he's going to win or not but if he wins, it is going to be a very hard match. He is a player who has a lot of strength and power and if he is focused and plays a good match, it will always be difficult to win.", said the player who made the final in Rio de Janeiro and the semifinals in Buenos Aires, São Paulo and Indian Wells.
When asked on what changed in his game, if was it just te mentality, the player recognised he improved mentally: "Obviously, mentally I'm a better player. I have grown up during this year, not only mentally but in my tennis too. I tried to play much more aggressive, to finish the points at the net and I've worked many more things. I gained a lot of experience by playing a lot of matches, winning titles, defeating big players and I believe I need to continue improving my skills."
Pablo Carreno Busta is currently ranked tenth in the ATP Race to London, but his season goals are different: "No. I will focus on that, but at the moment, London it's not the goal for this season. The objective was to be in the top-20 and I had already got in it, however, I have to consolidate it and finish the season there or maybe in the top-15. At the moment, the Masters of London is a little bit far."
Nicolas Almagro defeated Gastão Elias 6-1 6-2 so we'll have a re-edition of last season's final in the quarterfinals this year. Another Spanish duel is coming.