The world number six Milos Raonic marked his return to the tour with come-from-behind 6-7(5), 6-3, 7-6(3) triumph over the British number four Aljaz Bedene at the Istanbul Open.
The Canadian recovered from a set down to dispatch the 27-year-old in a little over two and a half hours and will face the maverick Australian Bernard Tomic in a fifth career meeting in the quarterfinals.
Raonic had been sidelined with a hamstring injury for a month and last featured at the Miami Open when he was forced to withdraw from his third round match against Jared Donaldson.
The last time he featured on a clay court, meanwhile, was a little under twelve months ago in his last 16 loss to Spaniard Albert Ramos-Vinolas at the French Open.
He skipped Canada's Davis Cup clash with Great Britain on clay earlier this year and ought to have been wary of facing Bedene in his first match since returning from injury.
The Brit rode a 16-match winning streak into the Hungarian Open final on Sunday and boasted two ATP Challenger titles for his endeavors heading into this week.
He dismissed Marton Fucsovics of Hungary in the previous round in Istanbul and his beaming confidence was on display throughout a cagey opening set with number one seed.
Tense opening
The pair could not be separated through 40 minutes of first-strike tennis.
Raonic was showing little signs of rust while Bedene, parting with no break points, was finding a consistent rhythm with his groundstrokes.
It would a tie-break to decide the opening frame and, after exchanging mini-breaks, it was the Brit who seized the initiative.
A sublime running forehand pass gifted Bedene with a pair of serves to close out the first set and he would be forgiven for thinking he had blown his chance when he double-faulted to grant Raonic a glimmer of hope.
However, a moonball from the Canadian brought up set point on the world number six's serve and after sending Bedene wide with a 220km/h first serve, could have leveled the tie-break at 6-6 with a routine forehand.
But his concentration wavered briefly and, with Bedene stranded in the opposite court, he sent a smash volley into the net to surrender the opening set.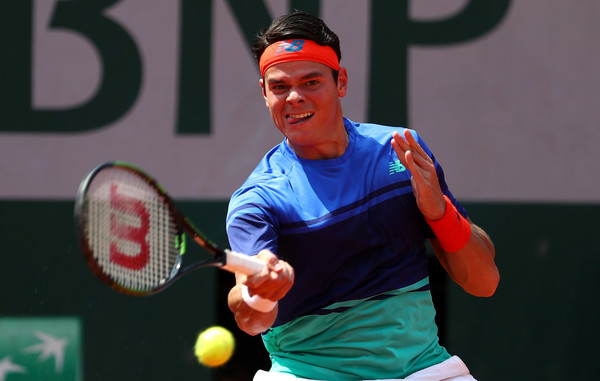 Ebb and flow
Raonic, to his credit, rallied and fashioned a break point on the Brit's opening service game of the second set. Although he squandered that opening, he constructed a pair at 1-1 and, second time lucky, converted a smash to restore hope.
He looked commanding throughout set two and, with Bedene serving to stay in the set at 5-3, struck while the iron way hot.
0-40 and with three set points behind him, the 27-year-old arrowed a forehand long from the ad court to level proceedings and force a deciding set.
Neither player appeared fatigued and, much like the opening set, were consistent behind their first serve.
Doors opened at 0-30 in a pair of games for Raonic but Bedene showed immense composure to steady the ship and, after two hours and thirty minutes of action, it would be a tie-break to decide it.
After squandering the set one tie-break in such lackluster fashion, Raonic was dialed in and a forehand down the line produced the all-important mini-break.
He delivered his twelfth ace for 4-1 and was staring at three set points for a quarterfinal berth.
Bedene, who will surely rue his luck afterwards, ballooned a backhand long as Raonic fistpumped in delight.