Millennium Estoril Open is coming to an end as the end of the week approaches. The order of play for Thursday is out and a lot of Spanish players will be in action.
Stadium Millennium
[1] Pablo Carreno Busta vs. Nicolas Almagro
At 1 pm local time, Pablo Carreno Busta and Nicolas Almagro will face each other in a re-edition of last year's final when the former top-10 captured the title. Pablo Carreno Busta has already won two ATP titles since he made te final here, one in Winston-Salem and another one in Moscow, so he is now a different player, with more experience. Nicolas Almagro nevermore conquered a title but when he plays in Estoril, he feels at home. The final of 2016 was a very tight one and ended 6-7(6) 7-6(5) 6-3 to Almagro. That was their first and only meeting.
Prediction: Pablo Carreno Busta in three sets.
[WC] David Ferrer vs. Ryan Harrison
Next to the Spanish duel, it will be another Spaniard in action. David Ferrer will battle against Ryan Harrison for a place in the semifinals. Ferrer was on a five-match losing streak until this Thursday, when he defeated Frederico Ferreira Silva. Ryan Harrison has a win-loss record of 16-8 this year but before coming to Estoril he was on a five-match losing streak too. Harrison has already won two titles this season, Memphis and Dallas, being the last one a Challenger Tour event. They have met each other three times and Ferrer leads their head-to-head 3-0. They never faced on clay.
Prediction: David Ferrer in three sets.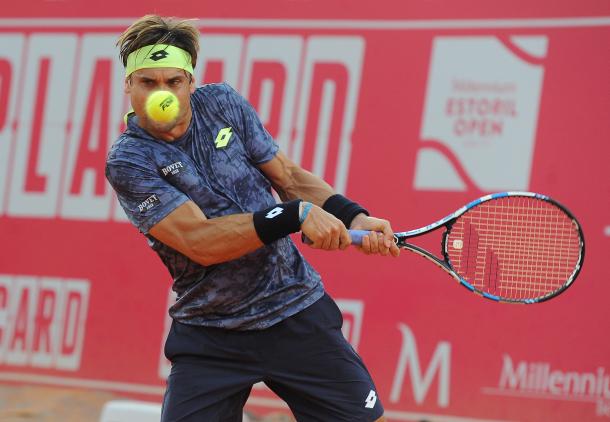 Kevin Anderson vs. [2] Richard Gasquet
Kevin Anderson and Richard Gasquet open the night session on the fifth day of the Millennium Estoril Open main draw. The Frenchman is the second seed and he won the title here in 2015. He plays very well in Portugal and has already made 3 finals in this country, in one of them he got the winner's trophy. Kevin Anderson arrives in the quarterfinals with two wins against qualifiers. One against Salvatore Caruso and the other against João Domingues, which ended 7-5 in the third set. Both players have already met each other eight times, being the last one in 2016, when Anderson won 6-2 6-4. They only played on clay court once, it was at the 2015 French Open edition. Gasquet won that match in four sets. Richard Gasquet has a win-loss record of 14-6 this season, while Kevin Anderson is 6-6.
Prediction: Richard Gasquet in two sets.
Taro Daniel vs. [3] Gilles Muller
Gilles Muller is the third seed at the Millennium Estoril Open and he is going to face Taro Daniel. Muller has already conquered a title this season, in Sydney and he has won a total of 13 matches this year against 8 he has lost. Taro Daniel is currently ranked 113th on ATP but he was in the 85th spot in April 2016. He defeated Renzo Olivo and Bjorn Fratangelo en route to the quarterfinals. This season he won a Challenger Tour title but his best on the ATP World Tour are two qualifications to the main draw. The two players have never met each other before.
Prediction: Gilles Muller in two sets.