All the quarterfinal's matches were played this Friday which started has a very rainy day. There was only one match played in the Court Cascais
Stadium Millennium
The first match of the day to be played opposed Pablo Carreno Busta to Nicolas Almagro in a re-edition of last year's final. In one hour and ten minutes, Carreno Busta dispatched Almagro 6-2 6-4 to book a place in the semifinals. It was a very tough match despite the scoreboard.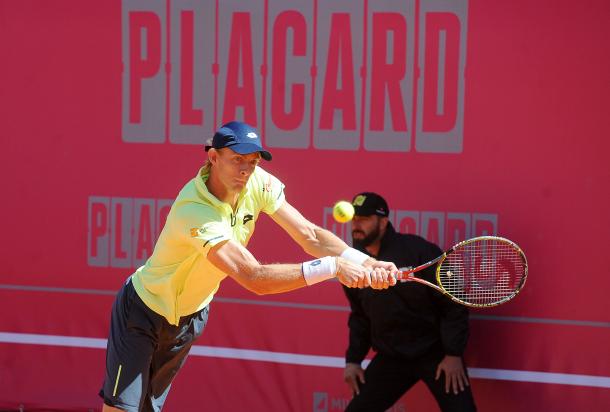 David Ferrer defeated Ryan Harrison to take the second spot in the semifinals. The Spaniard was very consistent during the whole match and won 6-4 6-0 in one hour and eleven minutes. It's a very good win to David Ferrer who was on a five-match losing streak coming to this tournament. Ferrer and Carreno Busta are going to fight for a ticket to the final.
Kevin Anderson was the third player to guarantee the passport to the semifinals. The South-African had a good start winning the first set 6-4, but soon Richard Gasquet improved the level of tennis. Anderson stayed strong in the third and won the match 6-2 3-6 7-6(4). He will face Gilles Muller.
Gilles Muller had to battle a lot to overcome Taro Daniel. The Luxembourger won 5-7 6-2 6-3 in 1 hour and 56 minutes. He is going to face Kevin Anderson.
Court 3
Court 3 was used due to the inviability of the Court Cascais. It rained a lot during the night and the court was not in good conditions. The match played here opposed Nicolas Almagro and Guillermo Garcia-Lopez to David Marrero and Tommy Robredo. Marrero/Robredo fought hard to get the win 6-4 4-6 10-8 in a not so long match.