17-year-old Czech qualifier Marketa Vondrousova entered uncharted territory Tuesday afternoon at the French Open, dropping just one game against home favourite Amandine Hesse in a 54-minute masterclass of power hitting to score her first main-draw win at a major.
Vondrousova Very Impressive in Clinical First-Set Display
After dropping just seven games in three qualifying matches coming in, Vondrousova showed no signs of any nerves in her main draw début, winning the first eight points of the match to claim the immediate break before effortlessly doubling her advantage to hold a commanding 4-0 lead. Showing no signs of any fear, the 17-year-old continued to impress in all areas, particularly from the forecourt where Hesse's groundstrokes proved no match for the effortless power of Vondrousova, who would continue to reaffirm her advantage before claiming a third break of serve with one of her 18 winners on the day to secure the opener in just shy of a half-hour.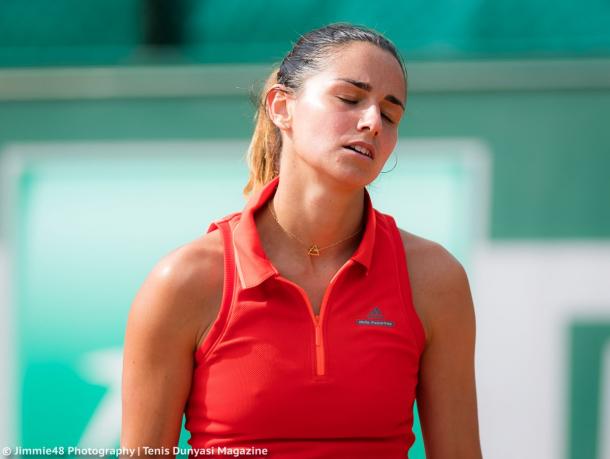 Valiant Vondrousova Shows Great Poise in First Main-Draw Victory
The second set proved to be a similar story as it was all one-way traffic in the favour of Vondrousova, whose heavy game paired with her easy power from the ground continued to overwhelm Hesse, leaving the Frenchwoman exasperated and at a loss for answers. Similarly to the opener, the second set saw the Czech qualifier winning 12 of the first 16 points en route to jumping out to an early break, an advantage she would later double to go a set and 4-0 to the good.
Vondrousova's first real test of the match came a game later, as Hesse attempted to begin a spirited fightback with the help of her home supporters, but it was a case of too little too late from the Frenchwoman as the Czech qualifier would pass the test with flying colours, thus putting her within one game of completing one of the most emphatic Grand Slam débuts in recent memory.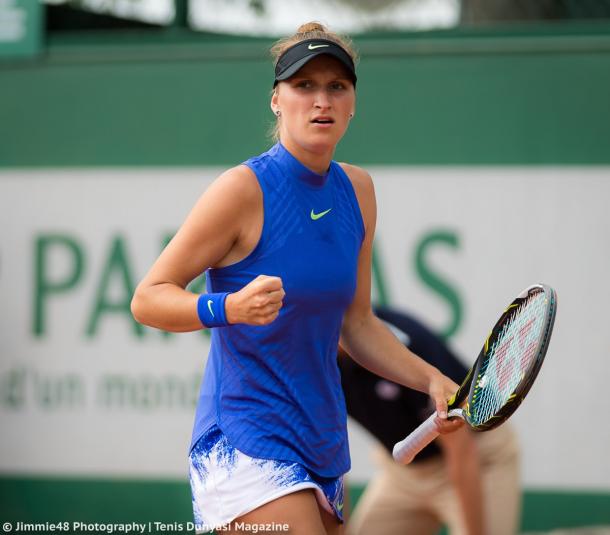 With the match all but nearly sealed and done, Vondrousova wasted no time in closing in on the victory, breaking for an astounding sixth time to complete the victory in just 54 minutes—a 54-minute masterclass of power hitting from the Czech qualifier.
Stats Corner: Picture-Perfect Start for Red-Hot Vondrousova
In a match where she barely put a foot wrong, Vondrousova impressed throughout, hitting 18 winners to just 10 unforced errors and winning 85 percent of the points behind her first serve, dropping just three points behind her first delivery. In comparison, Hesse hit three times more unforced errors to winners (18 to 6) and won just a total of 35 percent of all her service points, which did little to help matters.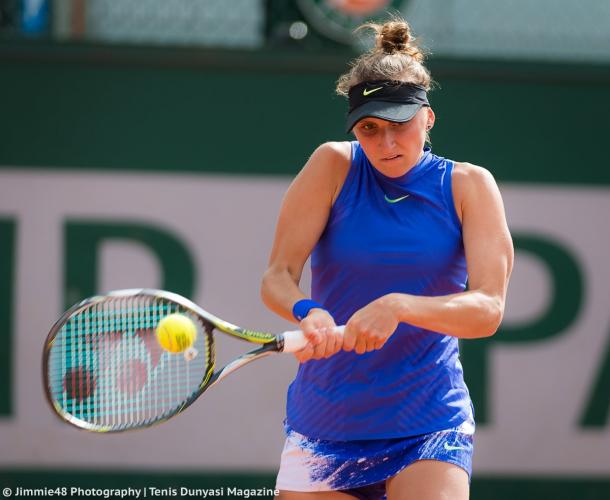 Next Up for Vondrousova: Kasatkina
Next up for the red-hot Czech qualifier is 26th seed Daria Kasatkina, who edged out dangerous Belgian Yanina Wickmayer in two tight sets and has enjoyed a stellar clay court season herself after picking up her first WTA title in Charleston last month. As two of the youngest first-time WTA champions of the 2017 season, Vondrousova and Kasatkina will square off for the first time in what could very well be a future Grand Slam final.