Former world number one Novak Djokovic continues to get better and better at Wimbledon. The three-time Wimbledon champion struggled throughout the first half of the year but his fortunes improved on clay. Djokovic reached the final in Rome losing to Alexander Zverev and lost in the semifinals in Madrid to Rafael Nadal. In the quarterfinals, in Monte Carlo, he lost to David Goffin and he surrendered his French Open crown in the quarterfinals, meekly to Dominic Thiem.
Nonetheless, the 12-time Grand Slam champion accepted a wildcard in Eastbourne. It was as a surprise appearance at the ATP 250 level event in Eastbourne. Nonetheless, Djokovic claimed his second title of the year, after he defeated Gael Monfils in the final.
The second seed has hardly broken a sweat in his first two rounds at SW19. Martin Klizan retired injured in the first set, and he thrashed the Czech Republic's Adam Pavlasek in straight sets. The Serb spoke to the media about his performances so far in London. "It's perfect, it's exactly what I want, I don't want to have any five-set matches in the third round. I had enough match play in Eastbourne, I felt very good today, in terms of my game. Where it was from the beginning to the end and it keeps on going in the right decision.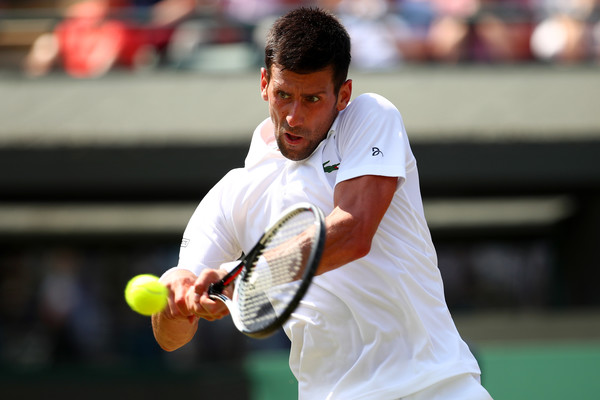 The 22-year-old looks up to Djokovic as his idol, and the second seed had some nice words for the young Czech. "Yes it is definitely very nice to hear that I hear from inspiring him with my tennis and what I have done, it is very flattering. I am grateful for that, stepping on the court, I try not to think about that too much, and try to do what I;m supposed to but I can understand, the emotions he was going through on the court, first time at Wimbledon, first time on a big court like that, it's always a big occasion for him. I congratulate him for reaching this stage, where he can play the big match. Obviously, I think he can play better than what he did today, nerves got the better of him. It's a Grand Slam match, it's completely different, he can use this experience as a confidence boost for the rest of his career.
The 12-time Grand Slam champion still has the hunger and desire in tennis and says he is far from retiring. "I'm someone that believes everything in life happens for a reason, I find myself in this situation, where I just learn, I evolve, I try to get to another stage, another level as a person. Life goes on, I've had an amazing career so far, nothing to regret for and I have a lot to look forward to, to be honest, I'm excited to keep on going, I don't feel the end is anywhere near, well as long as the flare of passion is there for the love of the game I'll keep on going."
Djokovic was projected to face 2009 US Open champion and 2013 semifinalist Juan Martin del Potro, the 29th seed in the third round but the Argentine lost to 2014 French Open semifinalist Ernests Gulbis in a mouthwatering third round clash on Saturday. Djokovic defeated the Latvian in the semifinals in Paris three years ago in four sets, before he lost to Nadal in the final.