Former world number one Novak Djokovic was annoyed with the tournament organizers at Wimbledon that his scheduled fourth-round match with Adrian Mannarino did not take place on Manic Monday and rightfully so. There was a three-set clash between Johanna Konta and Caroline Garcia, and Gilles Muller upset Rafael Nadal in a five-set thriller, 15-13 in the final set on No.1 Court. However, Roger Federer thrashed 2014 semifinalist Grigor Dimitrov on Centre Court in emphatic fashion, and there was time to move Djokovic's clash with Mannarino to Centre Court, which could have finished yesterday as they can play until 11pm on Centre Court.
Nevertheless, Djokovic and Mannarino got to do battle on Centre Court at 12pm local time before the Ladies' singles quarterfinal matches took place. The three-time champion is currently on an eight-match winning streak after winning the title in Eastbourne and winning his first four-round matches at Wimbledon. The Serbian has not dropped a set since losing to Dominic Thiem in the quarterfinals at the French Open.
On the other side of the net to Djokovic will be the 11th seed Tomas Berdych. The 2010 finalist has struggled for form in 2017 but the 31-year-old has performed well at Wimbledon. It is the first time that Berdych has managed to reach back-to-back quarterfinals at Wimbledon. He has backed up his run perfectly as he reached the semifinals last year losing to eventual champion Andy Murray. The Czech believes that he can still win a Grand Slam title but he has historically struggled against the Big Four. In the past eight years only Stan Wawrinka, Marin Cilic and Juan Martin del Potro have managed to take Slams away from the Big Four, taking five Slams between them. Berdych has beaten Djokovic at Wimbledon in the past, and it is more a less now or never for the former top-five player to win a Grand Slam.
Djokovic's path to the quarterfinals
The 12-time Grand Slam champion began his quest for a fourth SW19 title against Slovakia's lefty Martin Klizan. The former world number one won the first set 6-3 against Klizan, and Klizan struggled to carry on in this contest as he retired 2-0 down in the second set. The Serb was shunted out to No.1 Court against Berdych's compatriot Adam Pavlasek defeating the 22-year-old with a loss of five games. The second seed won his third round match against Ernests Gulbis in straight sets and Djokovic had three days off but he will have to play back-to-back matches after defeating Mannarino to reach his ninth quarterfinal at Wimbledon.
Berdych's path to the quarterfinals
The former world number four has done well to reach the quarterfinals at Wimbledon as he has fallen under the radar in 2017. The 11th seed is usually consistent at Grand Slams by reaching the quarterfinals on a regular basis. However, he has rejuvenated himself at Wimbledon. The Czech had a tough first round clash with Jeremy Chardy but he overcame the Frenchman in four sets. Berdych had another tricky second round encounter with Ryan Harrison, who won the French Open men's doubles title last month at Roland Garros. Arguably one of Berdych's best performances in 2017 he defeated former world number three David Ferrer, 6-3, 6-4, 6-3 to reach the second week for the ninth time. In the fourth round, Berdych was up against eighth seed Dominic Thiem, who reached the semifinals at the French Open for the second year in a row. The Czech survived the Austrian and it was his first top ten victory on grass since he reached the final in 2010.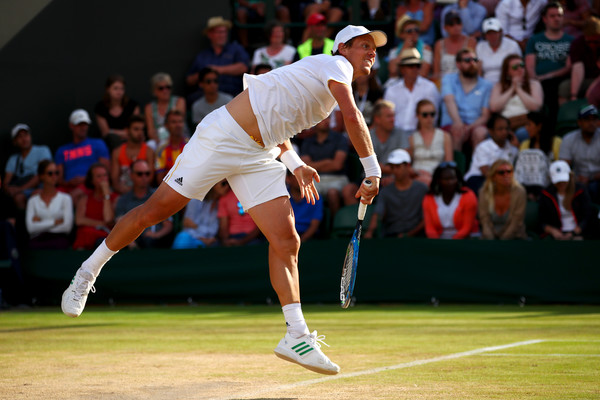 Their history
Djokovic and Berdych have met at on staggering 27 occasions, and it is a one-sided rivalry with the three-time Wimbledon champion leading 25-2 in their encounters. The pair has met five times at Grand Slams and the former world number one leads 4-1 in their encounters at Slams. Berdych shocked Djokovic in their first Grand Slam meeting in the semifinals of Wimbledon in 2010 in emphatic fashion, 6-3, 7-6(9), 6-3 advancing to his maiden Grand Slam final. The second seed would defeat Berdych in straight sets in their quarterfinal encounter at the Australian Open in 2011, and Djokovic went on to win his second Grand Slam title in his career in Melbourne. They met two years later in the quarterfinals at the Australian Open and it was a four-set victory for Djokovic who went on to win his fourth title in Melbourne. Djokovic would defeat Berdych in the quarterfinals at Wimbledon in 2013 in straight sets and he won their last Grand Slam meeting at the quarterfinal stage at the French Open last year.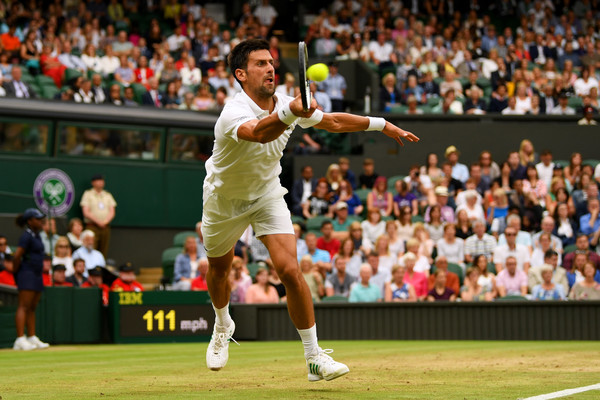 Who reaches the semifinals?
This is a perfect match up for Djokovic as the former world number one can handle Berdych's heavy hitting. The Czech serves well and his forehands are thunderous on grass. It is a great testament to the former world number four that he is still playing tennis and still believes in himself. However, Berdych struggles against Djokovic and the Serb is one of the best returners in the world.
Furthermore, Djokovic had a medical timeout for his shoulder, and if he is still feeling the affects could have an impact on the second seed, and Berdych will be looking to capitalize. The 11th seed will be full of confidence after defeating Thiem in a five-set clash, and he will need to make sure he maintains a high level of play.
This will be the second match scheduled on No.1 Court after Gilles Muller's clash with seventh seed Marin Cilic. The winner of this quarterfinal clash will face either last year's finalist Milos Raonic or seven-time champion Roger Federer in Friday's semifinal. Djokovic will be competing in his 39th Grand Slam quarterfinal, and he is aiming to reach his eighth semifinal at Wimbledon.
Prediction: Djokovic in straight sets