Hell in a Cell has come and gone for another year as the stipulations own PPV became a Raw exclusive show due to the brand split and the red brand put on an excellent show. Three thoroughly entertaining Hell in a Cell matches all backed up by a strong undercard allowed Raw to put on its best exclusive PPV to date in what was a historic night, not just for Raw, but for wrestling as a whole.
5. New direction for the cruiserweights?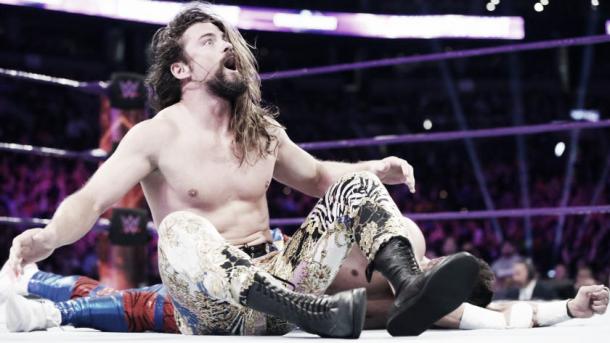 The cruiserweight division has so far not reached the levels that the CWC had set over the Summer and whilst they were incredibly high (due to the amazing work of those involved) the whole division has just felt very flat. One shining light, however, has been Brian Kendrick. The Wizard of Odd has been the only member of the cruiserweight roster to actually be granted a character and a chance to develop a story, hence why the fans have been more invested in his matches.
His 'last chance' storyline has worked well and the way he wrestlers and acts suits a man who is desperate and that is exactly how he captured the Cruiserweight Championship last night. After a fun match with rival, TJ Perkins the 'man with a plan' would prove his theme song has meaning by faking a knee injury to sucker TJP into a false sense of sympathy, only to hit him with a headbutt and ultimately winning the match with his Captain's Hook finisher.
This is a moment Kendrick himself has deserved and hopefully, now the cruiserweight division can hit the restart button and start over. With plenty of talented superstars ready and waiting such as Cedric Alexander and Rich Swann there are plenty of opponents for Kendrick and he can bring a story out of them if WWE give them a chance and they need to if the division is to last long term.
4. Roman Reigns and Rusev go to war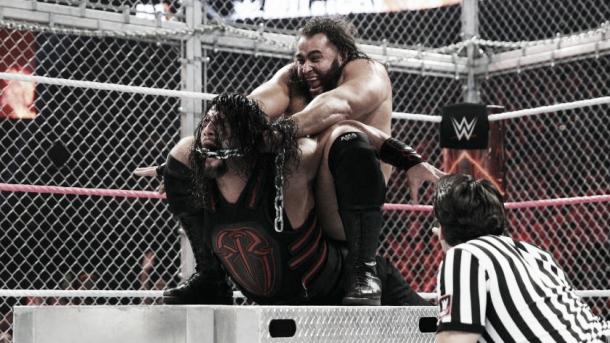 The United States Championship match kicked off the show as the feud between Roman Reigns and Rusev came to what should be its final conclusion. The match was everything you would expect between two men who despise each other, plenty of physicality as they used an array of weapons including a brilliant chain spot by Rusev.
It is exactly what was needed for this feud and hopefully will provide the end to what has been overall a long and drawn out rivalry.
3. Raw's Tag Team division impresses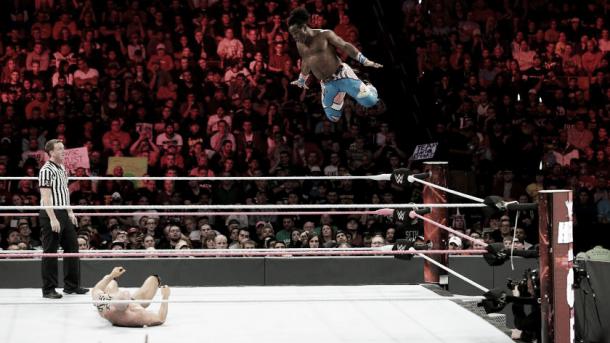 Hell in a Cell had two tag team matches and both of them fulfilled the needs of the division overall. The Club picked up a decisive victory against Enzo and Big Cass which was what they needed if the fans are to ever begin treating them seriously again and given how popular the former NXT team are they can afford to pick up a loss.
In the Tag Team Championship match, all four men involved had fantastic chemistry and the match really worked well with the fans getting involved. The odd couple of Sheamus and Cesaro worked effectively and they had the match won with Cesaro locking in the Sharpshooter on Xavier Woods who began tapping, only for the bell to ring due to Kofi Kingston's interference on the outside.
That decision fulfills two needs, New Day continues to be champions and they can go on to break Demolitions record whilst it keeps Cesaro and Sheamus together as a team for the foreseeable future.
2. KO get's by with a little help from his friend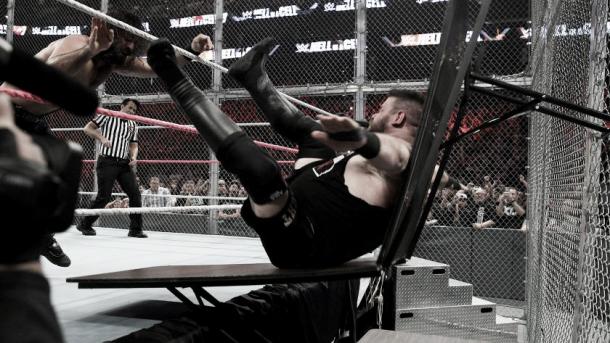 This match was always going to have an interference and even though a few people had questioned the possibility of Triple H turning up, there was only ever one man who was going to worm his way inside the demonic structure and that was Chris Jericho. The veteran has played an integral part in this feud, perhaps overshadowing it at times (he has been that good) and he continued to be a decisive factor in this match.
The wrestling quality between both men was better than their Clash of Champions match and the dangerous spots including the big table moment (pictured above). Jericho helped KO maintain his title by screwing Rollins several times in the match and the post-match Codebreaker could be a sign that their futures are set to intertwine.
1. A historic evening for wrestling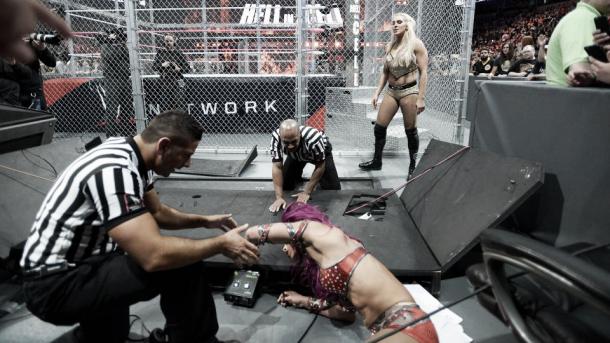 Hell in a Cell will go down as a historic night for wrestling as we witnessed the first ever women's cell match as well as the first ever female PPV main event meaning that regardless of everything that happened the show will go down in history.
The match itself was full of high-risk bumps as both ladies put everything on the line right from the start, before the match officially even began, with Sasha Banks crashing through the announcer's table. Despite a few botched table spots the match had a huge fight feel and the crowd were electric which allowed it to steal the show.
With a surprise finish as Charlotte regaining her Women's Championship the show finished in a slightly underwhelming fashion as the crowd wanted to see Banks leave with the gold but that simply leaves fans wanting to see what happens next, tonight on Raw.