Becky Lynch is currently one of the most popular stars on SmackDown Live, after becoming the blue brand's first Women's Champion she has become the face of the division for SmackDown, but in a recent interview with Games Radar the Irish Lass Kicker spoke about the potential of going heel and changing up her current character.
On a potential heel turn
When asked about potentially switching to being a heel character, Lynch stated that she would "100 per cent" be willing to do it, however, she would want to change when "people least expect it" to make the switch more impactful.
One of the biggest positives of being a heel is the way you can use social media in Lynch's opinion as she feels Twitter and Instagram can become "so much more fun" being able to be "boastful and say whatever you want" in a similar way to how Kevin Owens and Chris Jericho are.
Lynch also mentioned how if she was ever to feud with Bayley again the WWE "couldn't have her be the heel" meaning Lynch would have to change herself, before admitting it would be "funny" to see Bayley as a heel, stating she would have to "kick puppies" to get any heat.
Whilst making the switch isn't something that is likely to take place anytime soon, due to how well she is doing in her current role, it is something that would certainly be interesting, just a look at how both Charlotte and Sasha Banks have managed to play both heel and face characters shows it is easily doable and it would ensure Lynch remains fresh for years to come.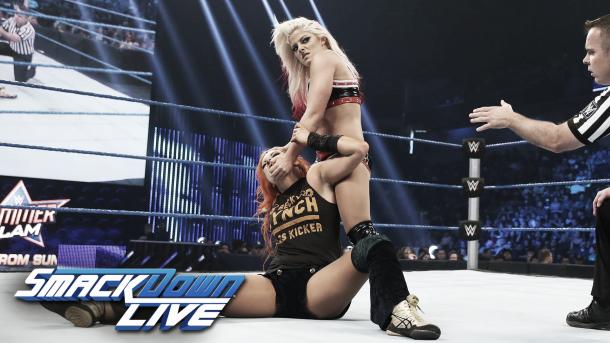 On Alexa Bliss
As well as discussing a potential heel turn, the Women's Champion was also asked about her current rival, and heel, Alexa Bliss and it is clear that Lynch is a big fan of her work. Lynch spoke about how Bliss currently has the spotlight on her and she believes that Bliss is "crushing it," claiming that even though she is "adorable looking" her "mean facial features" and the way she "struts around" has made her a great "heel."
Working with younger talent is an opportunity that Lynch is relishing, having the "responsibility of elevating the newer additions to the roster" is something that she wants to have and so far, the Lass Kicker is doing a great job with it.