This Saturday see's the latest NXT TakeOver take place in what is set to be a very entertaining night of wrestling in front of an expected hot crowd in Chicago. WWE has built a very strong card for the show on paper, with NXT going through an evolution process there is pressure on this show to deliver, but TakeOver's tend not to disappoint so there is no reason not to be excited about this show.
NXT Tag Team Championship Ladder Match: AOP (C) vs #DIY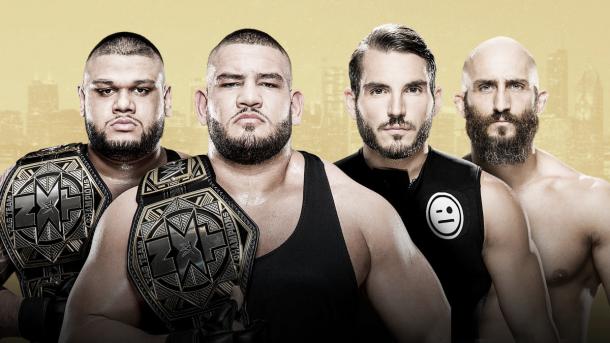 Matthew Wilkinson: Author's of Pain improve every single time they enter a ring and them and #DIY click very well which should make this an entertaining bout. Add in the ladder match stipulation and these four men have plenty they can play with, having AOP use their strength and power against DIY's speed and agility which should make NXT's first ever ladder match one to remember. In terms of who should walk out with the titles, this writer believes that AOP will continue their paths of destruction as they head into an inevitable showdown with Heavy Machinery. There have been countless rumors that DIY will be splitting up in the near future, a decision this writer doesn't believe is wise, yet if they are going to take that route then this could be the perfect time to start planting those seeds.
Prediction: AOP
Brendan Kennelly: Only one winner in this match and that's AOP who have been one of the most dominant forces in the Tag Team Division in NXT since debuting and with Paul Ellering by their side, they may just be a force for a long time to come. However, with that being said #DIY have been a thorn in the side of AOP but I believe that they will come up just a little short in the first ever Tag Team Ladder match in NXT.
Prediction: AOP (With #DIY Splitting Up)
Roderick Strong vs Eric Young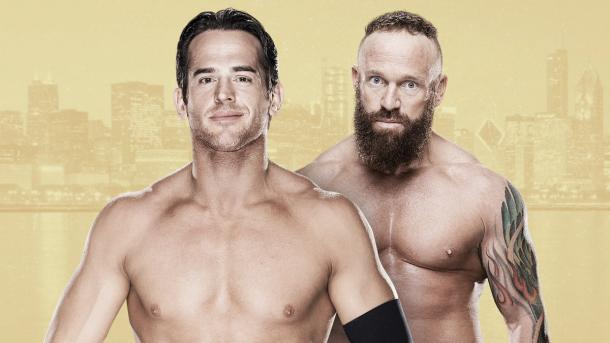 Matthew Wilkinson: The past few weeks have been the best run of Roderick Strong's WWE career so far, with fans being given a real reason to invest in him as creative has used his family life to make him extremely relatable beyond just being a good wrestler. Eric Young and SAnitY continue to be a force to be reckoned with and they are going to have a bright future in NXT and eventually on the main roster, but Chicago should be a major moment for Strong if WWE has bigger plans for him.
Brendan Kennelly: This one may be tough to call as Eric Young is bound to have SAnitY in his corner and this will certainly help Young as he looks to eviscerate Roderick Strong. However with the recent arrival of his baby son, Strong now realizes he is not doing this just for himself anymore and with that, this writer thinks it may be enough.
Prediction: Roderick Strong
United Kingdom Championship Match: Tyler Bate (c) vs Pete Dunne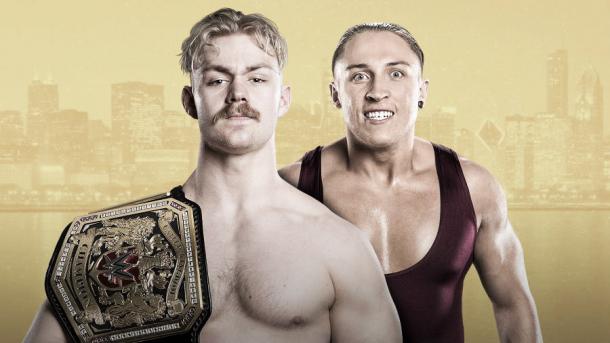 Matthew Wilkinson: It is great to see the United Kingdom Championship getting a major spotlight at TakeOver, with a weekly show not yet confirmed this is a smart way for WWE to keep the fans interested in what is to come. Picking Pete Dunne as the opponent was also a smart choice as he had the most character building during the tournament and arguably had the greatest showing despite not picking up the gold. Tyer Bate has had a good run with the title, defending it on several occasions in NXT, but this could be a good time to shake things up and with WWE clearly seeing star power in the Bruiserweight, this could be time for him to get his hands on the prize.
Prediction: Pete Dunne
Brendan Kennelly: Now as Bate heads into what will arguably be his biggest title defense to date, this writer thinks with the upcoming WWE UK Show it may require something a little fresh as Bate has been the champion since the UK Championship Tournament back in January and he has defended the title on NXT a few times. This writer firmly believes that now is the time for Pete Dunne to make a name for himself and what a stage to do it on at Takeover: Chicago.
Prediction: Pete Dunne
NXT Women's Championship Match: Asuka (c) vs Ruby Riot vs Nikki Cross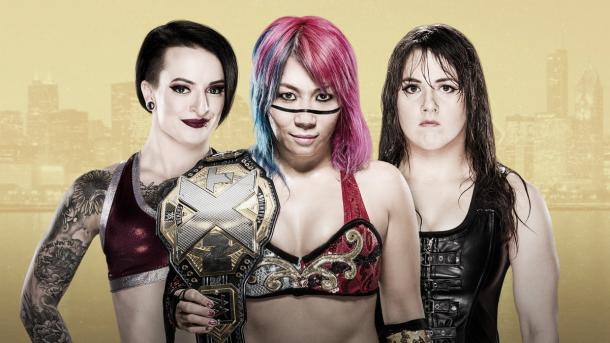 Matthew Wilkinson: This match has got the potential to be a show-stealer in this writer's opinion, three fantastic wrestlers all with unique styles that have worked together before should make for a brilliant combination. The outcome of this could go anyway as all three would make fantastic champions, but the recent focus on how cocky Asuka has become makes this a good time for her to finally be defeated, having it be her downfall. Out of Ruby Riot and Nikki Cross, the SAnitY member has a more fleshed out character, and if Young loses earlier in the night, a championship would keep the group looking strong.
Prediction- Nikki Cross
Brendan Kennelly: Asuka has been nothing short of amazing since she debuted in NXT even gaining a record of 174-0 and she has knocked down ever challenge put before her. Now with that being said, this writer believes that Asuka may have shot herself in the foot when she attacked Ember Moon, Nikki Cross and Ruby Riot during a battle royal for a shot at Asuka; and now instead of a one on one match, it's a triple threat due to Moon's injury. Cross and Riot will make for a unique match as they are both relatively unknown quantities and with that, now is the time for an evolution of the NXT Woman's Division.
Prediction: Ruby Riot
NXT Championship Match: Bobby Roode (c) vs Hideo Itami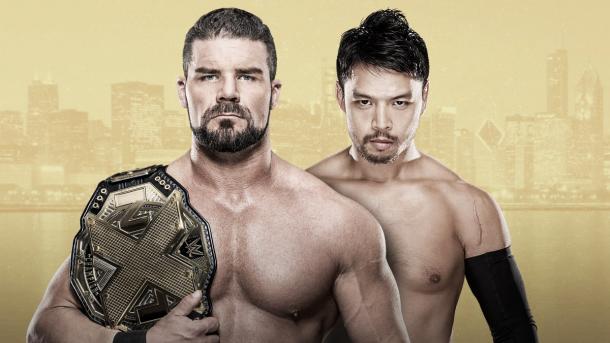 Matthew Wilkinson: The comeback of Hideo Itami has led him immediately to the NXT Championship and the Glorious, Bobby Roode. WWE could have done more in terms of building this match and they are solely relying on the fans remembering how talented Itami is, but the problem with that is just how long he has been absent from TV. Despite that, he will get a strong reception and it is great to see him back, however, he is not at the level needed to become NXT Champion just yet, that's going to take a few more months. With fantastic future opponents such as Aleister Black and Drew McIntyre ready and waiting, keeping the title on Bobby Roode is the right decision, for now.
Prediction: Bobby Roode
Brendan Kennelly: Since debuting in NXT Bobby Roode has made NXT………GLORIOUS and it has been good for NXT but he has not really had much of challenge since Shinsuke Nakamura left. Well, that was until a few weeks ago when Hideo Itami made his return which shook NXT to its core when he laid out the NXT Champion. Itami has been building a nice bit of momentum since returning and this includes a huge win last week against Roderick Strong. The Champ is no slouch in the ring either and this writer does hope this is a great bout. Roode will do anything to keep the NXT Championship which gives him the edge
Prediction: Bobby Roode