Can NXT Remain "Glorious"?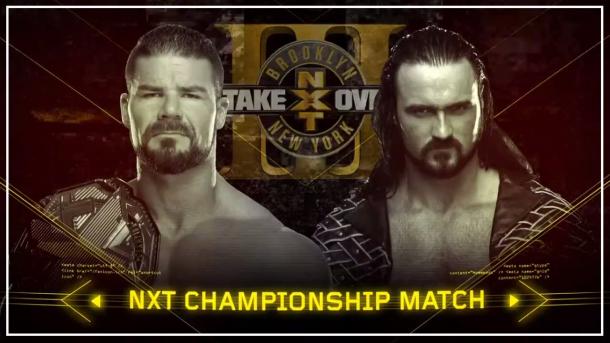 Brendan Kennelly- Bobby Roode has made NXT his own since becoming the NXT Champion in San Antonio back in January, but then WrestleMania weekend in Orlando Drew McIntyre made his return to the NXT and has been blazing a trail all the way to Brooklyn where he will challenge Roode for the NXT Title.
BK- Drew McIntyre
Matthew Willkinson- Bobby Roode's 'glorious' NXT title reign has arguably never been in greater jeopardy than this weekend. Ever since returning Drew McIntyre has been on a roll, taking on all challengers and dominating everyone in his path on route to this match. For anyone who has enjoyed the rise of McIntyre outside of WWE, they will know that wherever he had gone, he has become champion and this writer believes that will be the case again in WWE. Whilst Roode has been an incredible champion, this is the perfect time and the perfect challenger for him to drop the title to as he then can place focus on a move to the main roster. On the other hand, NXT will be left strong with a credible champion who has plenty of challengers lined up and waiting for him.
MW- Drew McIntyre
Is Ember Ready for Asuka?
BK- Asuka has been one of the most dominant champions in WWE and has been beating everyone that has been put in front of her but the one woman that she has not won against cleanly is Ember Moon. At Takeover: Orlando Asuka resorted to attacking the referee and a few weeks later on NXT Asuka had to injury Moon during a battle royal and Moon missed a title opportunity. Now Moon has her one on one chance can she "Eclipse" the reign of Asuka only time will tell.
BK- Ember Moon
MW- This feud has been brilliant and has been one of the highlights on NXT programming. Asuka has surpassed 500 days as champion and undefeated which is an incredible feat in this day and age and whoever does eventually beat her will get a major rub from it. Whether that person is Ember Moon remains to be seen. Asuka's cocky gimmick has previously almost got the best of her with Moon proving she is capable of matching her, but with the new Mae Young Classic around the corner, perhaps the winner of that tournament could be given the opportunity to dethrone Asuka.
MW- Asuka
Will SAnitY bring Chaos to NXT?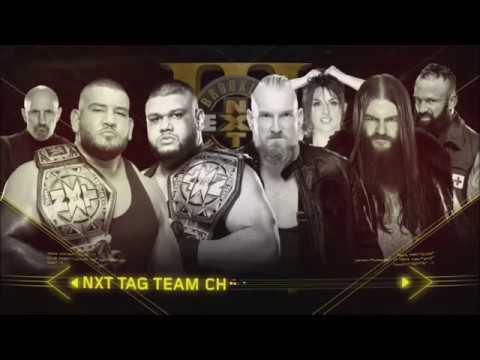 BK- The tag team title picture was blown wide open in recent weeks when SAnitY decided that now was their chance to try and claim the title that are currently held by The Authors of Pain now come this Saturday I picture this being an all-out war but it will be a hard one to call and SAnitY will have the advantage in terms of numbers with Eric Young and Nikki Cross at ringside.
BK- SAnitY
MW- This is quite a confusing match from a fan perspective as both teams have been booked as heels which makes it tough to choose who they should be cheering for. SAnitY will likely have the crowd support and that is deserved as they've done a terrific job since debuting, but the same can be said for Authors of Pain and the way they've developed as a team. Looking at the tag team landscape in NXT things are a little thin and this is clearly an area that needs some focus, perhaps with Bobby Fish and former tag team partner Kyle O'Reilly now on the scene we may have a new team on the horizon. That team should be challenging AOP who deserve a monster run, whereas SAnitY can survive a defeat here and rebuild.
MW- AOP
Will Itami Fade to Black?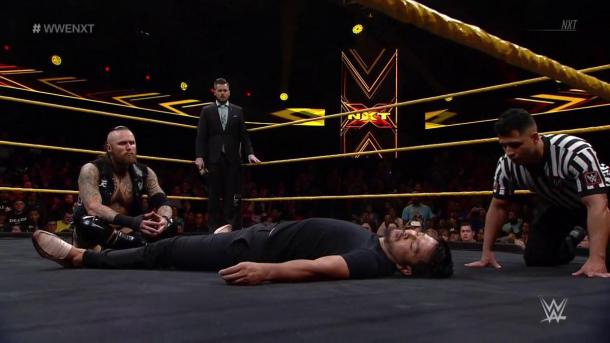 BK- Aleister Black has been on fire since joining NXT and all of his opponents thus far have ultimately faded to black but now Black may face his biggest challenge to date as he goes one on one with Hideo Itami who was humiliated a few weeks ago when he was KO'd by the Black Mass kick and Itami is now out for revenge. Can he kick start his NXT Career with a huge win?
BK- Aleister Black
MW- This has the potential to be a show stealer in terms of wrestling quality with both men having a real storyline reason to win. Hideo Itami has embraced the darker side of himself after frustrations at his own failure, whilst Aleister Black has been unstoppable and seems destined for the NXT Championship. This one could go either way but this writer doesn't believe Itami is the man to stop Black, that man could appear after the match though, bay bay.
MW- Aleister Black
Johnny Wrestling Makes his Return!
BK- Johnny Gargano made his return to NXT following the events in Chicago and he demanded that he receive a match in Brooklyn. Andrade Almas has adopted not only a new found aggression but he now has Zelina Vega by his side and she has helped him get the spotlight as she put him in the match with Johnny Wrestling on Saturday. Now will Vega be the X Factor in this one.
BK- Johnny Gargano
MW- It certainly feels strange to see Johnny Wrestling back as a singles star in the aftermath of the DIY break up but it is also very exciting as we get matchups like this. Andrade Almas has finally hit his groove in this new role and it is one that could give his career the boost it needed. With Zelina Vega by his side Almas certainly has the upper hand and this writer expects her to be the difference in this one, continuing the feud and keeping Gargano busy until his former partners return.
MW- Andrade "Cien" Almas