With Clash of Champions just past the talk of the night was how much the women's division match stole the show. These bouts used to be deemed as the "toilet break matches" but are now such a spectacle that any fan would be a fool to miss.
It's actually quite hard to believe how much the women's division has developed in the past five years. Gone have the times of models with little wrestling experience somehow managing to secure places on the roster.
NXT is producing unholy amounts of some of the best wrestlers WWE has ever seen and the women's division is no different. Both RAW and SmackDown's champion are graduates of the WWE developmental program.
The most notable graduates: Sasha Banks, Charlotte, Becky Lynch and Bayley are some of the best technical wrestlers the sport has ever seen.
Iron Women
Sasha and Bayley have put on two of the greatest matches that fans have ever seen with both matches headlining the NXT Feature they were on. The 30-minute Iron-Man match at NXT TakeOver Respect will go down as one of the best in history.
Iron-Man matches are something that can either steal the show or be something unbelievable. However, they can also drag on and lose the fans interest. The perfect example of a great Iron-Man match is Shawn Michaels vs. Bret Hart at WrestleMania XII.
Since their classic performances in NXT, a number of women wrestlers have been promoted to the two main shows and make up the majority of the roster. With the brand split, it's allowing women to get more exposure on the show and develop stronger storylines.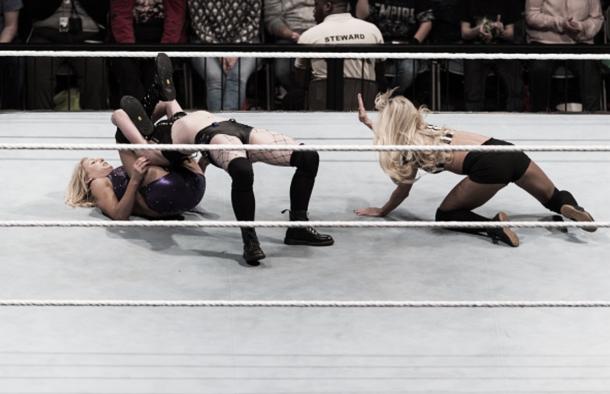 No longer Divas
Probably the biggest step in regards to Women's wrestling is when Hall of Famer Lita revealed the new Women's Championship belt. It showed the shift that WWE wanted to go in, the time of the Divas was no more.
Prior to the term Divas being introduced women's wrestling was some of the best WWE has seen with Trish Status and Lita putting on show stealing performances each and every week.
However, WWE saw a decline in this trend in 2008 when the Divas Championship was introduced and the quality of wrestling declined, it gave WWE a lot of ground work to improve the respect of the Women's Division.
WWE has come a long way since the "bra and panties matches" and having champions such as Kelly Kelly and somehow 3x Champion Eve Torres. This author hopes that the improvement and development of the women's division continues.
With recent call-ups of Nia Jax, Carmella, and Alexa Bliss, this author cannot recall a time where the women's division has looked any stronger than it does it now. When pay per views come around fans now tend to look most forward to the women's performances, something nobody would have said just a few years ago.